NEWS & STATS
Summer 'Runners: Dysin Mayo
By: Walt Ruff
August 08, 2019 9:25 AM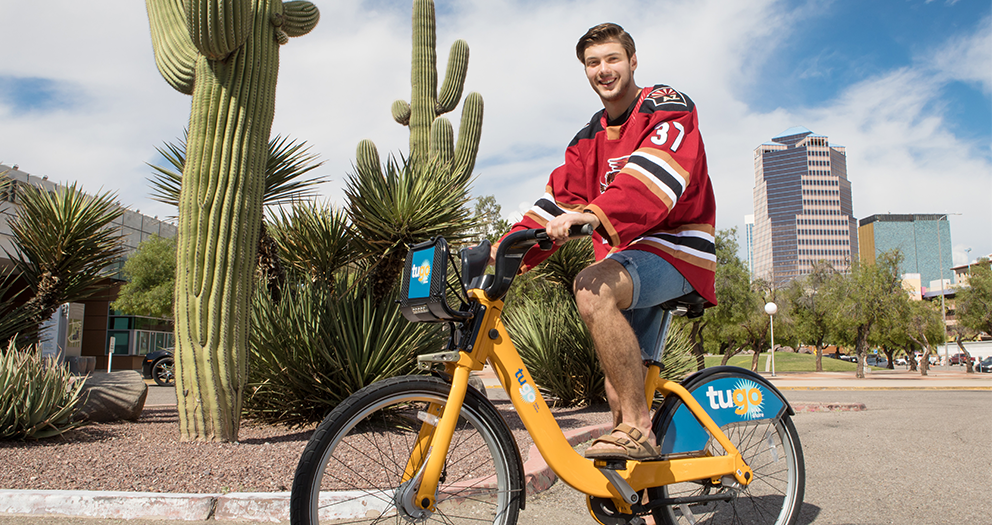 Photo By Kate Dibildox
Hockey will be back soon, Tucson. Until then, catch up with your favorite players in "Summer 'Runners"

Dysin Mayo
2016-17: 25 Games with Tucson
2017-18: 66 Games with Tucson
2018-19: 67 Games with Tucson

This Summer In: Victoria, British Columbia and Edmonton, Alberta
Q: You tied the knot this summer, how'd it go?

It definitely was the best day of my life so far. It was pretty awesome and it worked out perfectly. It was pretty stressful leading up to it in the process but the day was amazing and couldn't have gone any better.

Q: We talked to Lane Pederson last week and he said a few of the guys from the team were there. How much did that mean to you?
Having some of the guys there was nice. I know it was a long way for some of them to travel and for some of them to make the effort and to do that, it really made it amazing to see them.
Q: Fun honeymoon?

For sure. We started off in Barcelona for three days, and then we went to Positano in Italy. From there we were able to get on the Almafi Coast and wound up in Ireland for seven days. It was fun.

Q: So you got married, and then got a new contract. Not a bad summer, huh?

Waiting for the deal to come was kind of also stressful but it did and I'm super happy to have another opportunity in the Arizona organization. It's one of the best places in the league to play, I would say. Plus, it's awesome to be there during the winters.

You have sun year round and you have the ability to wear shorts and flip-flops to the rink just about every day, which is awesome. I played in Edmonton for four years in juniors and it's pretty cold up here. Everywhere you stay in Arizona, there's a pool so when you're done at practice, you can go home and enjoy that. It's nice.

Q: This will be your fourth year in Arizona and the first time a head coach will be returning in Tucson. How nice is that?
As a player, even going into camp it gives you more confidence. That familiarity means so much. You can be more of yourself, play your game and know what to expect coming into camp and then during the season. You know what he's going to expect from you as a player and from the rest of the guys. It makes it so much easier.

My experience with Jay has been good. He's a player's coach, he's easy to approach. He's good at getting the guys going. He's kind of a hockey nerd. He's always watching hockey and very knowledgeable in that aspect. You can learn a lot from a guy like him. In Tucson we've had a new head coach all three years, so to have him back is really nice and to have that familiarity going into the season.

Q: Now that a lot has settled for the fall, what's the X-factor to you having your best year yet?

I want my cardio up because if I end up in Tucson this year I want to play big minutes for the team and be relied upon in all situations. I really want to come into camp in the best shape I possible can. Obviously my goal is to get into camp and stick with the big club but if I don't, then my focus will be to work my way up and at least get a few games up there in the NHL.
--

The fourth season of Roadrunners hockey in Southern Arizona gets underway Friday, October 18 as the club hosts the San Antonio Rampage, AHL affiliate of the Stanley Cup Champion St. Louis Blues at Tucson Arena. Ticket packages including opening night are on sale now under the Tickets tab atop your screen or by calling 866-774-6253.