NEWS
January 10 morning skate notes; Perlini receives award
By: Alex Kinkopf
January 10, 2017 10:55 AM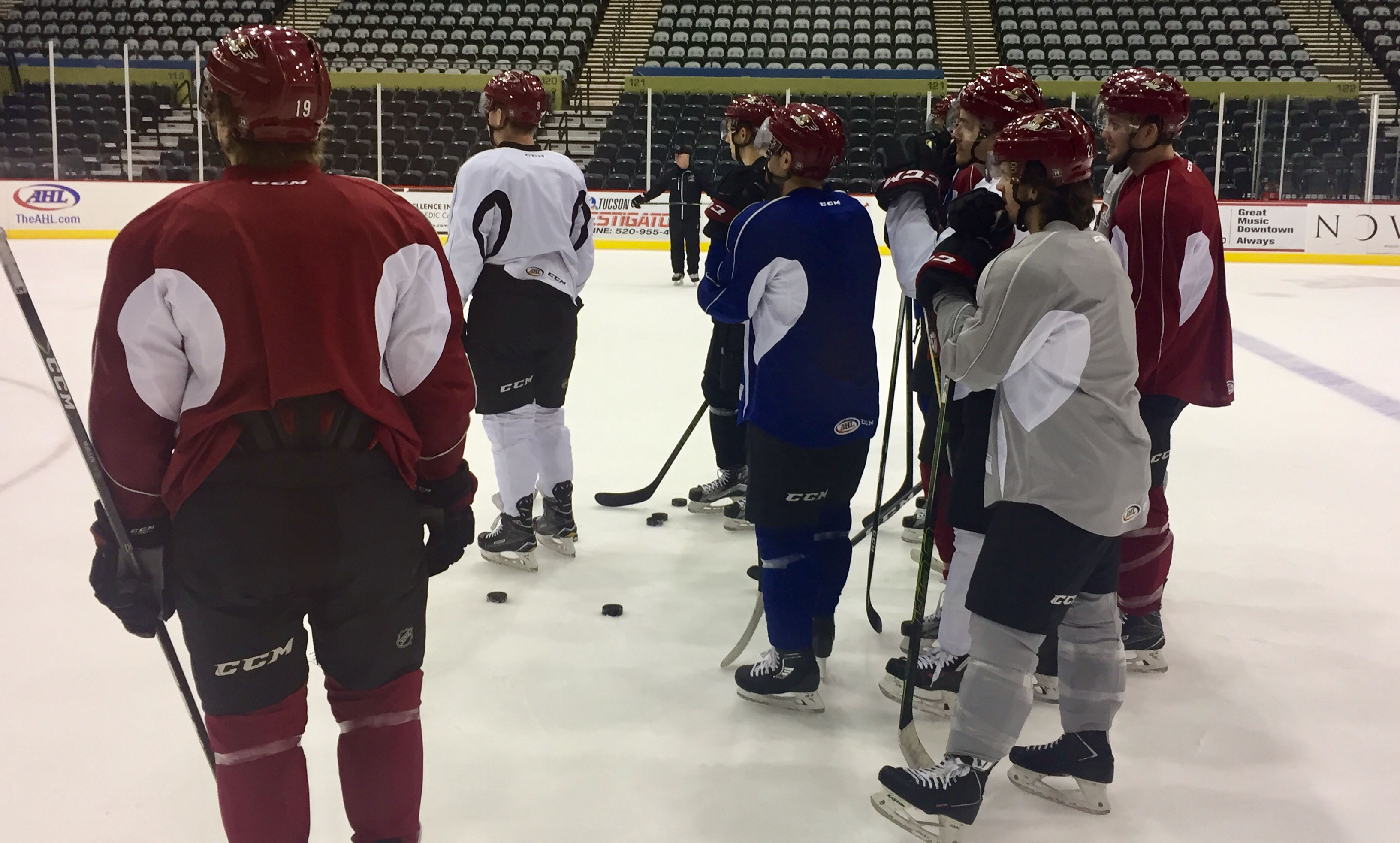 Good morning from Tucson Arena, where the Roadrunners assembled for a 10:00 AM morning skate ahead of tonight's game against the Manitoba Moose, which is scheduled for a 7:05 PM start.
In total, 24 players were on the ice for the team.
Zbynek Michalek was out well before the rest of the team working on independent skating drills. He stayed on the ice for most of the morning skate, but most likely for workout purposes. Michalek (undisclosed) has missed the previous two games.
Brendan Perlini skated on the left side of the first line with Chris Mueller and Christian Fischer. In the Roadrunners' previous game against Manitoba this season, Perlini registered three points (2G, 1A).
Henrik Samuelsson looks to likely be back in the lineup for the first time since November 27; he skated on the right side of the team's second unit with Laurent Dauphin and Tyler Gaudet.
Adin Hill was the first goaltender off the ice and is projected to start in net.
Forwards Hunter Fejes and Trevor Cheek remained on the ice for extra work with defenseman Dysin Mayo; those three are tonight's presumed healthy scratches.
The team, as they prepare to open a five-game home stand, aligned as such:
FORWARDS:
BRENDAN PERLINI – CHRIS MUELLER – CHRISTIAN FISCHER
LAURENT DAUPHIN – TYLER GAUDET – HENRIK SAMUELSSON
MICHAEL BUNTING – RYAN MACINNIS – CONOR GARLAND
LINDSAY SPARKS – MARK OLVER – STEFAN FOURNIER
(HUNTER FEJES – TREVOR CHEEK)
DEFENSEMEN:
JARRED TINORDI – ANTHONY DEANGELO
DAKOTA MERMIS – JAMIE MCBAIN
BRANDON BURLON – KYLE WOOD
(DYSIN MAYO – ZBYNEK MICHALEK)
GOALTENDERS:
ADIN HILL
JUSTIN PETERS
Manitoba, who is on the road for one game after completing a six-game home stand where they posted a 2-3-1-0 mark, took the ice at Tucson Arena at 11:15. The Moose come into the evening on a three-game losing streak, the Roadrunners four.
More to come from another beautiful day in Southern Arizona.