NEWS & STATS
November 1 practice notes; Lamb talks foundation
By: Alex Kinkopf
November 01, 2016 12:38 PM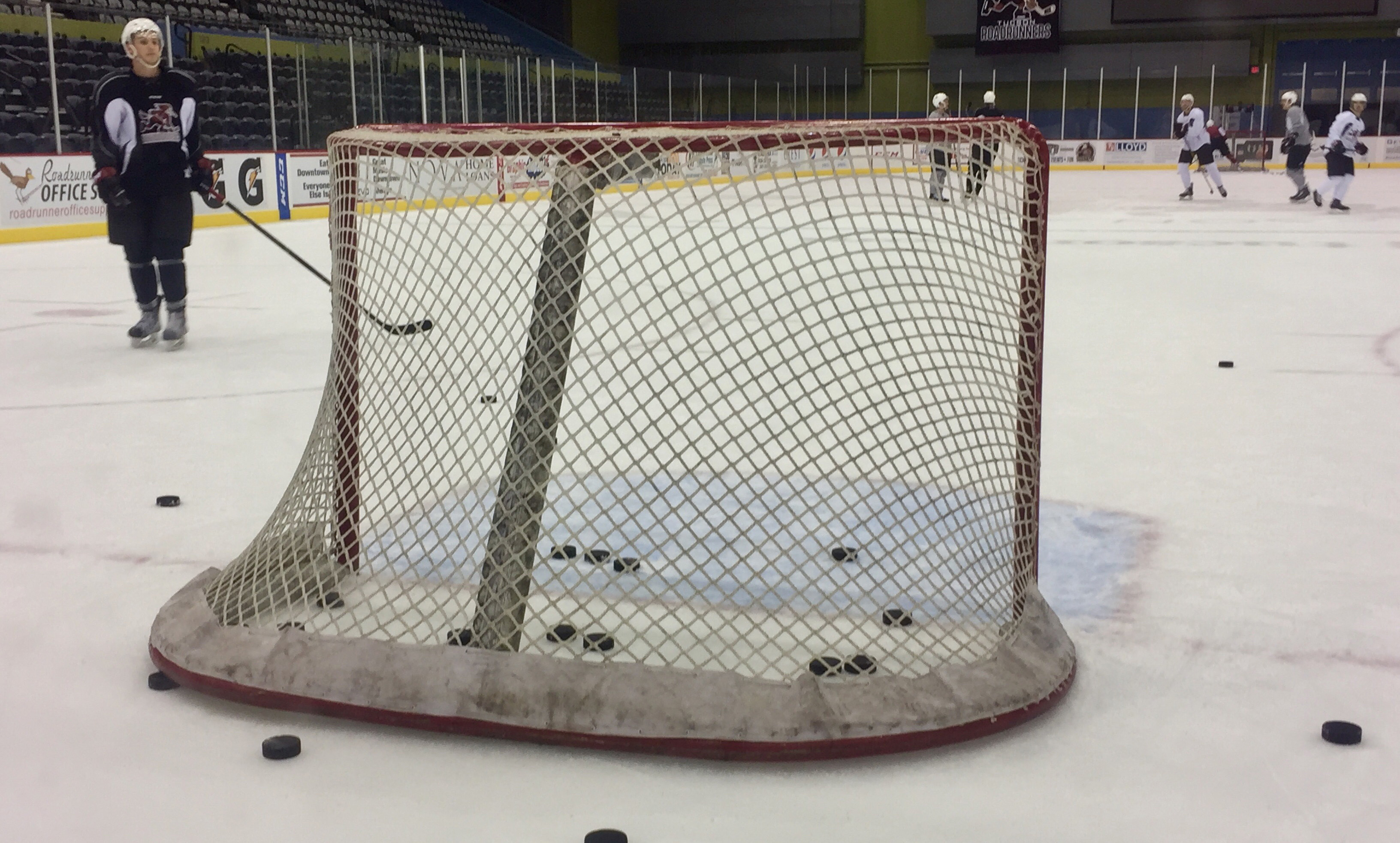 Good afternoon from Tucson Arena, where the Roadrunners returned to the ice following a very successful weekend that saw the club sweep the Stockton Heat, earning a pair of victories to maintain sole possession of first-place in the Pacific Division.
The team skated for just over an hour; Christian Dvorak joined the roster for his first practice after being assigned to Tucson by the Coyotes on Monday, wearing #18 and centering Tyler Gaudet and Christian Fischer on Mark Lamb's 2nd/3rd line.
Forward Trevor Cheek has been released from his PTO to make room for Dvorak's assignment; he is in the process of returning to the ECHL's Fort Wayne Komets.
Mark Olver did not skate; Matia Marcantuoni filled in on the fourth line during practice centering Eric Selleck and Henrik Samuelsson.
The players, coaching staff, and hockey operations personnel are undoubtedly happy to be home, as the team is finally experiencing a somewhat set foundation in their schedules, home lives.
"It kind of feels like we're home now," Mark Lamb noted following practice. "Yesterday we stayed away from the rink, which is very important, but then [the players] can go back to their own place, and we'd never really had that before. The guys are in a good spot, the guys really worked hard at practice today, and they enjoy coming to the rink right now – and that's what winning does, too."
The team is in first-place; things are good.
In color-coded practice jerseys, the players on Tuesday morning aligned thusly:
FORWARDS (COLORS)
(RED): BRENDAN PERLINI – CHRIS MUELLER – CRAIG CUNNINGHAM
(WHITE): GARRET ROSS – RYAN MACINNIS – CONOR GARLAND
(GREY): TYLER GAUDET – CHRISTIAN DVORAK – CHRISTIAN FISCHER
(BLUE): ERIC SELLECK – MATIA MARCANTUONI – HENRIK SAMUELSSON
(WHITE): STEFAN FOURNIER – MICHAEL BUNTING
DEFENSEMEN (BLACK)
BRANDON BURLON – JAMIE MCBAIN
JARRED TINORDI – ANTHONY DEANGELO
DAKOTA MERMIS – KYLE WOOD
JUSTIN HACHE – DYSIN MAYO
GOALTENDERS (BLACK)
ADIN HILL
AUSTIN LOTZ
Head Coach Mark Lamb graciously took the time to address a few questions following Tuesday's skate:
Mark Lamb, on the weekend sweep:
Obviously we're doing a lot of good things, getting down in a game and coming back shows a lot of character, you're learning a lot about your team when you can do that, it's a really good sign, but we want to play with a lead. I think we're getting better, I can see that our structure, how we're doing things, what we have put in place, that we're really starting to see it.
Lamb, on what he likes about the team's late-game resiliency:
I like everything about it; it's great that we're coming back and scoring the goals. On the other side of that, we've got players who are really paying the price, blocking the shots, they're really putting a push on at the end, and that's when you know that you're making strides as a team, when you see guys really paying the price.
Lamb, on the spread of offensive production from all four lines:
We can play four lines, and now we've dot Dvorak down here now too. There are some numbers that are going to come into play, some guys aren't going to be in the lineup that should be in the lineup, and that's the hardest part right now. We have four lines that are all playing really good, and then we've got some guys who haven't been playing for a while that we'd like to get in the lineup also. It's a numbers thing right now, and everyone's going to just have to be patient, because they will get an opportunity, there's lots of things that happen as the year goes on, such as injuries and stuff, where guys are going to have to stay ready. Right now, we've got some good consistency going throughout our lineup, and we're starting to find some chemistry.
Lamb, on the team selecting Captains:
We're going to pick our leadership group today, which is something where I think the guys know each other now, and that's another reason why we wanted to wait to pick a captain. It's a good thing for us to get to know our team, so that'll be out tomorrow.
Enjoy your Tuesday, everyone, and enjoy what seems to be an initial taste of Tucson's mild, end-of-summer weather – which is both good for the body, and good for the ice. Please, at your convenience, browse through a few photos taken from today's practice: