NEWS & STATS
November 2 morning skate notes; Lamb talks captaincy
By: Alex Kinkopf
November 02, 2016 10:54 AM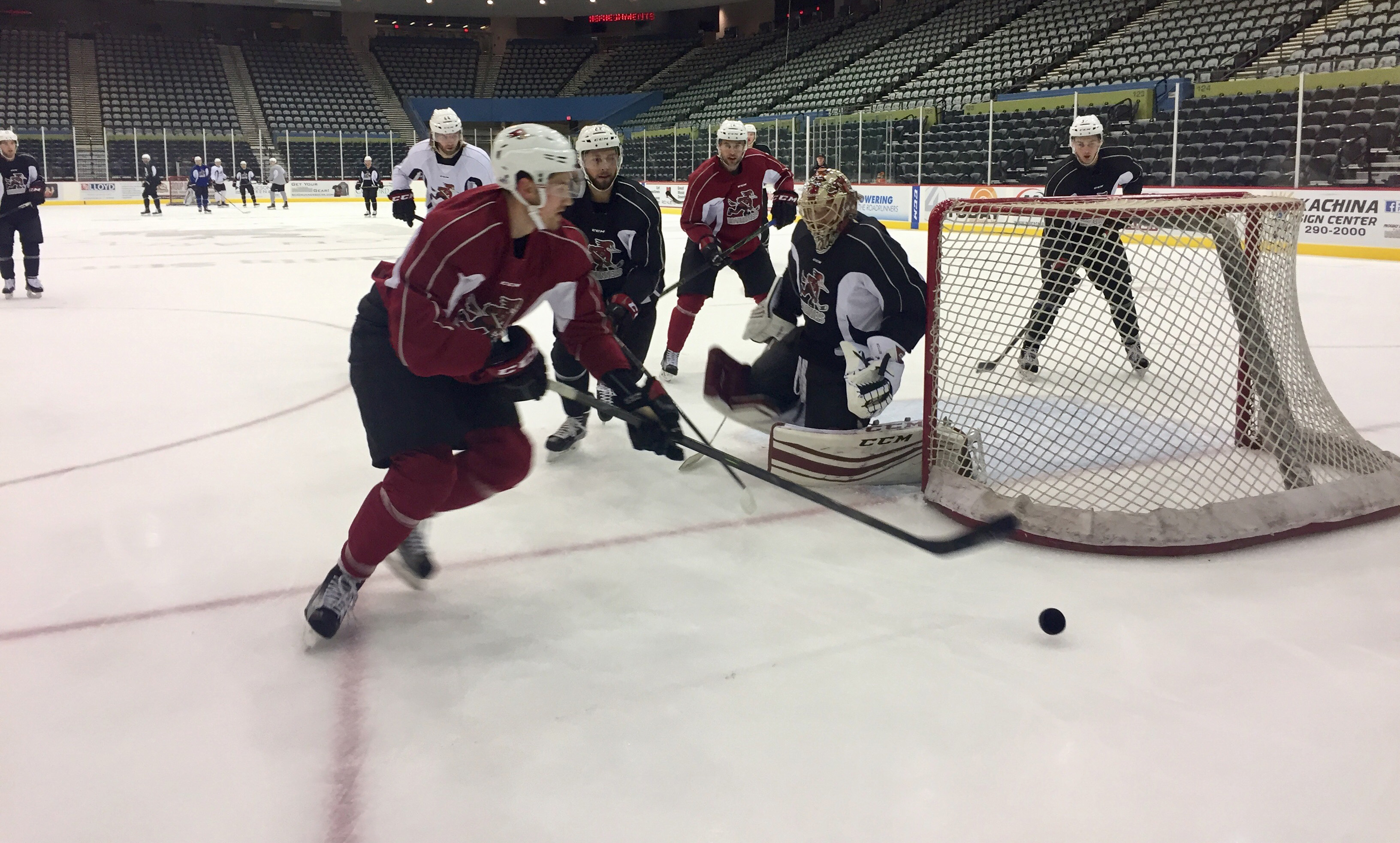 Good morning from Tucson Arena, where the Roadrunners took the ice for roughly 45 minutes ahead tonight's contest against the Texas Stars.
This will be the first meeting between the two clubs this season; Texas comes to town with a 4-3-1-0 mark, good for nine points and fifth-place in the Pacific Division.
"They're a real offensive team, they've got a lot of skill and a lot of talent, that's how they play," said Head Coach Mark Lamb of the Stars following the morning skate. "They're a little more weighted to the offensive side, which is going to be a good challenge for us. We're going to play a tight, smart, defensive hockey game. Defensive hockey is all about what you can do with the puck; if you can do good things with the puck, and have the puck, you're not going to be playing in your own end."
In total, 24 were on for the morning skate; 14 forwards, eight defensemen, and two goaltenders. Adin Hill was the first goaltender to leave the ice and is projected to make his fourth-consecutive start. Mark Olver was not on the ice; Matia Marcantuoni filled the fourth-line center role between Eric Selleck and Henrik Samuelsson, he is likely to play in his second game of the season.
Recently assigned forward Christian Dvorak skated as an extra with Stefan Fournier, and those two remained on the ice for extra work with defensemen Justin Hache and Dysin Mayo.
The team skated as such Wednesday morning:
FORWARDS
PERLINI – CUNNINGHAM – MUELLER
ROSS – MACINNIS – GARLAND
BUNTING – GAUDET – FISCHER
SELLECK – MARCANTUONI – SAMEULSSON
(DVORAK – FOURNIER)
DEFENSEMEN
TINORDI - DEANGELO
MERMIS – WOOD
BURLON – MCBAIN
(HACHE – MAYO)
GOALTENDERS
HILL
LOTZ
The team voted on leaders yesterday, and the results were presented to the team this morning: Craig Cunningham has been named the team captain, Eric Selleck and Chris Mueller the alternates.
Mark Lamb, on Cunningham being elected team captain:
He's been around, he's a player that's not shy to say anything, he's got a lot of respect. The way he plays the game is very honest, as is the way he carries himself. Obviously I knew who he was from the junior days and from him playing in the league, but you do your research on all of your players, and all of it with him was real positive, all kinds of leadership ability. That's why we didn't pick anybody right away, I wanted to see who we would be comfortable with. The whole leadership group, as it turned out, because you do have an idea of who you think would win, and it was exactly how the coaching staff thought it, so that always makes it good when the players are on the same page as the coaching staff and vice-versa.
Lamb, on if he noticed Cunningham's leadership qualities right away:
When you look at the votes, it was pretty overwhelming, they knew who they wanted their captain to be. I knew he's always worn a letter and stuff, but everything's all new here, it's a bunch of new guys, you have to treat people the right way and go through training camp, there's a lot of guys on this team that he doesn't know too, so it doesn't take very long for leadership to come through, and that showed on the vote yesterday.
More to come from a beautiful, beautiful Wednesday here in Tucson, Arizona, where the players are back home resting prior to tonight's affair. For now, a few photos from the morning: