NEWS & STATS
November 4 morning skate notes; Lamb talks Reign
By: Alex Kinkopf
November 04, 2016 10:34 AM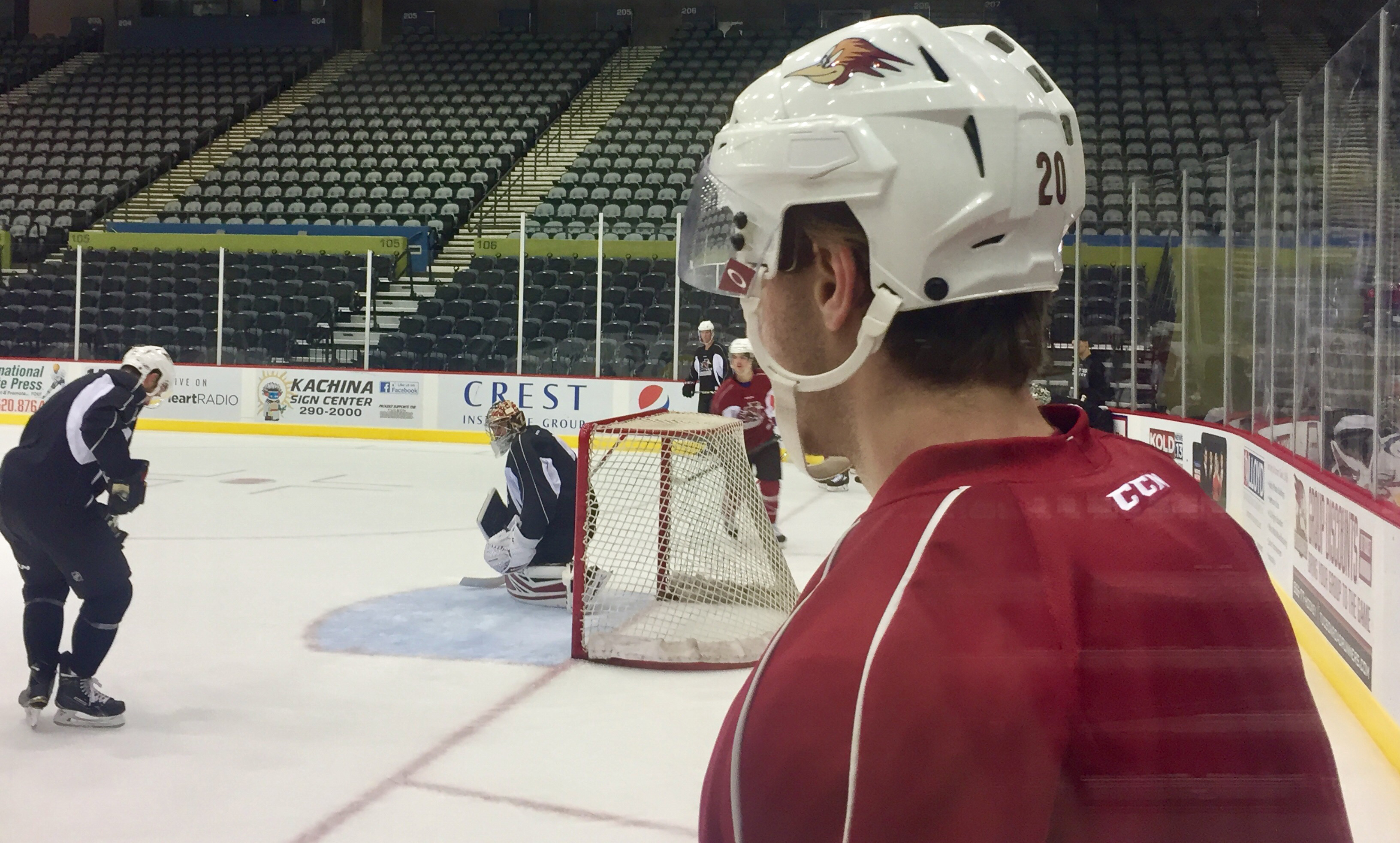 Good morning from Tucson Arena, where a handful of players took the ice for a quick skate prior to tonight's match-up against the Ontario Reign, which is slated for a 7:05 PM start.
The Roadrunners' morning skate was optional; 11 players dressed, along with goaltenders Marek Langhamer and Austin Lotz. On the ice were forwards Ryan MacInnis, Garret Ross, Conor Garland, Michael Bunting, Stefan Fournier, defensemen Kyle Wood, Dakota Mermis, Justin Hache, Dysin Mayo, Brandon Burlon and Zbynek Michalek.
Assistant Coach Mark Hardy was on the ice with the group. Due to the nature of the skate, no line rushes were held, so there is little telling on whether there are expected to be any changes made to the lines used Wednesday night against Texas.
The rest of the players spent the morning watching video, going through off-ice workouts, and getting treatment. Ontario, who haven't played since Sunday and are on the last-leg of a five-game road trip, were scheduled for an 11:15 AM morning skate.
Head Coach Mark Lamb took some time to address a few questions Friday morning:
Mark Lamb, on if he liked the players' reactions following Wednesday's loss:
Oh absolutely, you've got to really analyze how you're playing, as a team you analyze it, as individuals you analyze it. Nobody likes to lose, it's nice to get a point, we were in the game, and you hope they analyze it the right way. Is it for personal reasons that they're mad? Or is it the loss? When you get everybody on the same page in losing as a team, that's when you know you're making headway, which I think that what our team is all about. The positive side is, I thought we played a real good third period; we carried the play in the third. Creating offense is something that we've gotten better at, and now we've just got to put a full 60 minutes together of real strong, systematic team play.
Lamb, on what he knows about Ontario's team:
What sticks right out with them is their power play, it's going at a very high percentage right now. It's early, but it doesn't matter if it's early, they still have a lot of chemistry on it when they're scoring like that, so we're going to have to be aware of that, and how you counteract that is by being very disciplined and staying out of the penalty box, you don't want that power play jumping out on the ice all of the time.
Lamb, on the Reign's goaltending situation:
Well we lost our #1 guy too, right? But we're not in the same situation as those guys, and sometimes that helps a team and sometimes it doesn't, but it's not a focus area, where you really put anything into it. You've got to do the right things to get to goaltenders anyway, so if you think that they're a little lesser, or they got beat up up-top in Los Angeles where the trickle-down effect has taken their goaltenders, that's why depth is a big thing in pro sports and in pro hockey. So if you think that's an area of weakness, and you change the way you play, you'll be in trouble.
Enjoy this beautiful Friday afternoon in Tucson, Arizona. A few photos from today's optional skate.