NEWS & STATS
November 9 practice notes; Preparing to travel
By: Alex Kinkopf
November 09, 2016 1:04 PM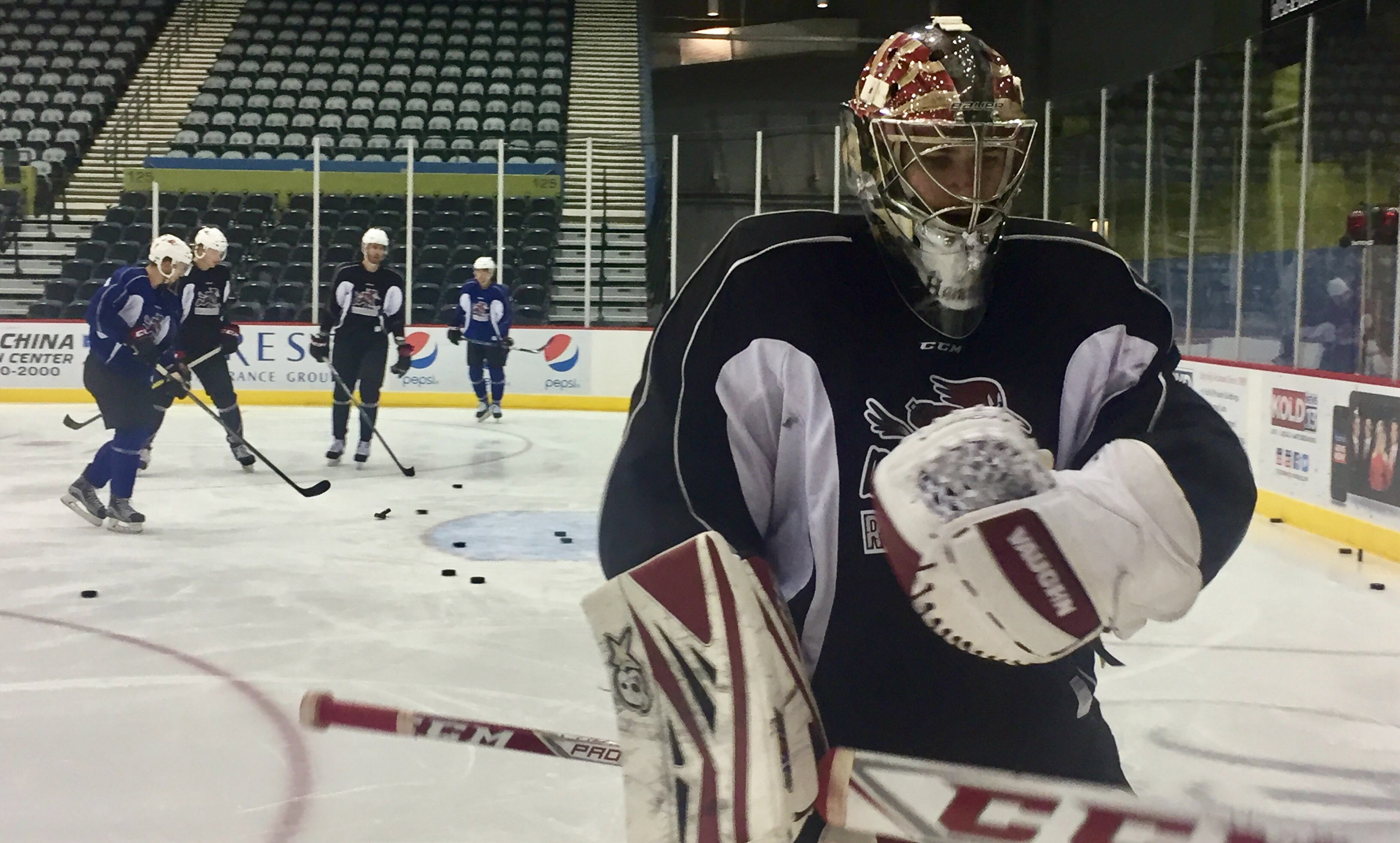 Good afternoon from Tucson Arena, where the team skated for the final time before traveling to California on Thursday for their two-game set against the Bakersfield Condors on Friday and Saturday night at Rabobank Arena.
19 skaters took the ice Wednesday; seven defenseman and 12 forwards, along with goaltenders Adin Hill and Marek Langhamer. Langhamer has been practicing with the team throughout the week and will be making the trip to Bakersfield.
Forward Hunter Fejes skated with the team for the first time since being recalled from the Rapid City Rush (ECHL) on Tuesday; he centered Stefan Fournier and Garret Ross on the fourth line.
Tyler Gaudet, who was assigned back to Tucson by the Coyotes Wednesday morning, arrived while the team was on the ice and will travel with the club tomorrow and return to the lineup.
Mark Olver has missed the last three games with an undisclosed injury, but has practiced with the team throughout the week, centering Michael Bunting and Henrik Samuelsson. He is expected to return to the lineup Friday night.
Christian Fischer did not take the ice Wednesday, and according to hockey operations, he looks to be out with an undisclosed injury. It is unclear whether Fischer will travel with the team to Bakersfield or not.
Your lines from a gorgeous afternoon in Southern Arizona:
FORWARDS
BRENDAN PERLINI – CHRIS MUELLER – CRAIG CUNNINGHAM
MICHAEL BUNTING – MARK OLVER – HENRIK SAMUELSSON
ERIC SELLECK – RYAN MACINNIS – CONOR GARLAND
STEFAN FOURNIER – HUNTER FEJES – GARRET ROSS
(CHRISTIAN FISCHER – TYLER GAUDET)
DEFENSEMEN
JARRED TINORDI – KYLE WOOD
DAKOTA MERMIS – JAMIE MCBAIN
BRANDON BURLON – DYSIN MAYO – JUSTIN HACHE
GOALTENDERS
ADIN HILL
MAREK LANGHAMER
Head Coach Mark Lamb took a few moments to touch on a handful of topics as the team prepares to venture out on their second road trip of the season.
Mark Lamb, on what the team focused on during the week:
We worked on a lot of breakouts, a lot of puck play. I thought we spent too much time in our own end, and a lot of that had to do with some decisions we made with the puck. Instead of making the easier play, we tried to make the harder play, which turned into a negative, and we ended up turning the puck over and having to defend way too much.
Lamb, on the three days of practice:
It was good, in three days we got a lot accomplished. Monday we had more of a skills day, we worked on a bunch of puck handling and stuff, and then we got more into the systems stuff, and stuff on where we thought we needed to improve to get better. It's a long process here, we're sitting in a good spot right now, but our game's got a lot of holes, which we need to clean up.
Lamb, on getting a new addition acclimated to the team:
Well he was in training camp, but it is different with everyone, people have different personalities so it's a little bit different. He was out there playing center today and we didn't know we were going to get Gaudet back this quick – Gaudet obviously will go right back into the lineup. You make a lineup, and then two minutes later you've got to change the lineup. Fischer was out there yesterday, but now he's going to be out for a while, we get call-ups, there's different things that can happen. You want to keep everybody up to speed, and they have to be ready, they have to be ready to take a little role, a big role, a lot, they have to be ready for everything.
Lamb, on if Langhamer's progression could see him back in net this weekend:
Langhamer's been out for a while, he was playing unbelievable, so it's all about health right now. Hill's been playing unbelievable, it's nice to have two guys that can go in there and play because we're going to need it.
Lamb, on the keys to traveling well:
We're going to get there and have the pregame skate, the travel days are long days, but hockey players are creatures of habit, and this is nothing new, having a long day of travel. There needs to be a lot of hydration with the flying, you've got to get a lot of water in you, get your good rest, go through your game routine. On the road it's so relaxing because it is such a routine, everyone's together, you eat together, go to bed, have a good nap, and you're ready for the game.
Enjoy your Wednesday, all. And for your eyes, below are a collection of shots taken during today's practice: