NEWS
November 17 practice notes; Quotes from Lamb, Perlini, Cunningham
By: Alex Kinkopf
November 17, 2016 4:38 PM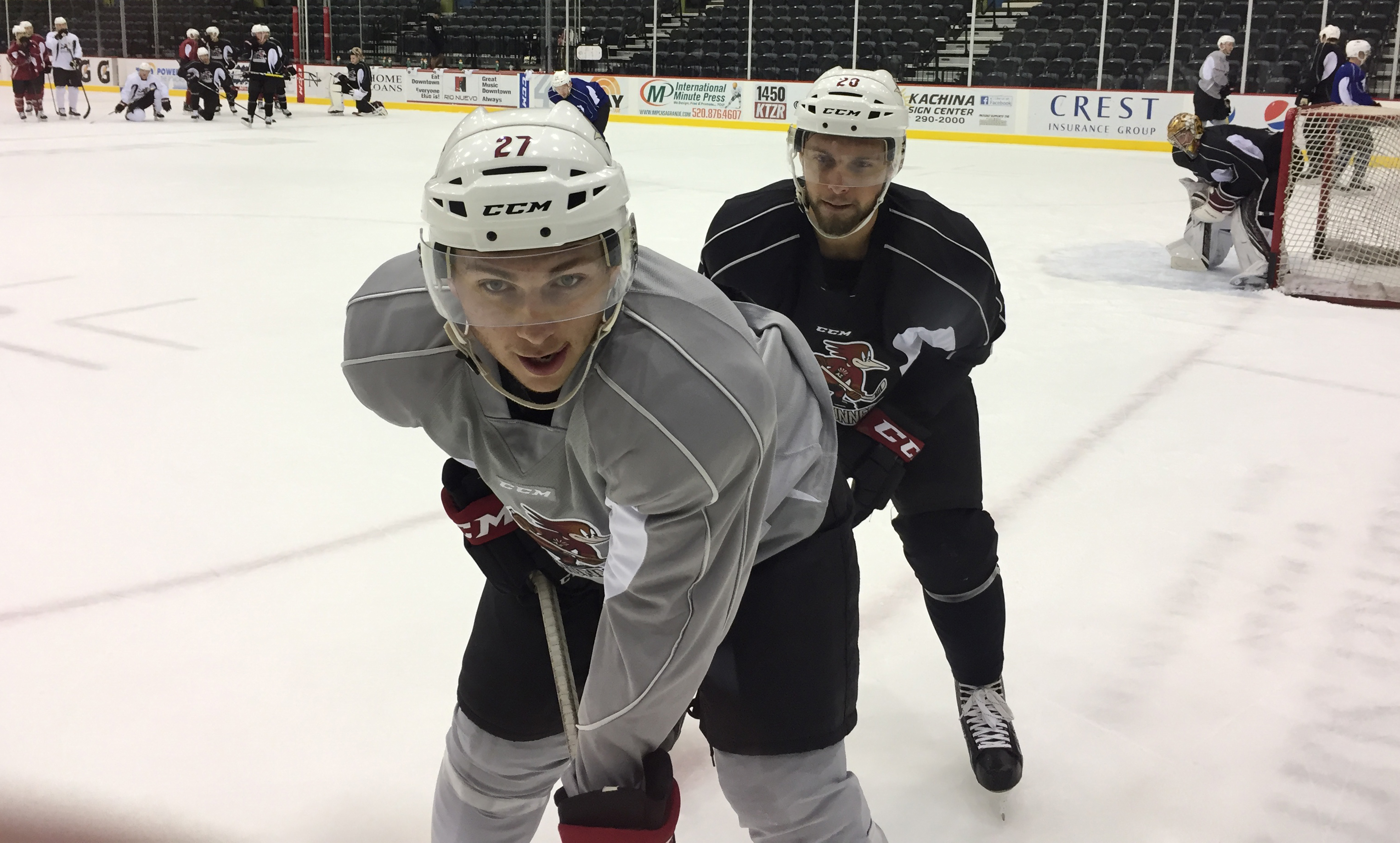 Good afternoon from Tucson Arena, where the Roadrunners held a very lengthy practice following Wednesday's off-day. The team is set to begin a season-long six-game home stand Friday night against the Manitoba Moose at 7:05 PM MST.
Friday night's contest begins a string of six games played in a 10-day span.
Forward Christian Dvorak and goaltender Justin Peters joined the team for the first time since their assignments on Tuesday afternoon. Peters held ownership of the net on the south side of the building, while Dvorak centered Tyler Gaudet and Christian Fischer on Mark Lamb's second unit during line rushes.
Zbynek Michalek participated in his second consecutive full practice, going through defensive rotations with Jarred Tinordi. Michalek has been out with an undisclosed injury since October 22, but is expected to return to the lineup this weekend.
Conor Garland skated as an extra during practice, albeit with the first line, which is fairly uncommon. Players who aren't situated with a certain line usually skate as a separate group, or as an add-on to the fourth unit. Chances are, with the addition of Christian Dvorak, the coaching staff is unsure of where Garland will be positioned this weekend.
In total, 24 players were on the ice Thursday; 14 forwards, eight defenseman, and two goaltenders. The lines used were organized thusly:
FORWARDS (COLOR CODED):
RED: BRENDAN PERLINI – CHRIS MUELLER – CRAIG CUNNINGHAM – CONOR GARLAND
WHITE: TYLER GAUDET – CHRISTIAN DVORAK – CHRISTIAN FISCHER
GREY: MICHAEL BUNTING – RYAN MACINNIS – HENRIK SAMUELSSON
BLUE: ERIC SELLECK – MARK OLVER – GARRET ROSS – STEFAN FOURNIER
DEFENSEMEN (BLACK):
JARRED TINORDI – ZBYNEK MICHALEK
DAKOTA MERMIS – JAMIE MCBAIN
BRANDON BURLON – DYSIN MAYO
JUSTIN HACHE – KYLE WOOD
GOALTENDERS (BLACK):
ADIN HILL
JUSTIN PETERS
The Manitoba Moose hopped on the ice for a skate just before 1:00 PM, they will skate again Friday morning at 11:15 following the Roadrunners' pregame walk-through.
Manitoba is coming off of a 4-1 victory over the Bakersfield Condors Wednesday at Rabobank Arena, which was just their second win on the road away from the MTS Centre this season.
Head Coach Mark Lamb, along with forwards Brendan Perlini and Craig Cunningham took some time following practice to field a few questions regarding the first 10 games of the season, their outlook on the Moose, and the team's season-long six-game home stand:
Mark Lamb, on the transition from the Bakersfield games into a week of practice:
The first 10 games were a real positive for us, including last weekend going into Bakersfield and getting three out of four points was a real positive too. There was some fatigue with all of the travel, so we had a skills day on Monday, we had a pretty hard practice Tuesday, then Wednesday we had a total day off, which was much needed, and then we regrouped again today, came back in, and had a good practice today. We worked on a bunch of different things today, some special teams, we've got Dvorak down here now, we've got some people that are going to be back in the lineup, so there's going to be a few changes to our team.
Lamb, on his thoughts on the team's first 10 games:
When you look at the standings, we're doing solid, winning games by coming back is a very positive sign for a hockey team. I think the biggest thing is, the last couple of games, I think we've really played well defensively, which is what we needed to add to our team. We talked about that, and then we put it out on the ice and did it, so that's very positive. When you're winning, everything's good, but there's certain things that you have to improve on, we're always fighting right down to the end, which is a very positive sign for a hockey team. We'll take the wins however we can get them, but there's a certain way that we want to play to be successful, and you've got to be able to hunker down, and you've got to be able to play a 1-0 game and really grind it out when there's a lot of adversity in a game and there's not really a lot of room out there, and I think we've improved in that category.
Lamb, on the importance of winning early season games on home ice:
Well we've talked about, we want to be a team – there's nothing wrong with being a homer, this is our building, we've played well in here already, but we want to be a team where teams are coming in and going 'oh man, it's going to be a tough game playing in Tucson', and that's what we want to be, and if we play good, we'll get our points. It's six games, it's a long time to be at home, you get in a certain routine, it should be real good, and it should be real fun to play at home.
Lamb, on if anything catches his eye with Manitoba's team:
I know a few of their players, that was a big win for them Wednesday in Bakersfield. We've looked at some video, we'll do a lot more video before the game and see what type of lines they have and what type of match-ups we'd like to use against them. When you look at it, everybody in this league can win on any given night, they're all good, so you have to bring you're A-game to win.
Brendan Perlini, on the team's first 10 games:
Obviously we've started great, I don't know if you could get off to a better start, apart from winning every game, it's been good progress for a team that's just moved out here and got used to the area and everything, and I think we can only get better going forward.
Perlini, on how he feel his line of Mueller and Cunningham is working together:
I think we've been getting a lot better as the weeks go on, it's just about getting used to each other, we've all never played with each other before this season. For myself, I think I'm pretty fortunate to be able to get out with those guys, they're pretty good players. I'm just trying to get open, Mueller can dish, and Cunny's a really good player too, I think our chemistry is really growing out there.
Perlini, on how the team has been preparing for the home stand:
I think the guys have been trying to rest and relax as much as possible, obviously we've got a lot of games coming up in a short amount of days, so practices have been kind of short and intense. As far as preparation, nothing crazy specifically, but I think just fine-tuning little details and progressively getting better.
Craig Cunningham, on how he feels about the team's start:
I think we're pretty happy with our start; getting into a new city, a new building, new faces, you never really know what to expect, and I think it's been a real good start, we've enjoyed playing at home and living here in the city of Tucson so far.
Cunningham, on if he feels the team has improved in the early aspects of games:
I think, to be honest, our goalie has won us a few games there early, really stood on his head, and I think we're coming along as a team and starting to play the systems a little bit better and get things sorted out.
Cunningham, on the importance of getting points during the coming home stretch:
I think points early in the season are huge, especially when you get down to the grind in late January, February, March, teams are hungrier and the points are a lot harder to get at that time, so I think the most points you get early the better, especially when you get a six game home stand, every night and every point is crucial.
Please enjoy a handful of photos from Thursday's skate. More to come tomorrow from what will be a busy Friday at Tucson Arena: