NEWS & STATS
November 22 practice notes
By: Alex Kinkopf
November 22, 2016 1:36 PM
Good afternoon from Tucson Arena, where the team held a buoyant practice this morning, one that lasted just north of an hour in length. That buoyancy doesn't come easy, and it doesn't necessarily last very long.
It was the Roadrunners' second consecutive day of practice following Saturday night's incident.
Hockey players are creatures of habit. The past two days have been about routine. That routine, which can oh so easily be taken for granted when all's right, has been recently, more about resilience.
Chris Mueller's watchful eye looked over the group during the skate, at times the 30 year-old veteran stepping aside to monitor his herd during drills, as if to act as a protective, strengthening figure.
While there is a degree of uncertainty still in the air while Craig Cunningham continues to be hospitalized, the on-ice sessions have been used as an attempt to obtain some sort of normalcy and comfort for the players – even if it's just for a moment.
The rink, as it seems for now, is the one safe haven for this group.
The coaching staff has made a point to construct practices that center on drills for amusement, rather than strategy, focus, or skill. Tuesday's skate began with a full roster scrimmage, which saw all players on the ice at once, where Henrik Samuelsson played with Justin Peters' goalie stick. The team ended practice with a strip-shootout, where a missed attempt meant taking off a piece of equipment.
Maybe, even if just for a brief period, their heads were elsewhere.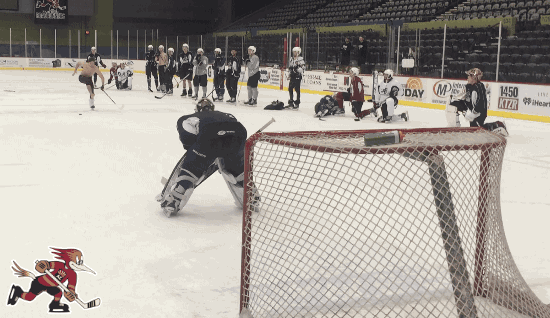 In all, 21 players took the ice for the team Tuesday; 13 forwards, eight defensemen, and two goaltenders. Forward Matia Marcantuoni has returned to the ice after sitting out for the last two weeks with an undisclosed injury. The players were aligned as such:
FORWARDS (COLOR CODED):
RED: ERIC SELLECK – CHRIS MUELLER – BRENDAN PERLINI
WHITE: CHRISTIAN FISCHER – TYLER GAUDET – CONOR GARLAND – MATIA MARCANTUONI
GREY: MICHAEL BUNTING – RYAN MACINNIS – HENRIK SAMUELSSON
BLUE: GARRET ROSS – MARK OLVER – STEFAN FOURNIER
DEFENSMEN (BLACK):
JARRED TINORDI – KYLE WOOD
DAKOTA MERMIS – JAMIE MCBAIN
JUSTIN HACHE – BRANDON BURLON
DYSIN MAYO – ZBYNEK MICHALEK
GOALTENDERS (BLACK):
ADIN HILL
JUSTIN PETERS
With local media outlets present, head coach Mark Lamb and veteran forwards Eric Selleck and Chris Mueller spoke publicly for the first time in regards to Craig Cunningham. We'll have transcripts of their words here later this afternoon.
Until then, and for the foreseeable future, please keep Craig Cunningham, along with his family members and friends, in your thoughts and prayers.
A good day to you.