NEWS
November 23 practice notes; Jr. Roadrunners visit
By: Alex Kinkopf
November 23, 2016 2:47 PM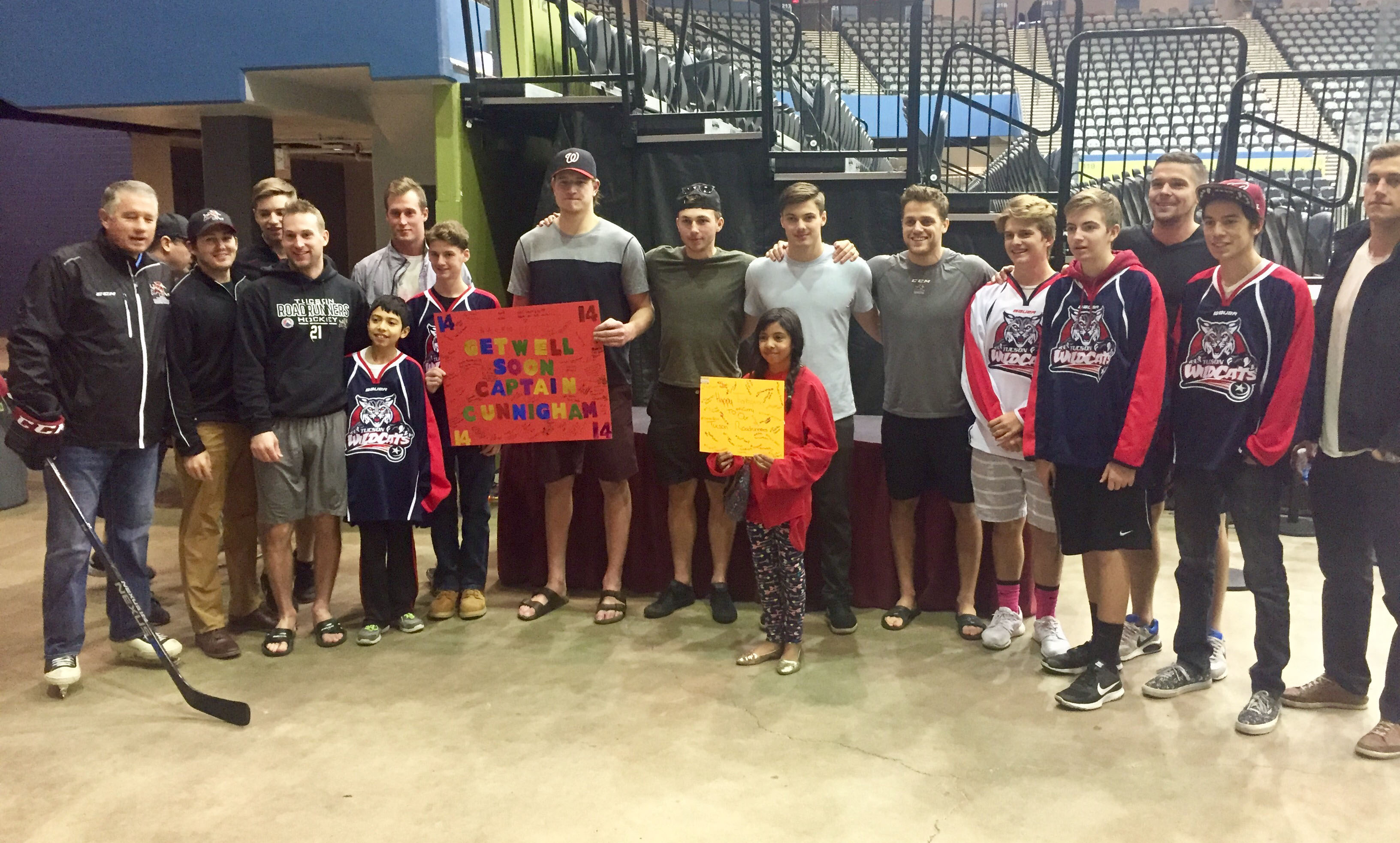 A good day to you from Tucson Arena, where the team finished up from an eventful morning that stretched into the early hours of the afternoon prior to Thursday's Thanksgiving holiday.
A lengthy practice it was, the team taking the ice at around 10:15 AM for over an hour before a Zamboni appearance, then returning for another 60 minutes of work.
The team will host the Stockton Heat this coming weekend; Saturday night's game will feature #CunnyCan wrist-bands for all fans in attendance in support of our Captain, Craig Cunningham, and a Toy Drive benefiting Tucson Toys for Tots.
In total, 22 players took to the ice; 12 forwards, eight defensemen, as well as goaltenders Adin Hill and Justin Peters. Matia Marcantuoni, who skated with the team Monday and Tuesday after sitting out a couple of weeks due to an undisclosed injury, was not dressed for the session.
For the first time this week, practice focused on a regular strategic routine that included line rushes; the pace was amped up a few notches.
The players aligned thusly:
FORWARDS (COLOR CODED):
RED: ERIC SELLECK – CHRIS MUELLER – BRENDAN PERLINI
WHITE: CHRISTIAN FISCHER – TYLER GAUDET – CONOR GARLAND
GREY: MICHAEL BUNTING – RYAN MACINNIS – HENRIK SAMUELSSON
BLUE: GARRET ROSS – MARK OLVER – STEFAN FOURNIER
DEFENSMEN (BLACK):
JARRED TINORDI – KYLE WOOD
DAKOTA MERMIS – JAMIE MCBAIN
JUSTIN HACHE – BRANDON BURLON
DYSIN MAYO – ZBYNEK MICHALEK
GOALTENDERS (BLACK):
ADIN HILL
JUSTIN PETERS
While the team worked up a sweat, parents and players from the Tucson Jr. Roadrunners youth hockey program set up a table with a plethora of food, drinks and dessert to serve the players a post-practice meal.
They also brought along a get-well card for Craig Cunningham, who remains hospitalized, but stable.
General Manager Doug Soetaert had a handful of family members present, including two of his grandchildren - one of whom scored a few goals on Adin Hill while getting some shooting tips from Brandon Burlon, while the other took charge of goal judge duties.
Following practice, a number of players indulged in homemade pasta and meatballs as they mingled with a few members of the youth hockey program. The card made for Craig Cunningham will be delivered to the hospital today.
As you venture out to spend tomorrow with friends, family, and loved ones, don't forget to keep our Captain in your thoughts and prayers. Have a wonderful, joyous holiday, and we'll talk on Friday morning when the team returns to the ice.
For now, enjoy a few photos from today: