NEWS & STATS
November 25 practice notes; Lamb talks weekend ahead
By: Alex Kinkopf
November 25, 2016 2:35 PM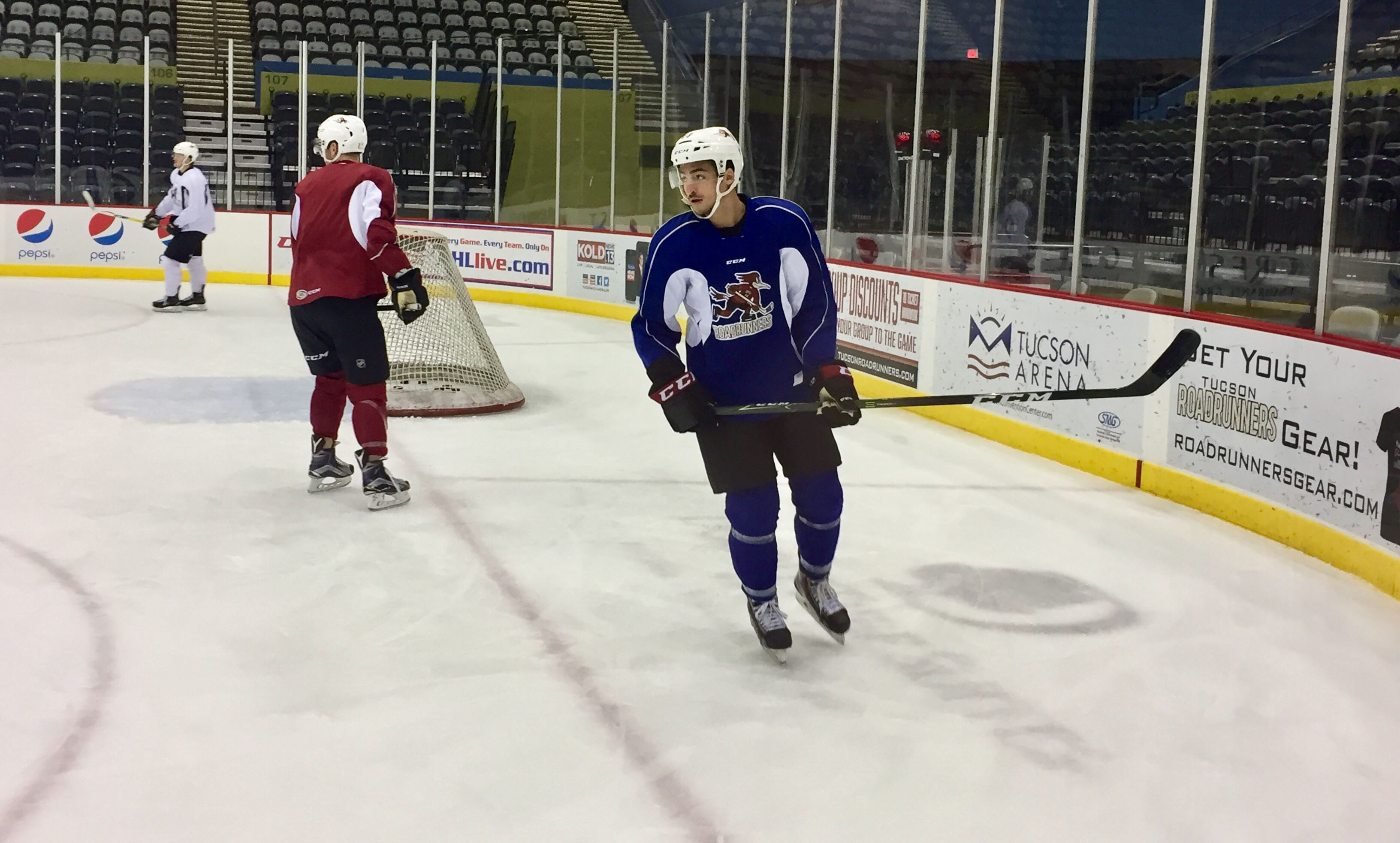 In return from the Thanksgiving holiday, the Roadrunners took to the ice Friday morning for a skate that lasted well over an hour in length. A day consisting of copious amounts of food, lounging, and football watching calls for a good sweat as the team prepares for two games against the Stockton Heat this weekend at Tucson Arena.
Stockton took to the ice just after 1:00 PM.
Saturday night's contest will be the first the team has played in over a week. All fans in attendance will receive #CunnyCan wristbands in support of our Captain, Craig Cunningham. All of those coming to the game are encouraged to bring any new, unwrapped toys to the game as part of Tucson's Toys for Tots campaign to aid local children and families in need for the 2016 holiday season.
Early on during Friday's practice, it was officially announced that Justin Peters had been recalled to the Coyotes on an emergency basis; he will serve as Mike Smith's backup tonight against the Edmonton Oilers at Gila River Arena.
The Roadrunners practiced with only one goalie today, that being Adin Hill. Marek Langhamer is en route to Tucson and will be with the team for Saturday's morning skate.
Matia Marcantuoni was back on the ice again, skating as an extra on the team's second unit.
It looks as though Henrik Samuelsson will slide into the team's top power play unit with Brendan Perlini and Chris Mueller, serving as a front-net presence figure. Jamie McBain and Kyle Wood continue to serve as the point men.
Head Coach Mark Lamb noted that defenseman Zbynek Michalek is 'ready to go' following practice; we'll see if he returns to the lineup Saturday night. Michalek has not played since the Roadrunners' 2-1 victory over the Bakersfield Condors on October 22 at Rabobank Arena.
The team skated as such on Friday morning:
FORWARDS (COLOR CODED):
RED: BRENDAN PERLINI – CHRIS MUELLER – ERIC SELLECK
WHITE: CHRISTIAN FISCHER – TYLER GAUDET – CONOR GARLAND – MATIA MARCANTUONI
GREY: MICHAEL BUNTING – RYAN MACINNIS – HENRIK SAMUELSSON
BLUE: GARRET ROSS – MARK OLVER – STEFAN FOURNIER
DEFENSEMEN (BLACK):
JARRED TINORDI – KYLE WOOD
DAKOTA MERMIS – JAMIE MCBAIN
JUSTIN HACHE – ZBYNEK MICHALEK
BRANDON BURLON – DYSIN MAYO
GOALTENDERS (BLACK):
ADIN HILL
Arizona Sports' journalist Craig Morgan was on hand for the skate and talked to a handful of players and staff following practice – publishing a piece on the team's onward path as Craig Cunningham remains hospitalized:
Mark Lamb addressed a handful of questions following practice:
Mark Lamb, on the 'fun-themed' practices held on Monday and Tuesday:
When any of these guys first started playing hockey, it was for fun. That's where we feel comfortable, is at the rink. We wanted to loosen it up, bring the guys together a little bit, and not really have to think too much. There's enough going on off the ice where we just kind of wanted to feel free. I really enjoyed those first couple of practices, and it gave everybody time, time to think and reflect, and that's what we did. The last couple days of practice, you get more systematic, you dig in, and you get some things accomplished to get ready for the weekend.
Lamb, on where he feels the team is mentally heading into the weekend set:
Well I know one thing, and that's practices are different than the game, we've had a few days here, which I think is good. The supports we've had from the league, from the organization, from everybody has been good, but now we have to take that next step and play the game. It'll be an emotional time, and I really don't know how the guys will react to that.
Lamb, on playing without Cunningham:
As the Captain of our hockey team, he was everything to us, and when you look at the ice time that's been given out, he led our forwards in ice time, so the impact he's had on this hockey team is very high. We need people to take some of those minutes, there will never be anybody that will go in and take his off-ice presence, or what he does in the dressing room, but we have a good leadership group, and we have some guys that have seen him this season and how he carries himself around here. When they sit back and watch a veteran like that, they're going to learn some stuff.
Lamb, on Henrik Samuelsson jumping in on the top power play unit:
Cunny did such a good job, our power play is right at the top of the league, and he was a big part of it. We need someone to go in there in a spot, be a shooter, be able to jump on loose pucks and make a play in that bump spot where Cunny played, and hopefully Sammy can do that.
For your browsing, a few photos from today: