NEWS & STATS
November 27 postgame quotes: Samuelsson, Wood, Langhamer, Lamb
By: Alex Kinkopf
November 27, 2016 6:58 PM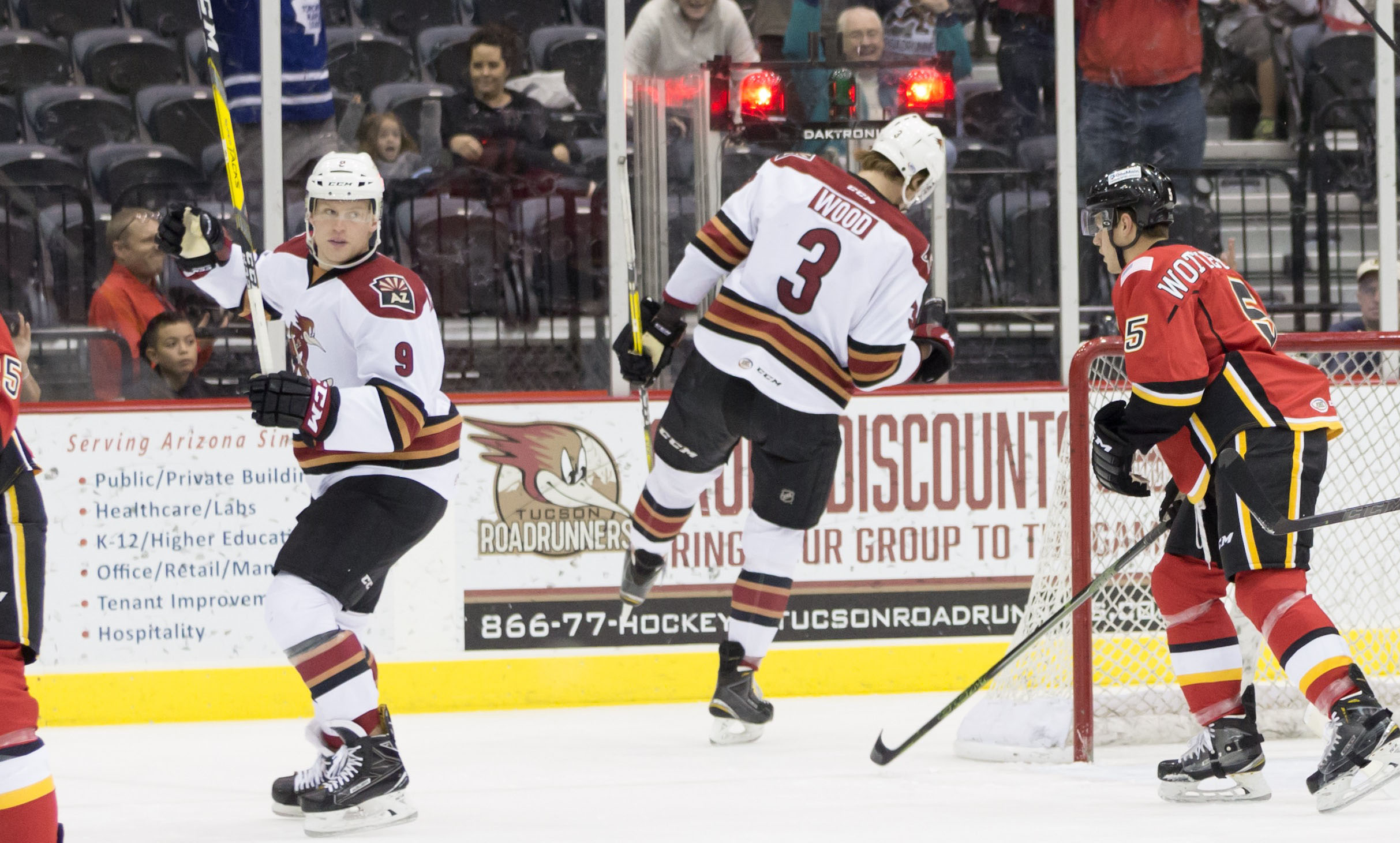 Henrik Samuelsson, on the game's heavy amount of scoring:
I think it was a pretty sloppy first little bit for both teams, giving up a lot of scoring chances, and I know for sure we did, so we just had to clean up the D-zone a little bit and just settle into the game.
Samuelsson, on if scoring his first goal of the season takes the 'monkey off his back':
Yeah, a big one, more like a gorilla, it was a good feeling, I feel like my game is coming along after my injury there, just getting better each game, have to keep working hard, and hopefully I can keep scoring a little bit.
Samuelsson, on how he's been feeling on the team's top power play unit:
[Mueller and Perlini] have obviously had a lot of success so far this year, so it's nice to play with Muells, he's a really good play maker, and Perls has a hot stick right now, so it's nice to play with them.
Samuelsson, on his thoughts of the team's two games after a difficult week:
I thought we had spurts where we were really good, and spurts where we were just okay, so if we get rid of those spurts where we were just okay I think we'll have a lot of success the rest of the year.
Kyle Wood, on how he felt he played over the weekend:
I feel like I've played pretty well, there's still things to improve on, but I was solid offensively, and our power play was really clicking for the first couple of periods there, so that's where I just try and find my success, on the points on the power play.
Wood, on the team bouncing back after Saturday night's loss:
It's definitely huge getting this one, it was a big effort after a tough loss yesterday, so it's good to get one before we go on the road.
Wood, on how he and the team felt after a difficult week:
It was nice to get a little break there, be with the guys, have some practices. Yesterday was a little emotional for the guys, but we bounced back today, and that showed on the scoreboard.
Wood, on the team wearing the #CunnyCan wristbands during games:
We all got one before the game yesterday, we're just trying to support him however we can, we're thinking about him all the time, and today's win was definitely for him.
Marek Langhamer, on how he felt in his first game back:
It was a tough game, they always came back, or we came back, there were a lot of chances, and we've got to clean some stuff up, but all that counts is the win, so I'm happy about that.
Langhamer, on if playing against Stockton in October helped his preparation for today:
Definitely. I definitely felt better that I was playing against Stockton, I know those guys a little bit, they've had a couple of guys up and down, so it's a little bit different team, but overall, it's the same team, and I was glad I could play against them.
Langhamer, on how difficult it is to stay 'ready' with limited playing time:
It's tough; you have to do whatever you can to be ready, do your best when you're down, when you're here, or when you're up. It doesn't matter where you are, you've always got to be ready no matter what every night, and you've got to believe that it's going to pay off.
Mark Lamb, on what he thinks Samuelsson's first goal can do for his confidence:
It does a lot for it, and it had been a while since he scored, so you start gripping your stick, you start thinking too much. The power play's been excellent, and he's another option out there. [Stockton] started to take away the D, and Muells – if somebody's open, he'll find them, and Sammy can really shoot the puck. I liked [his goal], and I liked the play at the end of the game when he had to dive and get that puck out, that's just as important as scoring a goal.
Lamb, on if this was the type of game he's term "sloppy":
Special teams are a big thing, it's hard to kill penalties, and we're missing some penalty killers. We have to re-learn, and guys have to learn a little bit, but there was some sloppy plays, but then there were some high-end skill plays on both sides.
Lamb, on Kyle Wood's recent scoring resurgence:
His shot is his big thing, and when he gets that shot through, it's hard for goalies to see. Our power play has a lot of chemistry, and it has right from day one, and if you can get him the puck in the right spot, he can score from anywhere, his shot's just that good. We call it an NHL shot – which it is. He's making other plays also.
Lamb, on if it's tough for a backup goalie to stay ready, focused:
I don't know, you're going to have to ask those goalies. I think it's about getting reps, right? It's about getting reps. The thing with goalies is, there's only two of them that you can have on a team, and there's really not enough to go around, right? So he's a real good goalie with a bright future, and him having to go down [to the ECHL] and play has nothing to do with how good he is or anything, he's an excellent goalie. But mentally, they've got to just stay in it.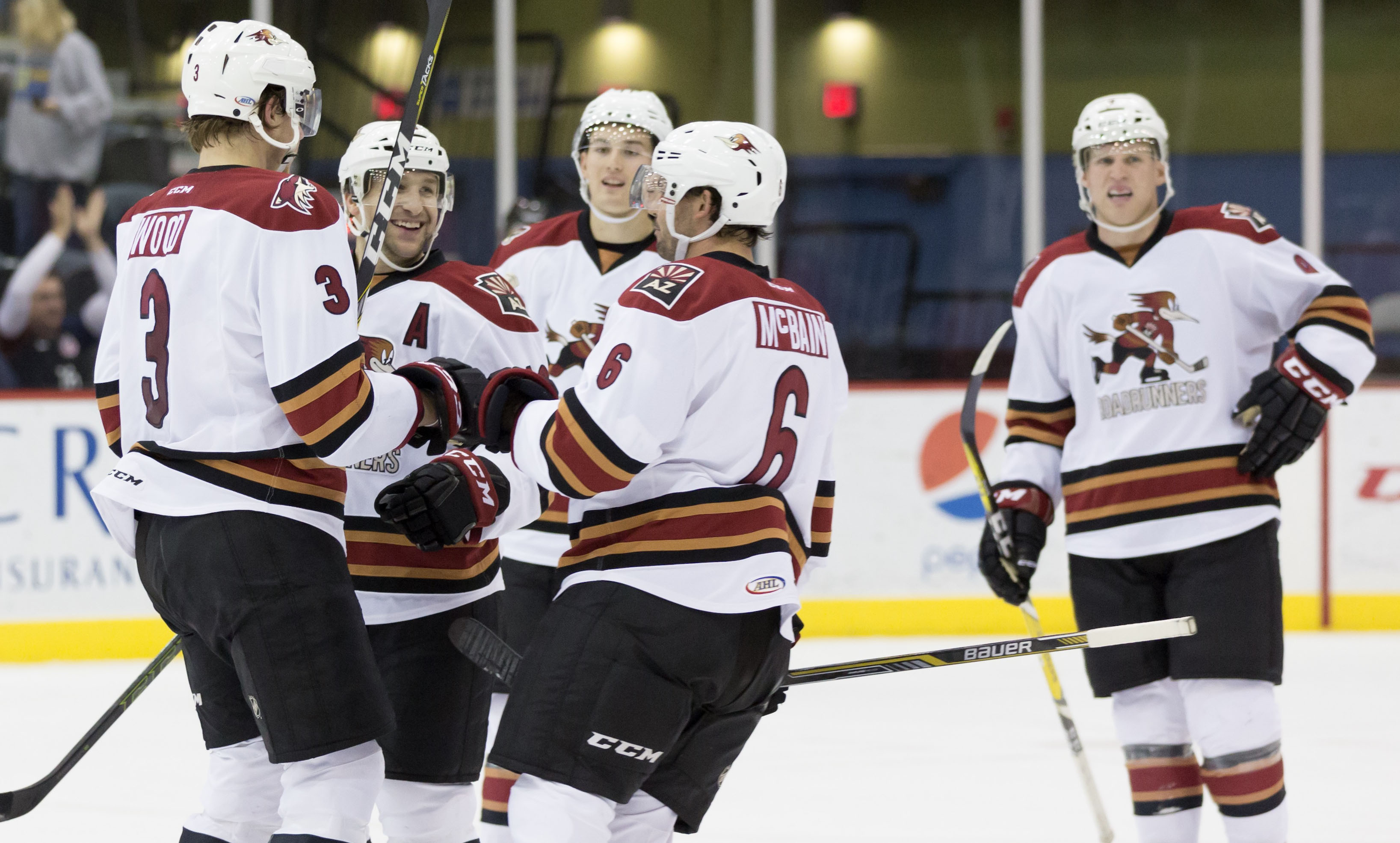 *Photos taken by Kate Dibildox