NEWS
November 29 practice notes; off to San Diego
By: Alex Kinkopf
November 29, 2016 4:58 PM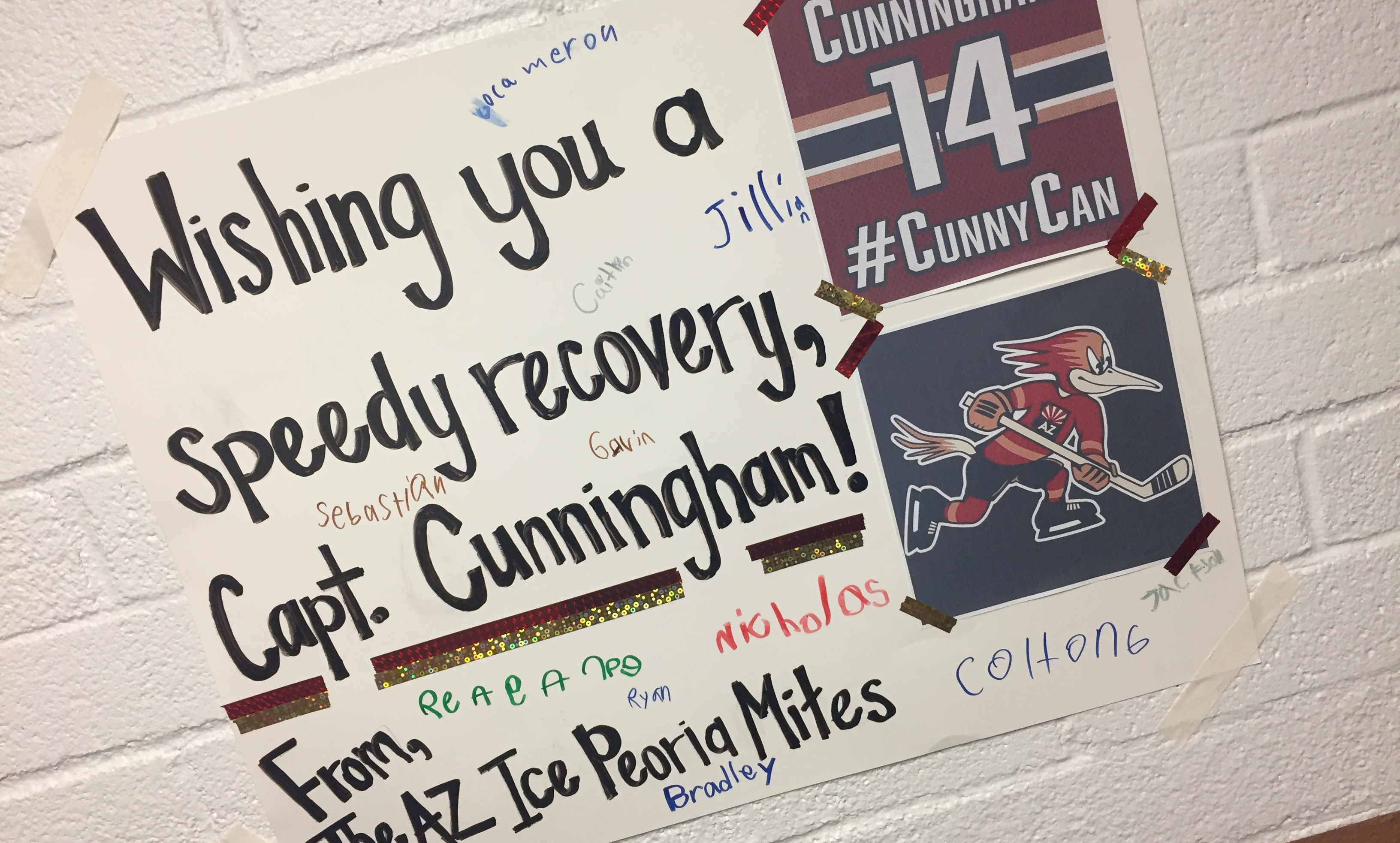 Following Monday's day off, the Roadrunners assembled for a Tuesday morning practice prior to catching a flight to Southern California as they venture out on a three-game road trip which begins Wednesday night against the San Diego Gulls at the Valley View Casino Center.
Wednesday's game is scheduled for an 8:00 PM MST puck drop; the team will then travel to play the Ontario Reign Friday night at Citizens Business Bank Arena, and then the Bakersfield Condors Saturday night at Rabobank Arena.
The past weekend saw the team trade wins with the Stockton Heat at Tucson Arena; the Roadrunners enter the three-game road swing still atop the Pacific Division with a 9-2-2-0 record.
Brendan Perlini, who scored three goals over the weekend, now leads the entire American Hockey League in that department with 11. Perlini has done so in the Roadrunners' league-low 13 games played.
In total, 23 players were on the ice Tuesday; 13 forwards, eight defenseman, and goaltenders Adin Hill and Marek Langhamer. Dysin Mayo was back on the ice with the team, although an official announcement has yet to be made regarding his transaction from Rapid City (ECHL).
The players aligned thusly:
FORWARDS (COLOR CODED):
RED: BRENDAN PERLINI – CHRIS MUELLER – ERIC SELLECK
WHITE: MICHAEL BUNTING – TYLER GAUDET – CHRISTIAN FISCHER
GREY: GARRET ROSS – RYAN MACINNIS – HENRIK SAMUELSSON
BLUE – CONOR GARLAND – MARK OLVER – STEFAN FOURNIER – MATIA MARCANTUONI
DEFENSEMEN (BLACK):
DAKOTA MERMIS – JAMIE MCBAIN
JARRED TINORDI – ZBYNEK MICHALEK
BRANDON BURLON – KYLE WOOD
JUSTIN HACHE – DYSIN MAYO
GOALTENDERS (BLACK):
ADIN HILL
MAREK LANGHAMER
Following the skate, Head Coach Mark Lamb and defenseman Dakota Mermis shared a few thoughts before the team took off for San Diego:
Mark Lamb, on how he feels the team is doing entering the road trip:
I'm feeling really good; I was impressed with the weekend, I was certainly impressed with how we started the first game back after everything that happened, disappointed that we left some points on the board that game, but it was a pretty wide open game the second game, and we did enough to win.
Lamb, on where he feels the team is health-wise:
Every team has some different injuries that they've gone through, like we missed Michalek for quite a bit of the time, we had some other injury situations, some call-ups and stuff, but I guess for the most part we've been fairly healthy. Mentally, it's been a battle, but the guys are fighting through, and to come out 50/50 on the weekend was pretty successful for us.
Lamb, on what he thought of Zbynek Michalek's return to the lineup:
Well you could see the rust, it's always hard to come back, but he's a pro, in the second game he was playing against [Stockton's] top line. It's a luxury we can have when he's in the lineup, he's a defensive defenseman that kills penalties, and you can play him against the top players.
Lamb, on the San Diego Gulls:
The last two-three weeks, they've been one of the hottest teams in the league, they've won a lot of games, they've had some call-ups. That first game was kind of a blur, but what really stood out in that game was their power play, they scored a couple of power play goals against us and they had all kinds of chances, so that's something that we have to look at. We made adjustments after that game to our penalty killing, and hopefully it's an adjustment that's going to help us tomorrow night.
Lamb, on the team venturing out on the road:
I think we're ready to go on the road; you really like playing at home, but sometimes it gets a little stale. Hockey players are creatures of habit, you like getting on the road; it's different, you're in the hotel, you're eating together, it's your road routine that you really get used to at times as a hockey player, and I know I'm ready to go on the road.
Dakota Mermis, on playing three division opponents in a five-day span:
Obviously these games are big because they're divisional, anytime you're playing close teams like that, you definitely want to come through with big points because down the road toward the end of the season, those are the points that matter, your division games, so it's obviously a big weekend with three opponents.
Mermis, on the San Diego Gulls:
I think our team has changed a lot since we last played them with different guys, different personnel coming in and out. They're a hard team, they had a really good crowd, a really loud arena, so it's going to be fun, it should be a good atmosphere, and if we can keep our intensity, and obviously our special teams going, that'll be huge.
Mermis, on the differences of playing on the road rather than at home:
It's a lot different; you're in hotels, you're flying, you're busing, it's not your normal routine, and that kind of changes from city to city, but at the same time it's nice, everybody's together, you have your meals together, you're in a hotel where you can just rest and do everything you need to do without having to worry about driving anywhere. It's a different feel, but it's something I think we're all used to, and it's all part of the nature of the beast.
Mermis, on where he feels the team is as a group right now:
I think we're as close as we've ever been with everything's that's happened, it's really brought us together. We're just kind of riding off of the strength that Cunny's shown; and if he can, we can also, so it's definitely brought us together, it's made us more grateful, but also more hungry.