NEWS & STATS
December 7 morning skate notes
By: Alex Kinkopf
December 07, 2016 10:30 AM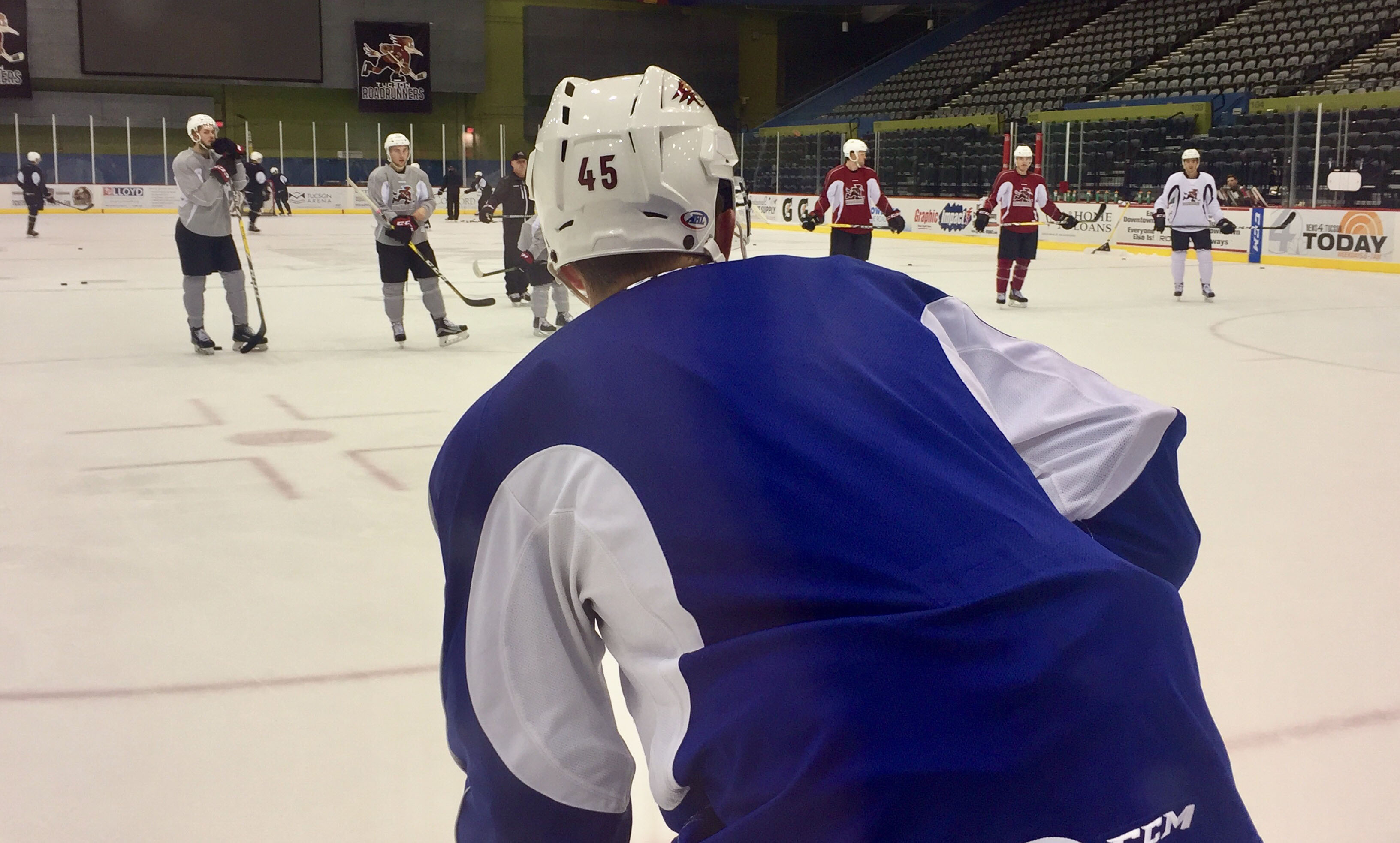 A happy Wednesday to you from what is a gorgeous morning in Southern Arizona.
The wheels are churning on what's to be a very busy day at Tucson Arena as the Roadrunners took the ice for a pregame morning skate ahead of tonight's game against the Ontario Reign, which is slated for a 7:05 PM MST start.
Before we get started – KVOA attended Tuesday's practice and sat down with Brandon Burlon and Christian Fischer to put together a nice piece on Craig Cunningham's continued recovery.
There's a lot to catch up on here; a plethora of roster moves have been made since the team's last game Saturday evening in Bakersfield. On Sunday, defenseman Anthony DeAngelo and forward Laurent Dauphin were assigned to Tucson, both of whom will be in tonight's lineup. Brendan Perlini was called-up to Arizona, where he has played two games thus far.
On Tuesday, five more moves were made official in concern to the Roadrunners' operations; defenseman Dysin Mayo and Justin Hache were assigned to the Rapid City Rush (ECHL), while forwards Hunter Fejes and Lindsay Sparks were recalled. Forward Trevor Cheek was recalled from the Fort Wayne Komets (ECHL).
There are still three goalies on the roster; Marek Langhamer was the first one to leave the ice Tuesday morning and is expected to draw the start in net against the Reign.
Eric Selleck is out indefinitely (lower body), as is Stefan Fournier (lower body). Henrik Samuellson is out for the immediate future (undisclosed).
In all, 22 players took the ice for Tucson Wednesday morning, and they were aligned as such:
FORWARDS (COLOR CODED):
RED: LAURENT DAUPHIN – CHRIS MUELLER – CHRISTIAN FISCHER
WHITE: GARRET ROSS – MARK OLVER – MARK COOPER
GREY: MICHAEL BUNTING – RYAN MACINNIS – CONOR GARLAND
BLUE: HUNTER FEJES – TREVOR CHEEK – LINDSAY SPARKS
DEFENSEMEN (BLACK):
JARRED TINORDI – ZBYNEK MICHALEK
DAKOTA MERMIS – JAMIE MCBAIN
KYLE WOOD – ANTHONY DEANGELO
BRANDON BURLON
GOALTENDERS (BLACK):
MAREK LANGHAMER
JUSTIN PETERS
ADIN HILL
The Reign took to the ice for an 11:15 AM pregame skate.
The two clubs are set for the fourth of their 12 scheduled meetings this season, and what will be the third of Ontario's six visits to Tucson Arena. More to come from a beautiful game day in Tucson, Arizona.
For now, a few shots from the morning's walk-through: