NEWS & STATS
December 9 postgame quotes: Hill, Fischer, Wood, Lamb
By: Alex Kinkopf
December 09, 2016 10:24 PM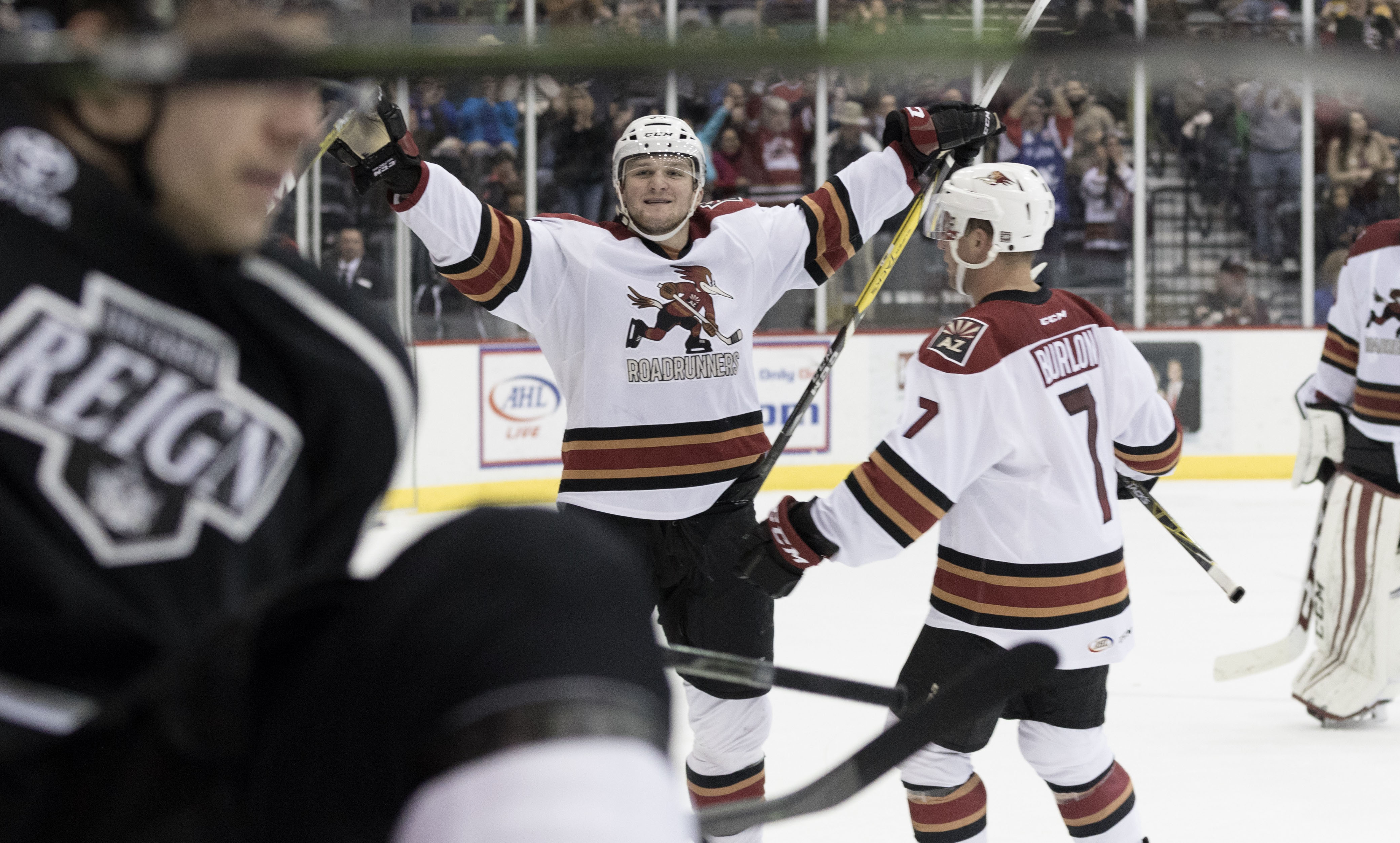 Adin Hill, on how he felt making his first start in five games:
I felt good, I was seeing the puck well, I felt like the team did a pretty good job in front of me, and we got the win – that's all that matters.
Hill, on the team snapping a four-game losing streak:
It's huge; in the two games we played in here, we got three points, so that's really big, especially tonight's win to snap that winless streak, so we needed that going into next week heading into San Antonio.
Hill, on his vantage point of the shower of Teddy Bears:
It's pretty cool to see all those bears piling over the boards, there's nothing like it, pretty special.
Hill, on entering the game with two-straight losing decisions:
I just worked hard every day in practice, making sure I'm getting every shot, making sure I'm keeping the right habits.
Christian Fischer, on the team pulling out a win:
I think it's obviously a huge win; to get one point yesterday was good, but obviously those two points were something that we needed, it's been a while since we've gotten a full two point win.
Fischer, on his overtime winner:
It was a four-on-three, they had the penalty, so it was kind of a little hectic on the ice, so I just cut to the middle and shot it, there were a lot of their players in front of their goalie, so it went in there.
Fischer, on his celebration:
It was just a big win, and obviously emotions run high, so just a great win, it was full-on reaction based.
Kyle Wood, on his goal late in the third period:
It was definitely big, it's been a rough couple of games for our power play and it was nice to get one late there, then the guys came through in overtime which was huge, it was nice to get the two points tonight.
Wood, on how the late changes to the lineup effect the team's game:
It's the AHL, things happen, people go up and people go down, and you just have to adapt. Those players were two big parts of our team the game before, but the guys played hard tonight, and it was a solid effort.
Wood, on the giant bear he helped pull over the glass:
I saw it, I wasn't tall enough to get it, so I just got my stick in there and tried to help out any way I could.
Mark Lamb, on the team's performance:
It was another real good effort against a real good hockey team. Our power play has to be the difference, and it was, but a lot of guys got a lot of ice time this weekend, a lot of experience, a lot of newness, and you've got to come away happy.
Lamb, on how he felt the players adjusted to late lineup changes:
They've reacted to a lot of things this year already, so getting a couple of players called up is minor.
Lamb, on Adin Hill's performance:
Excellent; both of those two young kids have played excellent for us all year long, they give you a chance to win, that's all a goaltender can do, and they're doing it.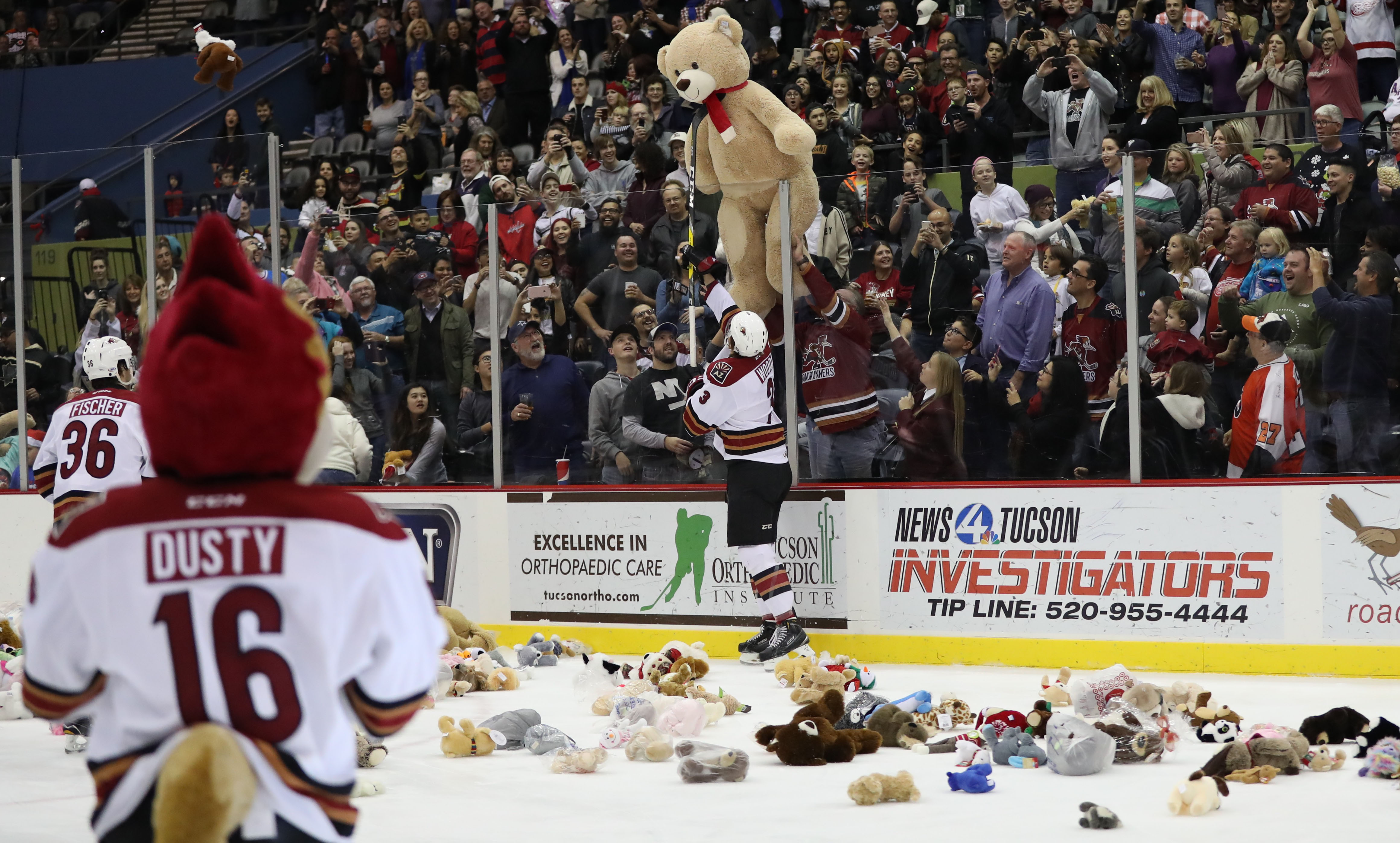 *Photos taken by: Kate Dibildox and Chris Hook