NEWS & STATS
December 14 practice notes; Catching up with Coach
By: Alex Kinkopf
December 14, 2016 1:57 PM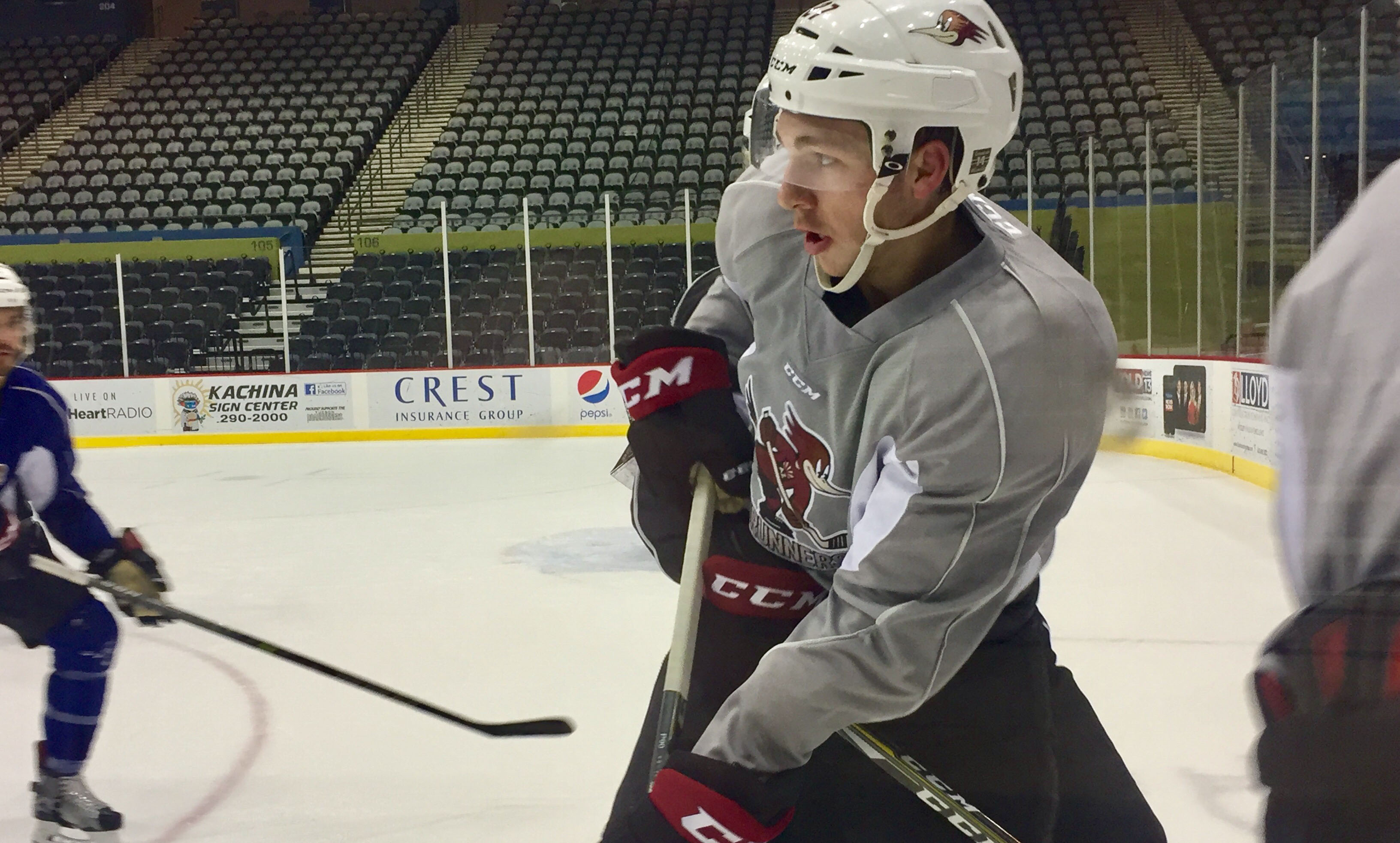 Good afternoon from Tucson Arena, where the team held their final practice before shipping off to San Antonio Thursday morning ahead of their two-game set against the San Antonio Rampage this weekend at the AT&T Center.
The Roadrunners are scheduled to take on the Rampage, who currently sit in last-place in the Pacific Division, Friday night at 6:30 PM MST and Saturday night at 6:00 PM MST.
A majority of the team visited the Diamond Children's Medical Center on Tuesday afternoon, handing out Teddy Bears and visiting patients; we'll have a feature on their visit later today.
Shortly after the team filed off the ice Wednesday, goaltender Adin Hill was assigned to the Rapid City Rush (ECHL). Since Justin Peters' assignment from the Coyotes on December 1, the Roadrunners have been carrying three goalies on their roster. Hill will join the Rush in Idaho as the team prepares for a three-game set against the Steelheads.
In total, and including Hill, 22 players took the ice for the team on Wednesday; 19 skaters and three goaltenders.
Laurent Dauphin, who flew in from Pittsburgh upon his Tuesday assignment, joined the team for the practice, and skated on the left side of Chris Mueller and Christian Fischer on the first line.
Tyler Gaudet rejoined the team on Monday and has practiced with the club throughout the week; he has been skating with Garret Ross and Mark Olver on the second line.
Jamie McBain missed practice due to an undisclosed illness, but should be with the team Thursday for the flight to Texas. Stefan Fournier, who hasn't played since December 3 as he tends to a lower-body injury, skated as an extra with the defense on Wednesday.
For what it's worth – Lindsay Sparks was no longer donning a full cage at today's practice. Sparks, who suffered an injury to his nose while playing for Rapid City, skated with a half-shield Wednesday.
The players aligned thusly:
FORWARDS (COLOR CODED):
RED: LAURENT DAUPHIN – CHRIS MUELLER – CHRISTIAN FISCHER
WHITE: GARRET ROSS – MARK OLVER – TYLER GAUDET
GREY: MICHAEL BUNTING – RYAN MACINNIS – CONOR GARLAND
BLUE: LINDSAY SPARKS – TREVOR CHEEK – HUNTER FEJES – MARK COOPER
DEFENSEMEN (BLACK):
JARRED TINORDI – ZBYNEK MICHALEK
BRANDON BURLON – KYLE WOOD
DAKOTA MERMIS – STEFAN FOURNIER
GOALTENDERS (BLACK):
JUSTIN PETERS
MAREK LANGHAMER
ADIN HILL
The team's trip to San Antonio marks the return to Texas for Head Coach Mark Lamb, who spent a total of 10 seasons in the Lone Star State as a professional player and coach. Lamb played for the Houston Aeros (IHL) for four seasons from 1995-2000, and served as an Assistant Coach for the Dallas Stars for six seasons from 2002-2009.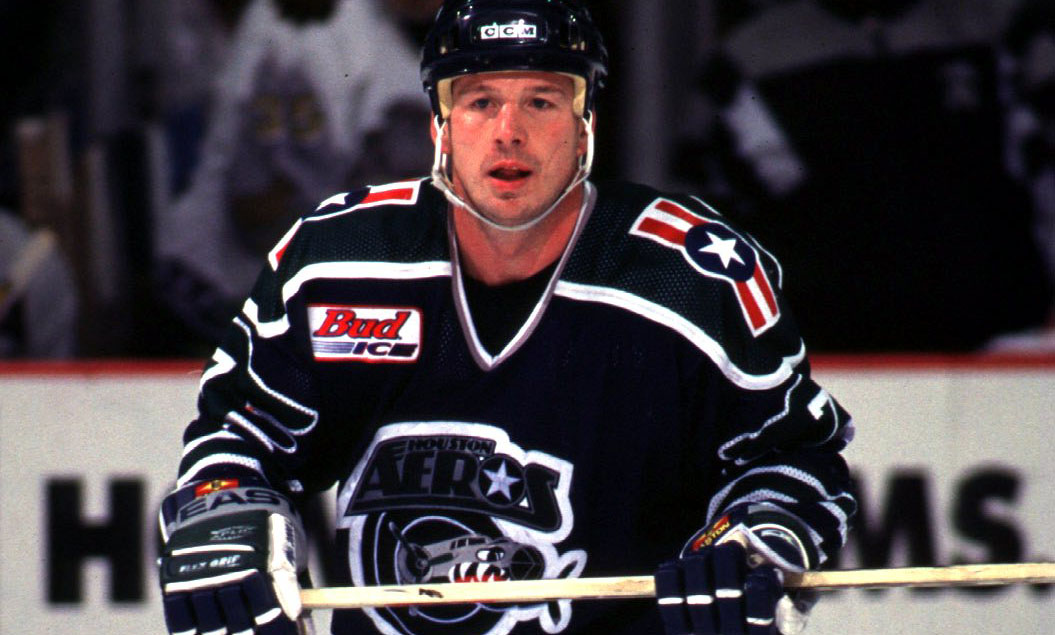 "When I first got to Houston, hockey was just starting to come around out there," Lamb said of his early days playing in Texas. "There wasn't a lot of it; the Aeros were the big thing for hockey. You push on 7, 8, 9 years and then I end up in Dallas, and you see these rinks being built, and my boy was starting to play hockey back then, I got really involved in it, and it was a lot bigger than I thought, and it's grown a lot bigger than that in the last few years too. Then you fast forward to Arizona, and I've seen what it's been like in Phoenix. Being back in junior, in the Western Hockey League, we can scout kids from Arizona, it's our area to draft kids from, so I've seen how that area has grown, and hopefully it grows right down into Tucson here."
Prior to departing for San Antonio, Lamb touched on a few more topics:
Mark Lamb, on where the team stands following their two games versus Ontario:
It was a very positive weekend for us, I've really liked the practices this week, the new guys that came in and played last weekend are starting to fit in a little bit more, and are learning a little bit more. With that being said, I thought we all played really well last weekend and really helped us get those points.
Lamb, on how he feels about the team's depth right now:
It's good for them. They come in, we talk about opportunity all of the time in this game, we've seen a couple of them at training camp, and they came in and they showed that they can play in the league up to this point, that's for sure. We've had a couple of guys called up, so they've jumped in, we've had to move the lines around a little bit, which is going to be an ongoing thing all year. They've added some depth, and hopefully they can stay like that, and when everybody gets in their spots, it'll make for tougher decisions for us, and make us a better team.
Lamb, on how Laurent Dauphin helps shore-up the team's depth:
We were really short there; we lose Perlini, he goes up, and we didn't really have any so-called first line guys or top-six guys. It's a great opportunity for him to get a lot of ice time, to come down, play with the puck and show that he can do something offensively, plus show that he can play a smart two-way game, which is something that we need also. Our five-on-five play, our power play got us back winning, when our power play good, it wins, but we need to be better five-on-five.
Lamb, on if he's concerned at all about the team's play on the road:
No. You're always concerned as a coach to try to get better. There were certain situations on that last road trip, there are certain things that happened, that hopefully we did fix, and now time will tell. We're going back on the road, and we'll see how we react on the road this time.
Lamb, on what the coaching staff knows about the Rampage:
We don't know a lot about them, I think the biggest thing that we have to do is, the stuff that we did well in getting those points last weekend, we have to keep doing. We have to worry about our team, we have to play the way we want to play, play our system, and if we do that, we're giving ourselves a chance to win. We'll do the same pre-scouts, go over their team, see their tendencies, but for the most part, we want to play how we want to play.
Please, at your convenience, take in a few photos from today's skate: