NEWS
Game #19 Preview: Tucson at San Antonio
By: Alex Kinkopf
December 16, 2016 12:10 PM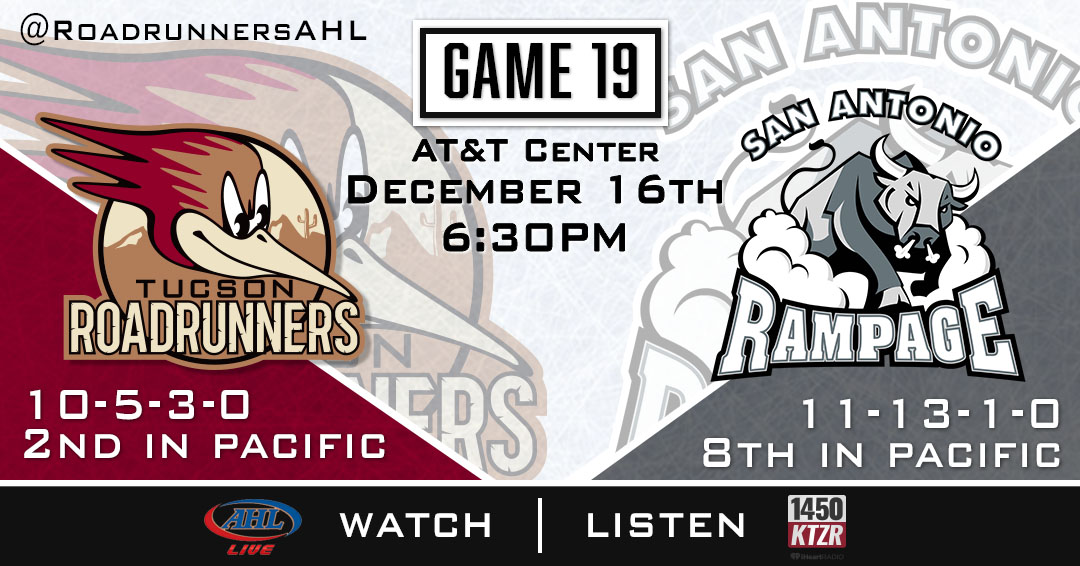 Game #19 – Tucson (10-5-3-0) at San Antonio (11-13-1-0)
6:30 PM MST, AT&T Center, San Antonio, Texas
Referees: #43 Tom Chmielewski
Linesmen: #46 Eli Rivera, #12 Carl Sasyn
ON THE ROAD AGAIN: Tonight marks the first of six meetings with the Rampage this season, and the first of three visits to San Antonio's AT&T Center. San Antonio is playing the first of a two-game home stand following a four-game road trip where they posted a 2-2-0-0 mark; they're coming off of a 5-4 loss to the Milwauke Admirals Monday night at UWM Panther Arena. The Roadrunners are playing the first of a two-game road trip; they're coming off of a 5-4 OT win over the Ontario Reign last Friday at Tucson Arena.
WOES AWAY: The Roadrunners are without a win in their last four games away from Tucson Arena, posting a 0-3-1-0 mark, getting outscored 17-6 during that span. The team has not won a game on the road since their 3-0 victory over the Bakersfield Condors on November 11 at Rabobank Arena. "You're always concerned as a coach to try to get better," Mark Lamb said in regards to if he's concerned about the team's play away from home as of late. "There were certain situations on that last road trip, there are certain things that happened, that hopefully we did fix, and now time will tell. We're going back on the road, and we'll see how we react on the road this time."
LINEUP: The team held a morning skate at the AT&T Center ahead of tonight's game. A final, hockey operations-approved lineup will be posted when tonight's Live Blog goes up 30 minutes prior to puck drop. The team aligned as such during Wednesday's practice:
FORWARDS:
LAURENT DAUPHIN – CHRIS MUELLER – CHRISTIAN FISCHER
GARRET ROSS – MARK OLVER – TYLER GAUDET
MICHAEL BUNTING – RYAN MACINNIS – CONOR GARLAND
LINDSAY SPARKS – TREVOR CHEEK – HUNTER FEJES – MARK COOPER
STEFAN FOURNIER
DEFENSEMEN:
JARRED TINORDI – ZBYNEK MICHALEK
BRANDON BURLON – KYLE WOOD
DAKOTA MERMIS – JAMIE MCBAIN
DYSIN MAYO
GOALTENDERS:
JUSTIN PETERS
MAREK LANGHAMER
BACK IN ACTION: The Roadrunners gained a bit of a bolster to their offensive alignment when Tyler Gaudet and Laurent Dauphin were assigned to Tucson from the Arizona Coyotes earlier in the week. Gaudet, in 12 games with the Roadrunners this season, has recorded seven points (2G, 5A). Dauphin scored a goal in his lone appearance with Tucson this season on December 7 vs. Ontario.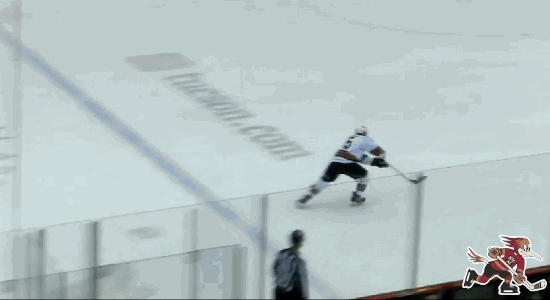 STRUGGLES IN SAN ANTONIO: The Rampage come into the evening with the AHL's worst record on home ice, posting a 3-7-1-0 record at the AT&T Center this season. The Roadrunners, though, have not won a game in their previous four contests on the road, going 0-3-1-0 during that span. Can Tucson rebound on the road tonight and pounce on a Rampage team struggling at home?
TWO-FER: Tucson's two-game set against the Rampage marks the sixth pair back-to-back games played for the team this season. In the first game of consecutive contests, the Roadrunners have posted a 3-2-0-0 record against their opponents. Can they maintain a winning record in those situations with a victory tonight in San Antonio?
WHITE'S ALL RIGHT: The Rampage will be donning royal blue jerseys tonight for the team's annual 'ugly sweater night' promotion. Because of this, the Roadrunners will likely be wearing their white sets, where they've gone 8-1-3-0 in so far this season. When donning their brick-red uniforms, Tucson has posted a 2-4-0-0 mark.
OLD PARTNERS: Tonight marks the first time the Roadrunners play the Rampage in franchise history. San Antonio, for six seasons from 2005-'11, were the Arizona Coyotes' main AHL affiliate. Only two players on the current Coyotes roster remain from that affiliation partnership – defensemen Michael Stone and Oliver Ekman-Larsson.
WE'RE DOING IT LIVE:
You can catch tonight's action on
AHL Live
. Roadrunners play-by-play broadcaster
Tom Callahan
will have the radio call on
AM 1450 KTZR
, which can be listened to for free
HERE
. Callahan's radio coverage of tonight's contest will begin at 6:15 PM MST.