NEWS & STATS
Game #19: Tucson at San Antonio
By: Alex Kinkopf
December 16, 2016 3:45 PM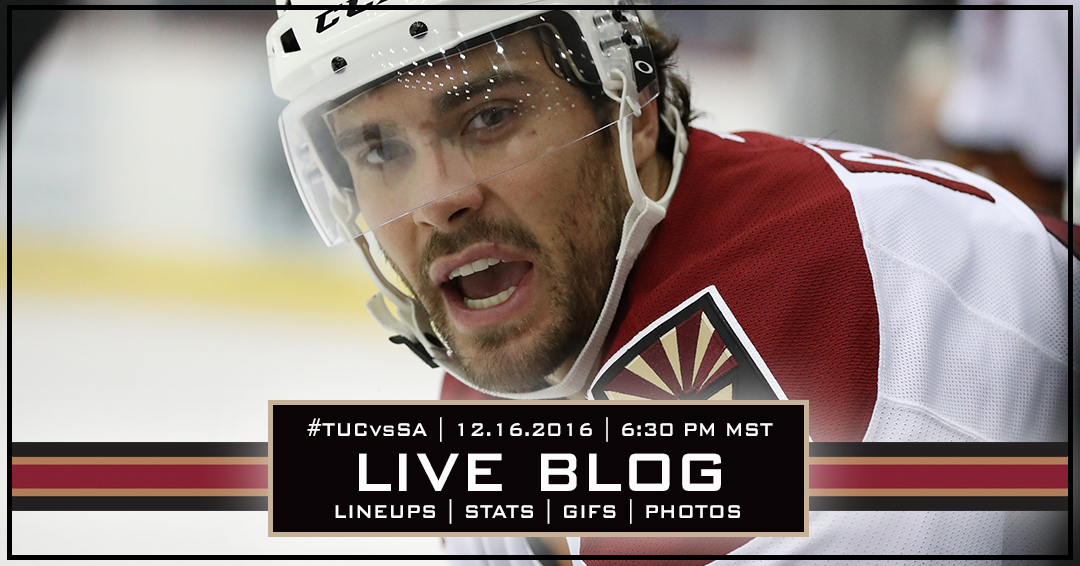 TUCSON ROADRUNNERS 5, SAN ANTONIO RAMPAGE 4
Final / Overtime | 4:41 Remaining
Tucson (10-5-3-0) at San Antonio (11-13-1-0)
Friday, December 16, 2016, 6:30 p.m. MST
AT&T Center, San Antonio, Texas
Referees: #43 Tom Chmielewski
Linesmen: #46 Eli Rivera, #12 Carl Sasyn
AHL Live, iHeart Radio
TUCSON: G Justin Peters, D Jarred Tinordi, D Zbynek Michalek, LW Laurent Dauphin, C Chris Mueller, RW Christian Fischer
SAN ANTONIO: G Kent Simpson, D Sergei Boikov, D Duncan Siemens, LW Sam Henley, C Rocco Grimaldi, RW Alex Belzile
---
SOG - TUC 38; SA 23
PP – TUC 0/3; SA 1/5
FIRST PERIOD:
1) SA - Troy Bourke (3) (Mike Sislo, Sergei Boikov) 7:53
2) TUC - Kyle Wood (6) 8:47
3) SA - A.J. Greer (6) (Troy Bourke, Garry Nunn) 10:32
4) SA PPG - A.J. Greer (7) (Cody Corbett, Gary Nunn) 14:38
5) TUC - Christian Fischer (5) (Laurent Dauphin, Brandon Burlon) 16:28
SECOND PERIOD
6) TUC - Dakota Mermis (2) (Trevor Cheek, Hunter Fejes) 10:05
7) SA PPG - Gary Nunn (6) (A.J. Greer, Sergei Boikov) 13:23
THIRD PERIOD
8) TUC SHG - Christian Fischer (6) (Laurent Dauphin, Dakota Mermis) 11:49
OVERTIME
9) TUC - Christian Fischer (7) (Zbynek Michalek, Laurent Dauphin) 0:19
---
NOTES
Pregame:
- Justin Peters leads the team out of the tunnel for warm-ups. Peters will make his third start this season, and his first since December 3. He is still looking for his first winning decision with the Roadrunners; he comes into the night with a 0-2-0 record, .922 SV%, and a 2.13 GAA.
- The Roadrunners are wearing white tonight due to San Antonio's royal blue specialty 'ugly sweater night' jerseys. Tucson is 8-1-3-0 in their white sets this season, including a 1-0-1-0 mark when wearing them on the road.
- Mark Cooper and Stefan Fournier are your scratches up front tonight; Fournier continues to recover from a lower-body injury he suffered on December 3 against Bakersfield.
- Jamie McBain is scratched on the back-end. He hasn't practice with the team since Tuesday, battling a flu-like illness. He joined the team in San Antonio tonight, and is questionable for Saturday's affair. Dysin Mayo, recalled from Rapid City (ECHL) earlier in the day, will slot to the right of Brandon Burlon, dressing for the fourth time this season.
- Kent Simpson looks to get the call in net for San Antonio.
First Period:
- Tucson records the first four shots of the evening, coming out with a good rythm. Christian Fischer denied on an early Grade-A scoring chance.
- Justin Peters with a rather tough first period performance, allowing three goals on five shots.
- Kyle Wood scored his sixth goal of the season to tie the game 1-1, weaving through the neutral zone and beating Kent Simpson from the far hashmarks.
- Christian Fischer scores his fifth goal of the season, getting the Roadrunners back to within a goal with 3:32 left to play in the opening frame.
- A very, very wide-open first period.
- Lindsay Sparks called for a hooking infraction with two seconds left in the period. The Roadrunners will begin the second on the penalty kill.
Second Period:
- Jeremy Smith has replaced Kent Simpson in net for the Rampage.
- Roadrunners held scoreless on their first power play of the evening, albeit PLENTY of chances.
- Jeremy Smith did not enter this game cold. He has single-handedly kept San Antonio in the lead.
- Tucson has outshot the Rampage 10-1 through the first 10 minutes of the second period.
- Dakota Mermis powers home a slap-shot from the top of the slot that deflects off of Rocco Grimaldi's stick during a block attempt and past Smith to tie the game 3-3.
- The teams combine for 28 penalty minutes in a corner scurmish with 2:30 left in the frame.
Third Period:
- After an extremely difficult first period, Justin Peters' performance early in the third period turns away 3-4 Grade-A San Antonio scoring chances to keep the deficit at one goal.
- While shorthanded, Laurent Dauphin pounces on a Rampage turnover in Tucson's zone, streaks into San Antonio territory on a two-on-one with Christian Fischer, who receives a pass, and buries his own rebound to tie the game 4-4.
- Roadrunners get a late power play opportunity with just over two minutes to play in regulation. None doing.
Overtime:
- Zbynek Michalek, Laurent Dauphin, and Christian Fischer start the three-on-three overtime period for Mark Lamb.
- Michalek feeds Fischer a rink-long loft/stretch pass, which Fischer catches up to 15 feet feet in front of Jeremy Smith. Fischer quickly gains control and fires a shot past Smith to give Tucson a 5-4 win.
- For Fischer, it marked his third goal of the game. He recorded the first hat-trick in Roadrunners history.
FORWARDS:
LAURENT DAUPHIN - CHRIS MUELLER - CHRISTIAN FISCHER
GARRET ROSS - TYLER GAUDET - MARK OLVER
MICHAEL BUNTING - RYAN MACINNIS - CONOR GARLAND
LINDSAY SPARKS - TREVOR CHEEK - HUNTER FEJES
(STEFAN FOURNIER - MARK COOPER)
DEFENSEMEN:
JARRED TINORDI - ZBYNEK MICHALEK
DAKOTA MERMIS - KYLE WOOD
BRANDON BURLON - DYSIN MAYO
(JAMIE MCBAIN)
GOALTENDERS:
JUSTIN PETERS
MAREK LANGHAMER
---
VIDEO HIGHLIGHTS
- Kyle Wood weaves through the neutral zone and fires a wrist-shot from the left circle past Kent Simpson for the Roadrunners' first goal of the evening.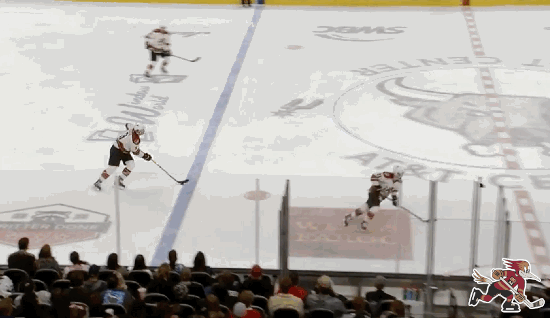 - Christian Fischer corrals a Laurent Dauphin feed in San Antonio's zone and nets Tucson's second goal of the night.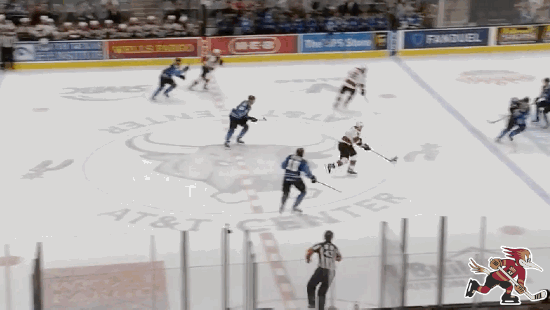 - Dakota Mermis' shot from the high-slot ricochets off of Rocco Grimaldi and into the net for the Roadrunners' third goal.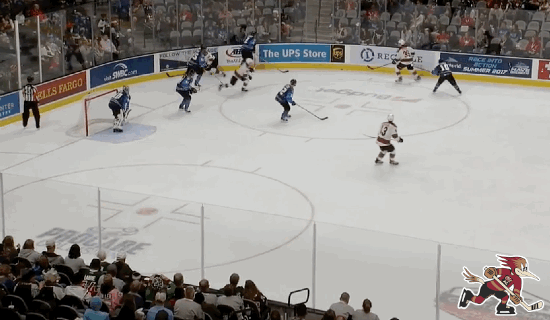 - Christian Fischer scores his second goal of the game, receiving a Laurent Dauphin feed and finishing his own rebound to tie the game 4-4. A shorthanded marker.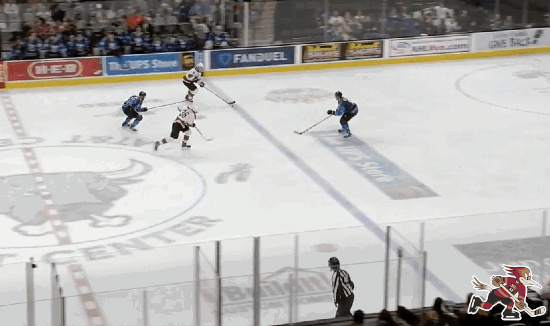 - Christian Fischer catches up to a Zbynek Michalek loft pass and beats Jeremy Smith for the overtime winner.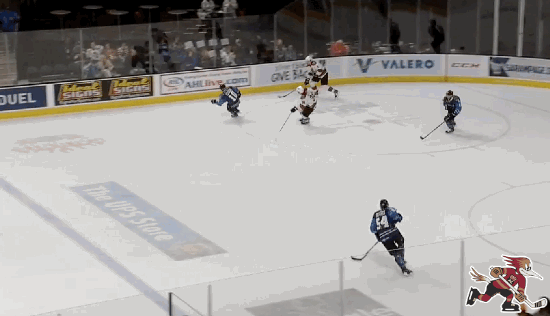 ---
PHOTOS