NEWS & STATS
December 20 morning skate notes
By: Alex Kinkopf
December 20, 2016 9:56 AM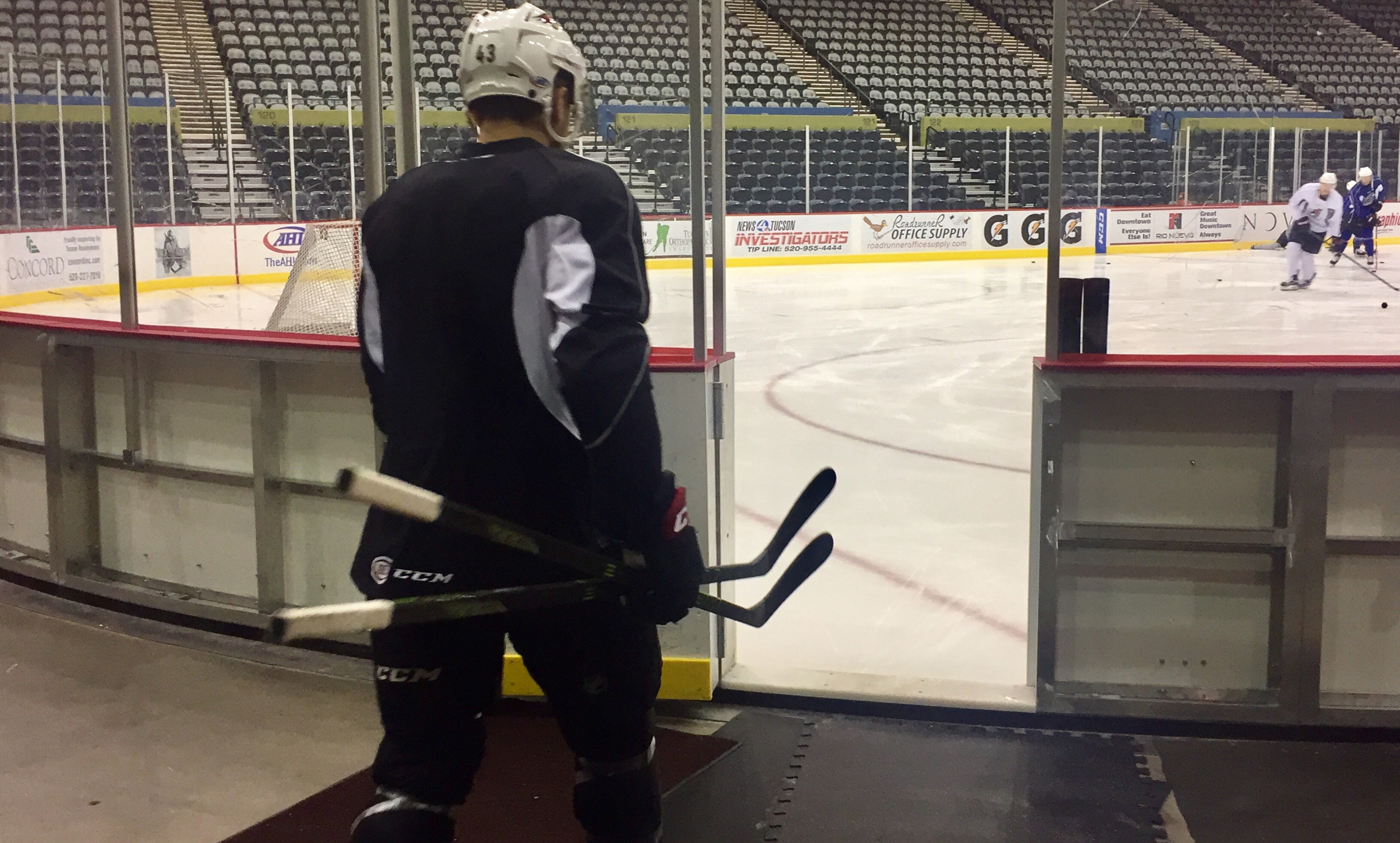 Good morning from Tucson Arena, where the team held an optional pregame skate ahead of tonight's contest versus the Bakersfield Condors, which is scheduled for a 7:05 PM start.
15 players took the ice, along with both goaltenders. Forwards Chris Mueller, Mark Olver, Tyler Gaudet, Michael Bunting, Hunter Fejes, Ryan MacInnis, Lindsay Sparks, Trevor Cheek, Conor Garland, and Stefan Fournier were out there along with defensemen Jarred Tinordi, Jamie McBain, Brandon Burlon, Dakota Mermis, and Kyle Wood.
Those who did not participate took part in off-ice workouts.
Head Coach Mark Lamb noted that "two games in two days", as well as the team's full day of travel from San Antonio on Sunday was a major factor in deeming Tuesday morning's skate optional.
Justin Peters was the first goaltender to leave the ice and is projected to make his fourth start of the season. Peters has faced the Condors once this season, allowing five goals on 23 shots faced in the Roadrunners' 5-0 loss on December 3 at Bakersfield's Rabobank Arena.
Other than forwards Hunter Fejes and Conor Garland swapping duties on the third and fourth lines, there don't look to be any changes to the lines the team used over the weekend in San Antonio.
During Monday's practice, where a full roster was present, the team aligned thusly:
FORWARDS (COLOR CODED):
LAURENT DAUPHIN – CHRIS MUELLER – CHRISTIAN FISCHER
GARRET ROSS – MARK OLVER – TYLER GAUDET
MICHAEL BUNTING – RYAN MACINNIS – HUNTER FEJES
LINDSAY SPARKS – CONOR GARLAND – TREVOR CHEEK – STEFAN FOURNIER
DEFENSEMEN (BLACK):
JARRED TINORDI – ZBYNEK MICHALEK
DAKOTA MERMIS – JAMIE MCBAIN
BRANDON BURLON – KYLE WOOD
GOALTENDERS (BLACK):
JUSTIN PETERS
MAREK LANGHAMER
Tonight marks Bakersfield's first visit to Tucson Arena. The teams have met on four previous occasions this season, all at Rabobank Arena. The Roadrunners come into the evening with a 2-1-1-0 record against the Condors.
Bakersfield is scheduled for an 11:15 AM pregame skate.
News 4 Tucson will be on location before and during tonight's contest to promote their 'Season 4 Hope' campaign, featuring Kristi's Kids. The Food Bank of Southern Arizona and Goodwill Industries will also be holding donation drives in their efforts to provide for those in need for the holiday season.
More to come from a gorgeous day in Southern Arizona.
Please, at your convenience, take in a few photos from this morning's go-around: