NEWS & STATS
December 20 postgame quotes: Mueller, Wood, Peters, Lamb
By: Alex Kinkopf
December 20, 2016 9:48 PM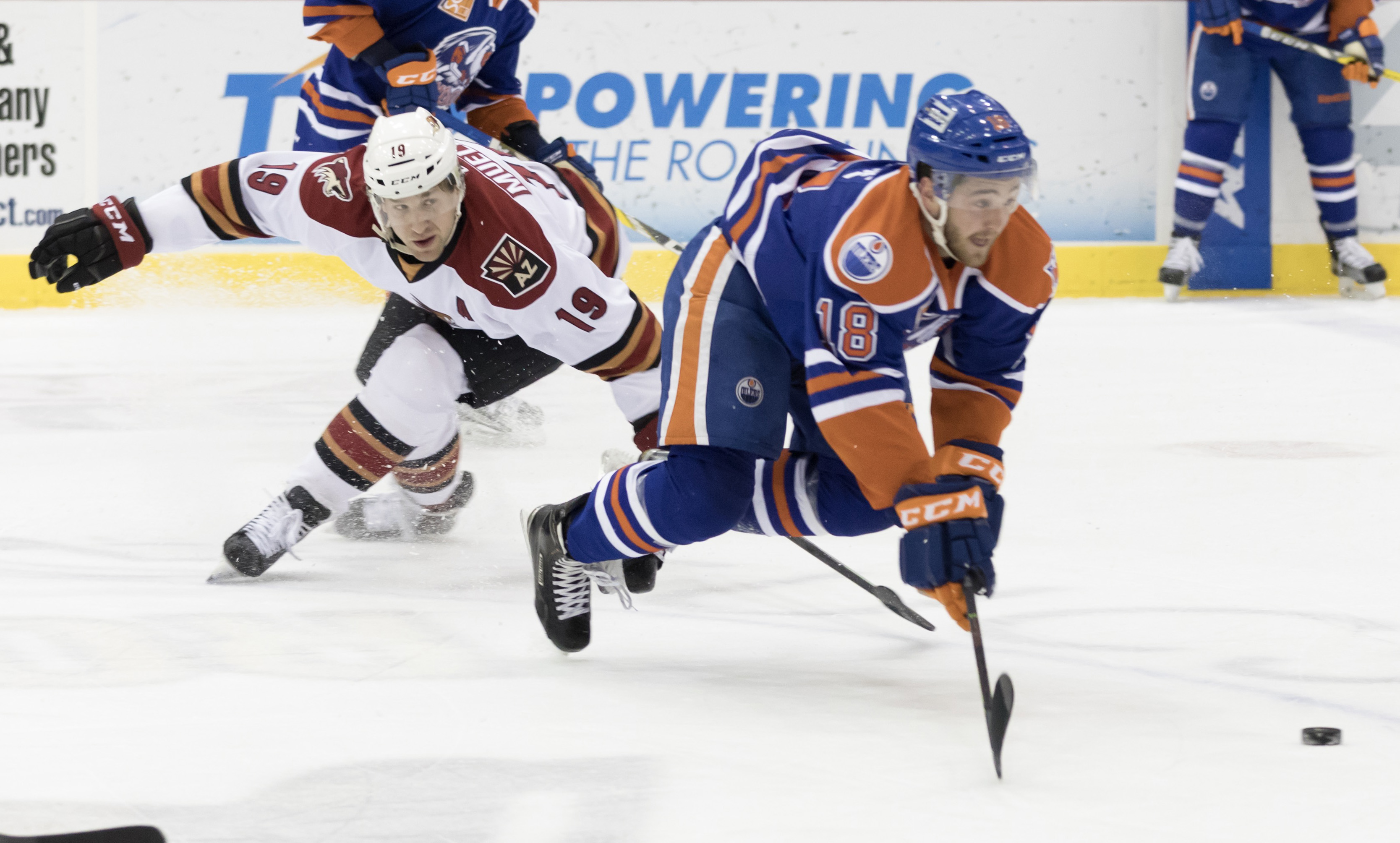 Chris Mueller, on what he liked about the team's start:
It was huge, especially at home, the power play got one, our power play's been really good at home. It was a crazy game, though, it got out of hand with penalties, I think we took four penalties in a row in the second, but the start was great. We talked about having a better start, we scored the first goal the other night and didn't continue it, but we got another good start tonight and held onto the lead so it was good.
Mueller, on Bakersfield responding with three straight goals:
They've got some really good talented players, and when they have that many power plays in a row, because our penalty kill just gets tired, and especially two five-on-threes – you don't get many five-on-threes in a season, and to get two in the same game that's pretty crazy. Hats off to our penalty kill; we let up a couple, but for as much as they played continuously penalty after penalty, and Petey was great too.
Mueller, on Justin Peters' performance:
You can't ask for more of Petey, when the other team has a five-on-three, they should score, that's their job. They got one, but hats off to Petey and the killers blocking shots, for sure.
Kyle Wood, on the team's fast start:
It was definitely a big start for us, getting off to the 3-0 lead, getting one on the power play early was definitely good for our confidence, and we've just got to keep playing that way. We let up a little bit, but it was nice to get the two points.
Wood, on his first period goal:
I had a couple of shots before that, and then I realized that they were tired and they weren't going to come force me. I had time, I just walked down a little bit, saw something short side, and just put it in.
Wood, on if he thought he would get selected for a shootout:
No, I had no idea that I was going, the defensemen don't really go in the shootout that much, so yeah, I was a little surprised when coach gave me the bump, but it turned out well, and we got the two points.
Wood, on if his shootout move was predetermined or decided on the fly:
I usually go down and slow up a little bit and try and find somewhere to shoot. I just saw five-hole, I wasn't really thinking about it beforehand, so I just skated down and found somewhere to shoot.
Wood, on if he's been selected in a shootout in the past, if he's scored:
Yeah I think I went a couple of times in junior, but I don't think I scored at all, so I think this is a first for me.
Justin Peters, on his performance, playing in front of home crowd:
It was a lot of fun to play in front of the home fans; we got up early, and they weren't going to lay down easy, so it turned out to be a pretty exciting game, so we're just happy to get the win here on home ice.
Peters, on Bakersfield's pair of five-on-three power plays:
On a five-on-three they're going to get their chances no matter what. We fought them off for a while, unfortunately they were able to get one, but the killers were battling hard in front of me all night.
Peters, on how starting to get consistent playing time:
It definitely helps, it's fun to play in front of the guys and get into a little groove, and when you have the opportunity to play on a consistent basis, I think anyone would like that instead of getting starts every couple of weeks.
Mark Lamb, on the team's three-goal first period:
I liked our start. I thought we played a strong game, but we got into penalty troubles. Five-on-threes for that long of a time is really hard, it's hard to kill those things, and we did a really good job on the five-on-threes, but the difference in the game is that we just took too many penalties, we can't give up that many penalties. That's why it's a 60-minute game, and that's why you have to be disciplined.
Lamb, on Peters' performance, namely on the five-on-three penalty kills:
He made some great saves, and the goals that they scored – there was one out there that he didn't see at all, they had good screens, and when guys get pucks through now, there's so much traffic in front of the net, the goalies can't see it. We talk about it all of the time, we need traffic in front of net, we need to get people in front of the net, and that's exactly what [Bakersfield] did.
Lamb, on if he had an idea of who his three shooters would be for the shootout:
I have it in my head, we do some shootouts in practice, you go by some feel, we lucked out tonight, and it worked.
Lamb, on how he decided to go with Kyle Wood:
I was hoping he would go in there and shoot it; he's got a real good shot. The thing with a lot of these goalies is, [Wood] is kind of an unknown, he's got a real hard shot and he's starting to get noticed, but they wouldn't know what he was going to do in a shootout, and neither did we.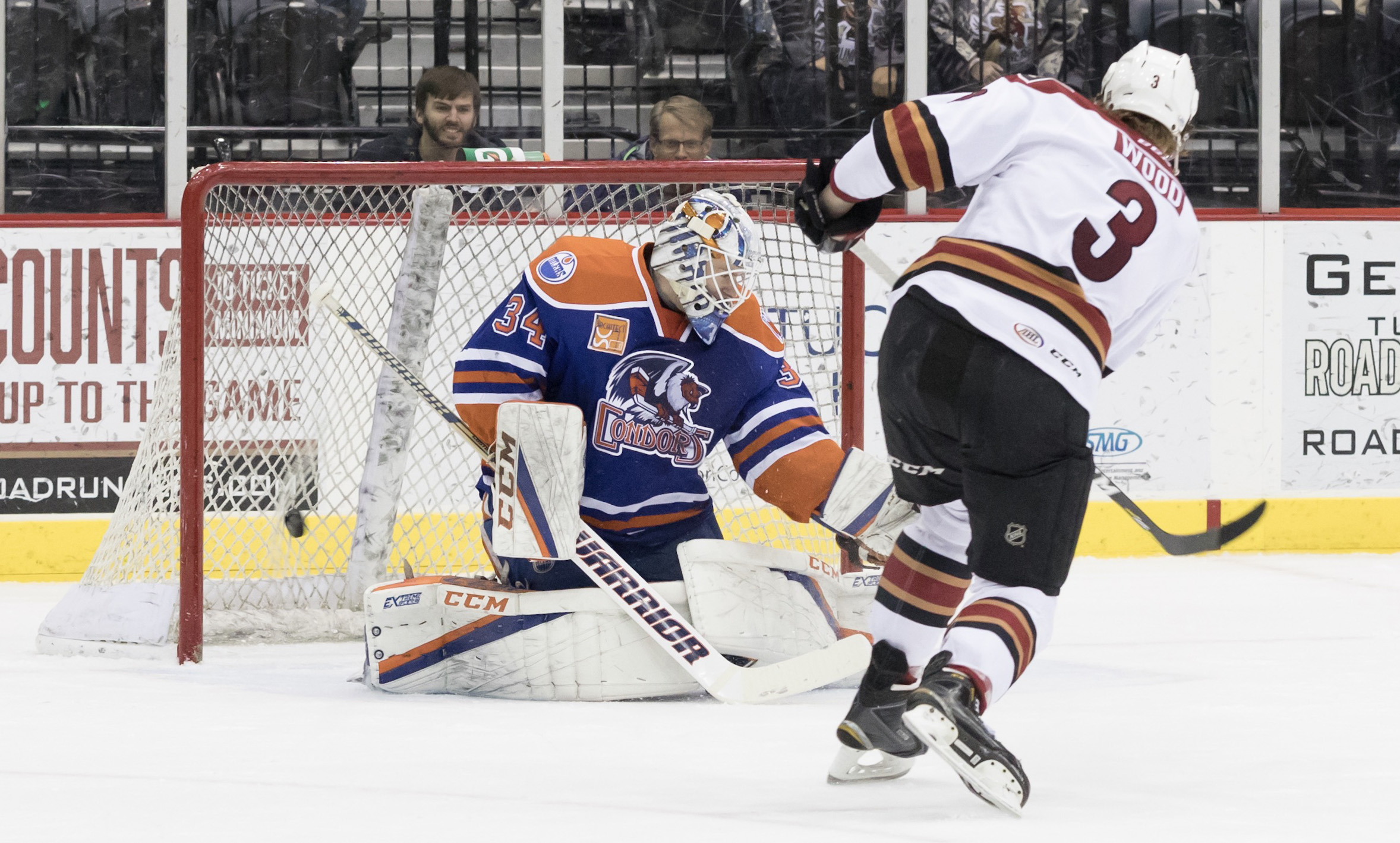 *Photos taken by: Kate Dibildox