NEWS & STATS
December 26 postgame quotes: Mueller, Fischer, Lamb
By: Alex Kinkopf
December 26, 2016 11:01 PM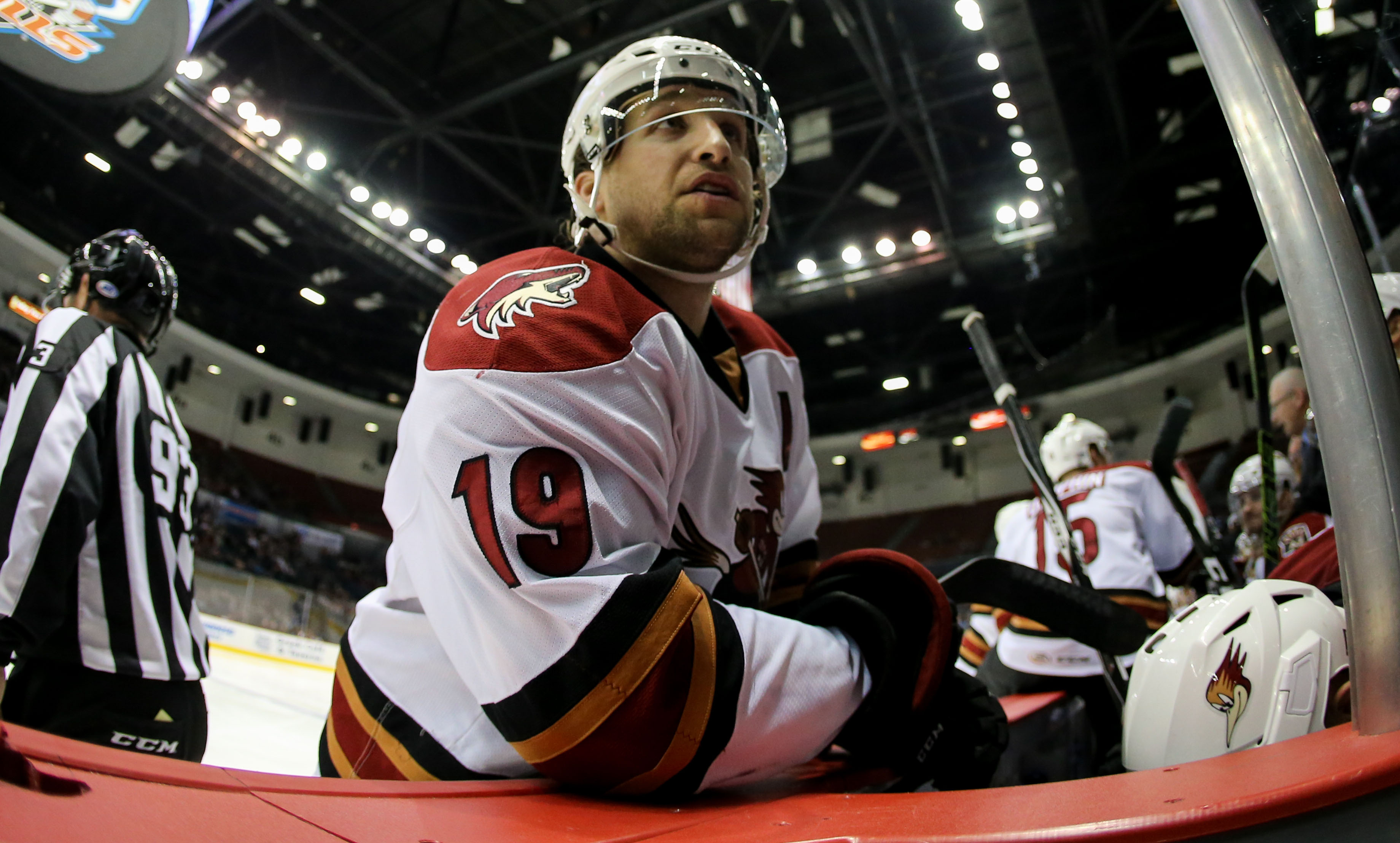 Chris Mueller, on the game:
It was a tough game, both teams were coming off of a break, we woke up at 4:00 AM in Tucson and flew in this morning, had a pregame skate, tried to get our legs under us from behind off for five days, and we did pretty well. In my experience, that's a tough game to play, you don't feel your best, you just try to find ways to find energy, and you could tell. We took some penalties because we were tired and San Diego's got a great power play, so we got into some trouble that way, but I thought we did a good job just getting the win.
Mueller, on being in good positioning on both of his goals:
That's just my spot, the off wing. When I'm on the strong side on the power play, I'm usually feeding guys, but that first one was just off of a rebound and it found a way in, then Woody made an unbelievable pass on the second one – guys tend to overplay him because he's got such a big shot, and he made a great pass to find the seam, and I just put it into the empty net, so credit to him.
Mueller, on what it meant to play so well in front of his former team:
You want to play well every game, but it's especially a good feeling doing so in coming to San Diego. I loved it here, I was always welcomed, I have a lot of friends here still on that team and in the San Diego area, but it is good to get a couple of goals and a win, for sure.
Christian Fischer, on his thoughts on the shootout win:
Obviously it was a pretty hectic game, a high-scoring game, and once again it was pretty great for our group to come back like that. We were in the lead for a little bit, but we never gave up, it was great to see us tie it up late there, and obviously we'll take two points whenever we can.
Fischer, on the team's affinity to have success after regulation:
I think we have a lot of skilled guys; three-on-three is obviously a lot of puck management, a lot of skill. The shootout is obviously the same sort of thing, a lot of skill, knowing the goalie, and I think we have a lot of skilled guys, so when it comes to those terms it's pretty easy for us to just play.
Mark Lamb, on the shootout win:
There are parts to our game that I thought were real good, but we got in trouble, and obviously it was with the penalties and momentum when we turned pucks over. Other than that, there were some definite strong parts of our game being played out.
Lamb, on the team's success after regulation:
I don't really know how that is playing out; it's nice to get those extra points because they sure add up. This team finds a way to do it, they find a way to win, and that's a great trait to have. When you play a full 60-minute game, it's going to end up biting you if you take too many penalties, it's been three games in a row now, we've given up 5-on-3's three games in a row also, you've got to clean that up.
Lamb, on the team's shot selection, traffic in front of the net:
Goaltenders are so good, you're not going to score from the outside very often, you need to get people on the crease, you've got to get screens in front of the goalies, and that's something that I talk about all of the time, and something that every coach in the league talks about.