NEWS & STATS
GAME #24: Tucson at Stockton
By: Alex Kinkopf
December 28, 2016 5:53 PM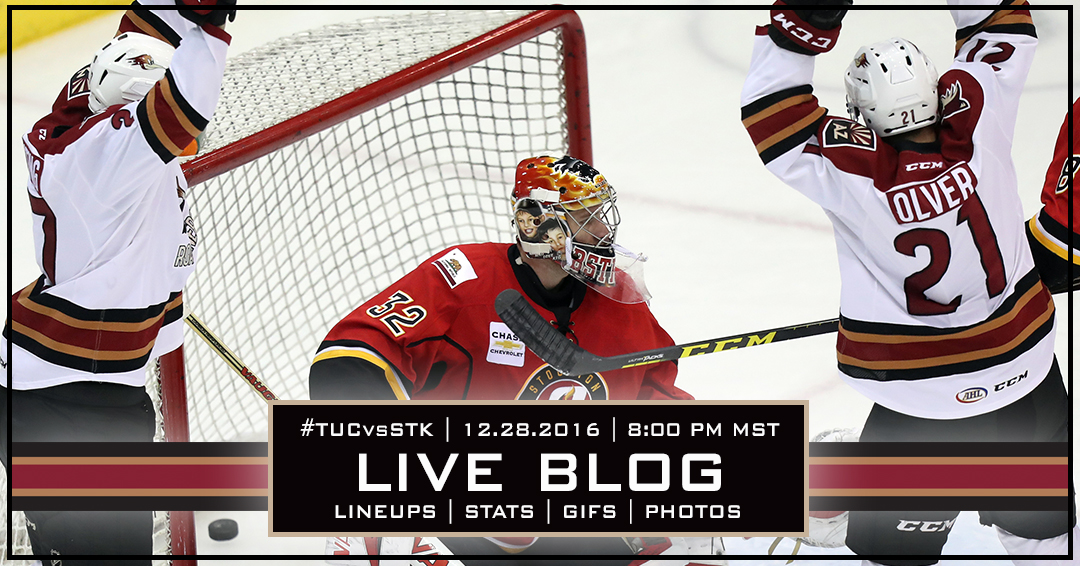 TUCSON ROADRUNNERS 4, STOCKTON HEAT 1
Final | 0:00 Remaining
Tucson (14-6-3-0) at Stockton (16-7-2-1)
Wednesday, December 28, 2016, 8:00 p.m. MST
Stockton Arena, Stockton, California
Referees: #90 Mike Langin, #43 Tom Chmielewski
Linesmen: #21 Alexander Ledovskiy, #58 Matthew Jolliff
AHL Live, iHeart Radio
TUCSON: G Marek Langhamer, D Dakota Mermis, D Jamie McBain, LW Garret Ross, C Tyler Gaudet, RW Mark Olver
STOCKTON: G Jon Gillies, D Kenney Morrison, D Keith Aulie, LW Ryan Lomberg, C Brandon Bollig, RW Matt Frattin
---
SOG - TUC 27; STK 36
PP – TUC 3/6; STK 0/2
FIRST PERIOD:
1) STK - Ryan Lomberg (4) (Kayle Doetzel, Matt Frattin) 6:44
SECOND PERIOD:
2) TUC PPG - Christian Fischer (10) (Jamie McBain, Kyle Wood) 7:49
3) TUC PPG - Laurent Dauphin (4) (Christian Fischer, Chris Mueller) 10:25
4) TUC PPG - Laurent Dauphin (5) (Christian Fischer, Chris Mueller) 11:44
THIRD PERIOD:
5) TUC - Ryan MacInnis (5) (Conor Garland, Kyle Wood) 2:36
---
NOTES
Pregame:
- Marek Langhamer leads Tucson onto the ice for warm-ups. For Langhamer, it marks his seventh start of the season, and his third against the Heat. In two previous starts versus Stockton, he is 2-0-0 with a .941 SV% and a 2.44 GAA,
- Trevor Cheek is the Roadrunners' lone healthy scratch tonight.
- Hunter Fejes draws back into Mark Lamb's lineup, playing on the left side of the fourth line with Lindsay Sparks and Stefan Fournier.
First Period:
- Marek Langhamer plays a puck behind Tucson net, Stockton recovers, gets the puck on net, Langhamer can't handle initial shot and the Heat bury the rebound.
- Langhamer makes good on his costly fumble that lead to Stockton's first goal, shutting the door on a golden, Grade-A 3-on-2 scoring opportunity at the midpoint mark of the first.
- Stockton controlling play, Tucson with troubles exiting their own zone.
- Roadrunners' fourth unit of Fejes - Sparks - Fournier give Tucson the best shift of the period, by far. A great deal of zone time.
- Marek Langhamer with another gigantic save on a point-blank Stockton opportunity. Roadrunners lucky to be facing only a one-goal deficit.
Second Period:
- Tucson starts the second period much, much better, with a couple of solid shots during the first minute of play.
- Roadrunners successfully kill off their first penalty of the night. Stockton records three shots on their power play.
- Marek Langhamer...playing very, very well.
- Laurent Dauphin, with a clear-cut breakaway, gets nixed by Jon Gillies on the Roadrunners' best scoring opportunity of the game thus far.
- Christian Fischer, positioned in the slot, buries a Jamie McBain feed to tie the game 1-1.
- Laurent Dauphin buries a pair of power play goals in a 1:19 minute span to give Tucson a 3-1 lead.
- The Roadrunners go a perfect 3-for-3 on the power play in the second period.
- Christian Fischer and Kyle Wood extend their point streaks to seven games, Chris Mueller and Laurent Dauphin to four games.
Third Period:
- Marek Langhamer continues his stalwart play since Stockton's opening goal, making a huge stop with his left pad during a scrum in front of the Roadrunners' net.
- Ryan MacInnis corrals a feed in front of Stockton's net, beats Jon Gillies to score his fifth goal of the season, the first even-strength goal for Tucson all night.
- Huge scrum in between the teams' benches breaks out. Lots of penalty minutes coming here.
- 83 penalty minutes handed out during that scrum, to be exact.
FORWARDS:
LAURENT DAUPHIN - CHRIS MUELLER - CHRISTIAN FISCHER
GARRET ROSS - TYLER GAUDET - MARK OLVER
MICHAEL BUNTING - RYAN MACINNIS - CONOR GARLAND
HUNTER FEJES - LINDSAY SPARKS - STEFAN FOURNIER
(TREVOR CHEEK)
DEFENSEMEN:
JARRED TINORDI - ZBYNEK MICHALEK
DAKOTA MERMIS - JAMIE MCBAIN
BRANDON BURLON - KYLE WOOD
GOALTENDERS:
MAREK LANGHAMER
JUSTIN PETERS
---
VIDEO HIGHLIGHTS
- Marek Langhamer makes a nice save on a point-blank, Grade-A Stockton opportunity late in the first period to keep the Roadrunners' deficit at one.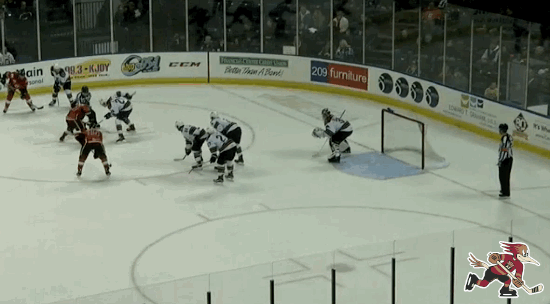 - Christian Fischer buries the first goal of the evening for the Roadrunners.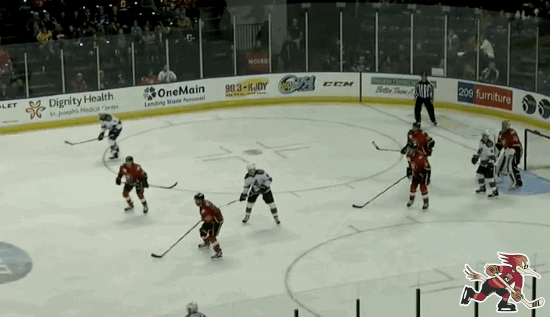 - Laurent Dauphin deflects a Kyle Wood shot just over the goal-line to give Tucson their first lead of the evening.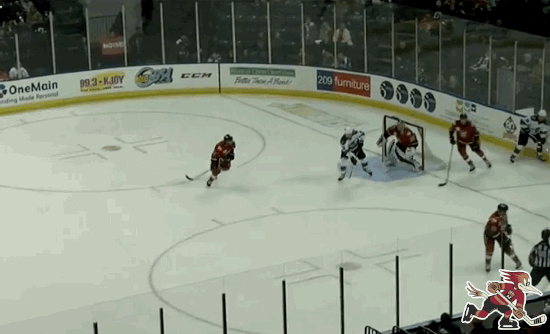 - Dauphin finishes a tic-tac-toe style set-up to give the Roadrunners a 3-1 lead.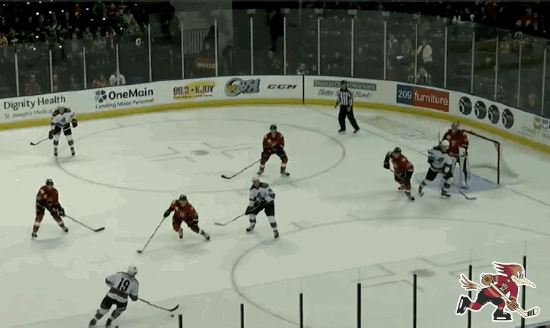 - Ryan MacInnis nets Tucson's fourth goal of the evening early in the third.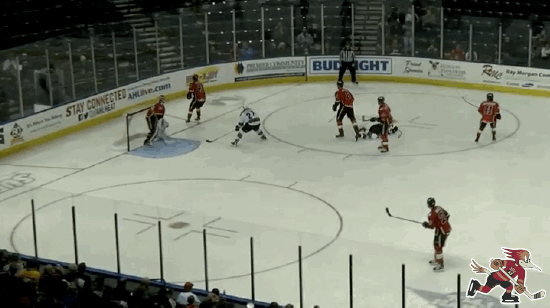 ---
PHOTOS