NEWS
What do Roadrunners players eat before games?
By: Alex Kinkopf
January 03, 2017 4:25 PM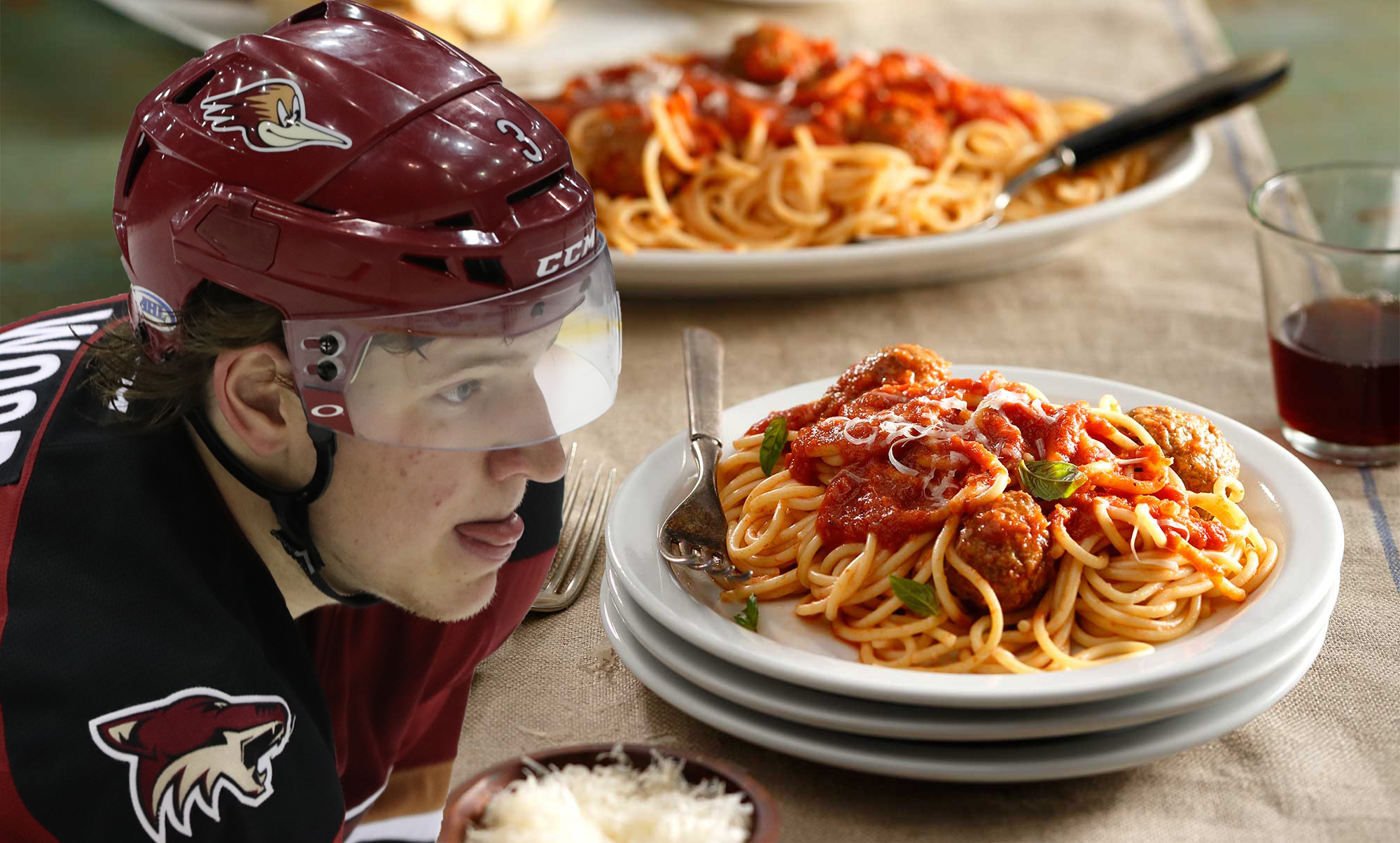 Eating is essential; you know this, we know this.
For athletes, however, and for the 20-plus players that make-up the Roadrunners roster on any given night, it's vital that they are nourished beyond the limits of us spectators (not including $1 hot dog nights).
These guys know how to pack it down. In essence, they have to.
"It depends on the name, and of course which position they're playing, but it's not uncommon for a guy to burn anywhere from 1,500 – 2,000 calories during any given game," said Assistant Athletic Trainer Matt Harder. "And that's just the game; add in the morning skate and the occasional workout after the game, and for fit young guys like this to just maintain regular bodily functions during game days, some of these guys could be or should be eating anywhere from 3,800 to 4,500 calories."
Whoa now … "Pile it high and deep, will ya please?"
Running through the mill of players as they filed off of the ice at Tucson Arena following Tuesday morning's practice, the answers provided in regards to what they buried in their bellies for their pregame meals were pretty similar across the board.
A lot of pasta, a lot of chicken, and oh baby, a copious amount of carbs.
In today's society, carbs aren't the most popular source of energy – given their reputation for having a heavy presence when it comes to the fluctuation of weight-gain.
Although for hockey players, namely those on the Roadrunners, carbohydrates are a favorable option – and for good reason.
"Pasta is a pretty easy source of carbohydrates," Harder said. "The general population has kind of frowned upon pasta because it has so many calories of carbs in it, but these guys burn so much energy that they kind of have that luxury of being able to eat that type of food, it's almost needed more than anything. What they're burning during a game is mostly carbohydrates, so they need to have those simple carbs."
The players' typical pregame meal? Let's get to it.
---
CHRIS MUELLER
I go for chicken parm. I think, for sure for me, I eat some sort of white sauce and parmesan cheese – but yeah, just your typical chicken parm with some kind of noodles, usually penne, but white sauce is key for me. If we have a night game, I typically eat at about noon.
JUSTIN PETERS
I usually have my pregame meal at around 12:30 or 1:00, it's either potatoes or rice, or some broccoli, asparagus, and some chicken with a nice little salad with some balsamic vinaigrette. When we're at home, I usually cook on my own.
MICHAEL BUNTING
After morning skate, me and a few of the boys head to Olive Garden at around 12 or 12:30 and we get chicken parm with penne, and we love the salad and breadsticks, so that's what our go-to is.
JARRED TINORDI
Usually it's pretty simple; just pasta and chicken with a little bit of cheese and some rose sauce, and that's pretty much my standard.
MARK OLVER
For carbs, I like pasta. Usually I make a big casserole dish like the night before like on a Thursday, and then we'll play Friday and Saturday. Whole-grain pasta, chicken, shrimp, broccoli's in it, put some jalapenos, banana peppers, a little bit of everything, onions, and I'll eat it at around 12:30 or 1:00.
BRANDON BURLON
I like to bundle everything up into a burrito or a wrap because it's easy to eat it, and it's just a bunch of chicken, quinoa, and vegetables. But in a perfect world, hamburgers and hot dogs with all of the fixings and some oreos.
ADIN HILL
Usually I just make any type of whole-grain pasta with white sauce with either chicken or sausage, I like to mix it up, and then I load a ton of veggies into that, and have a salad before that. If we're here in Tucson I'll cook for myself at home.
TREVOR CHEEK
For pregame meal, a few of us stay at the hotel still, so we go to Sauce right next to the hotel and usually have pasta with pink sauce with salad and have a little bit of bread too, lots of carbs. And then usually I'll have another snack before the game too, sometimes go get a Panini from Sauce, or just grab a bagel with peanut butter at the rink.
MAREK LANGHAMER
It's either pasta, rice, or mashed potatoes with chicken or steak, and I eat at 1:30 every game day, it's same if I'm playing or not, it doesn't matter. I'm usually at home making my own food, or my girlfriend is making it for me; it's a treat when she's in the mood to make food for me, so I enjoy that.
KYLE WOOD
Sometimes I go out and pick up something, usually it's chicken or pasta, and when I get home from morning skate I'll have some eggs or something like that. I usually have my pregame meal at around 3:00 or 3:30.
CONOR GARLAND
A few of us go to Olive Garden and I get the same thing – but only one breadstick, a bowl of minestrone soup, a bowl of spaghetti with extra grilled chicken on top, and a side of ranch.
CHRISTIAN FISCHER
I go pretty simple, I go pasta with alfredo and a little bit of marinara sauce – I do a little mix there, and then I always have chicken. Usually on the road they always have potatoes, I like potatoes too but I can't cook potatoes at the house, so during home games I don't eat potatoes.
DUSTY THE ROADRUNNER
Snakes.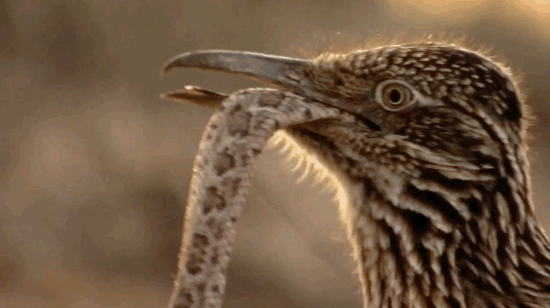 ---
As game time approaches, and even throughout any given contest, the caloric intake continues for most of the players.
"We typically tell them to have a little snack about an hour before the game," said Harder. "Some guys will have a bagel with some peanut butter, or some guys will have a PB&J sandwich, a banana, or an energy bar. Some guys will have a little snack in between periods, whether it's some of the lighter energy bars that we have, a banana, or a piece of toast or something."
In getting Conor Garland's pregame meal take, the 20 year-old forward was adamant about having only one breadstick during each sitting. Or does he?
"We don't discuss how many breadsticks we have," said Garland, looking over his shoulder, making sure certain teammates weren't within earshot, "but we have quite a few breadsticks. [Zbynek Michalek] came with us to Olive Garden once, and Z told us not to eat breadsticks, so we don't eat breadsticks as much as we did before."
Ah, a prime example of veteran leadership carrying its weight off the ice.