NEWS & STATS
January 4 practice notes; Mermis, Olver, Lamb look ahead
By: Alex Kinkopf
January 04, 2017 3:36 PM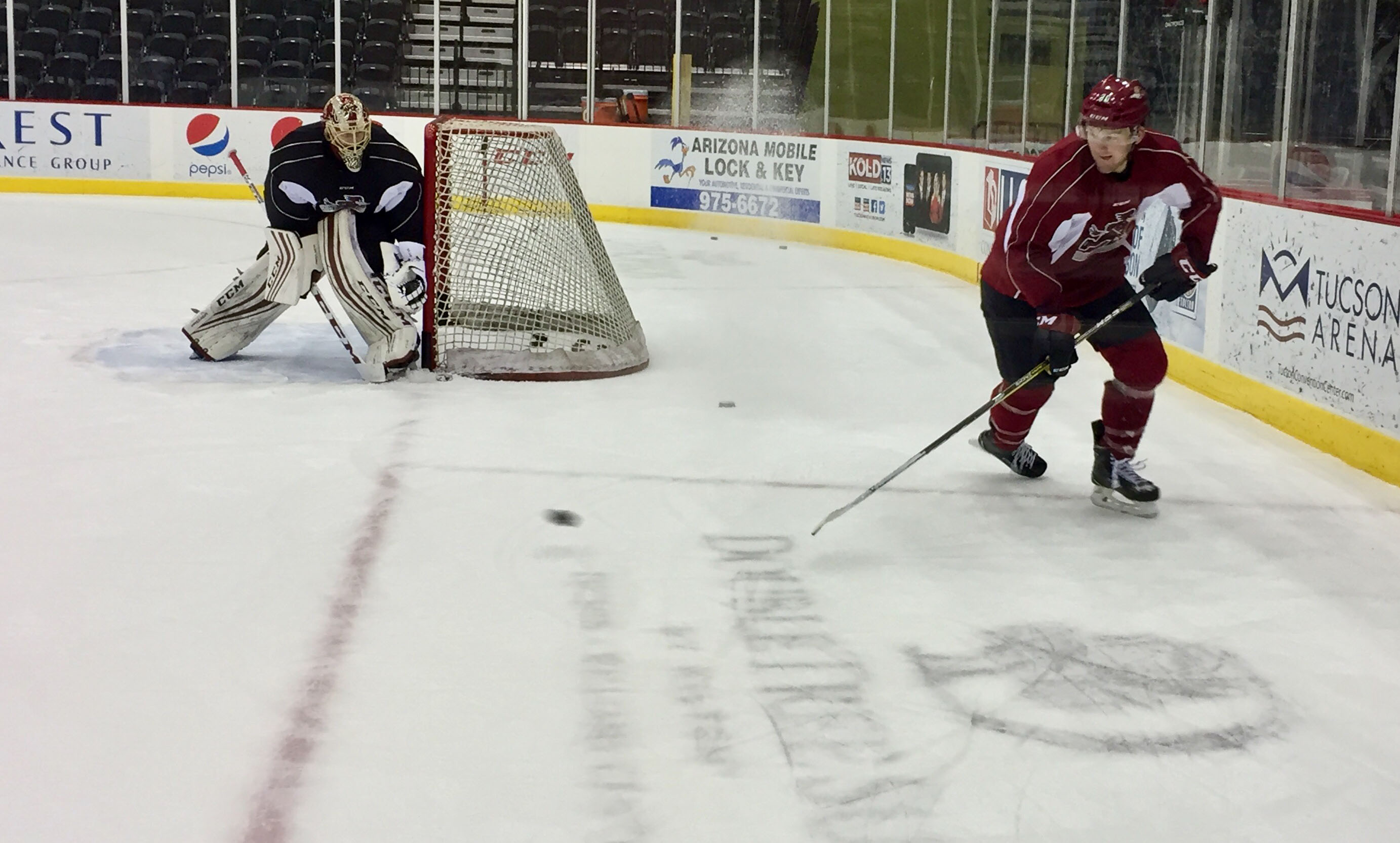 Good afternoon from Tucson Arena, where the team held their final practice before setting off to Northern California Thursday morning for a two-game road trip.
The Roadrunners are scheduled to take on the Stockton Heat Friday night at 8:30 PM MST and the San Jose Barracuda Saturday afternoon at 2:15 PM MST. This pair of games presents the quickest turnaround for the club this season; Tucson will play two games in a less than 16-hour span in separate cities, where an hour-plus of travel will be needed in between affairs.
Michael Bunting has moved up to the team's second line, playing on the right side of Mark Olver and Tyler Gaudet, while Garret Ross has slid back to the third unit on the left side of Ryan MacInnis and Conor Garland.
Henrik Samuelsson continues to practice with the team, and skated as part of a five-man unit on the fourth line Wednesday. Samuelsson, who hasn't played since the club's 5-4 victory over the Stockton Heat on November 27, where he netted his first goal of the season (below), looks to be nearing a return to the lineup.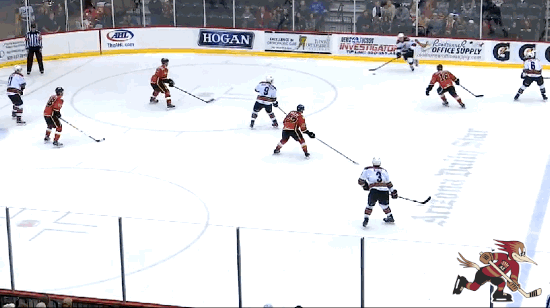 In total, 21 skaters were on the ice for the club on Wednesday along with goaltenders Justin Peters and Adin Hill; they aligned thusly:
FORWARDS (COLOR CODED):
RED: LAURENT DAUPHIN – CHRIS MUELLER – CHRISTIAN FISCHER
WHITE: MARK OLVER – TYLER GAUDET – MICHAEL BUNTING
GREY: GARRET ROSS – RYAN MACINNIS – CONOR GARLAND
BLUE: HUNTER FEJES – TREVOR CHEEK – LINDSAY SPARKS – HENRIK SAMUELSSON – STEFAN FOURNIER
DEFENSEMEN (BLACK):
JARRED TINORDI – KYLE WOOD
DAKOTA MERMIS – JAMIE MCBAIN
BRANDON BURLON – DYSIN MAYO
GOALTENDERS (BLACK):
JUSTIN PETERS
ADIN HILL
Following the skate, all the players took time to sign items for corporate partners, season ticket members, and other memorabilia artifacts that will be raffled and sold later on in the season.
Head Coach Mark Lamb, defenseman Dakota Mermis, and forward Mark Olver answered a few questions in regards to where the team stands following the weekend sweep at the hands of the San Antonio Rampage, the road-trip ahead and the quick turnaround the two games present:
Mark Lamb, on how he feels the team is following the weekend's two losses:
It's a new week; I didn't think we did enough on the compete side of things to win those last two games; it was a real tough week for us, a real tough week after Christmas with the travel. We did some things in those two games; we created a lot of chances, we out-chanced the other team and lost, but the other team wanted it more. We've talked about it, we've had three really good days of practice here and I think we're rejuvenated a little bit even though there's a bug going around right now that's taken some life out of our team.
Lamb, on if the team focused on anything specific during the week of practices:
It's not a work hard issue we've had, it's the blocking shots and doing the little things, the little mistakes, and that's how we lost those games. More of the stuff we need to fix isn't stuff you can do in practice, it's more of a mindset and mental part; when you're going through and you get tired, you still need to be able to perform, you need to play a little bit smarter, stay on the right side of the puck, and not get yourself into trouble.
Lamb, on what he expects to see from Stockton Friday night:
They're going to be ready for us; I'm sure they're going to feel like they've left some points on the table with us, we've taken some points away from them late in games, our power play has been excellent against them, so I'm sure they're really going to focus on discipline and really focus on our power play. We've matched up well against that team and we've got to go in and play a smart game.
Lamb, on what he knows about San Jose's club:
They're a young, fast team that's very competitive, it's going to be good to see them, we haven't seen them yet, so it's always nice playing new teams.
Lamb, on the quick Friday – Saturday turnaround:
I don't think there's a plus side to that, that's a real quick turnaround, and we've got a little bit of travel to fit in there. It's going to be something that we haven't done this season, so we'll see how that goes.
Dakota Mermis, on where he feels the team is at heading into the road trip:
I think we're good, I think we definitely wanted to kind of take a step back and regroup after the two losses to San Antonio, that wasn't the way we needed to play. We had a really good, hard week of practice, and we're looking forward to trying to get back on the right track this weekend.
Mermis, on what he's expecting to see from Stockton Friday night:
It's going to keep getting tougher and tougher, you see how that last one ended there with a little bit of a line brawl, but they're a tough team, they play hard, and I think it's just going to continue ramping up as the season keeps moving on here.
Mermis, on approaching the Friday – Saturday quick turnaround:
The minus to that situation would definitely be the fatigue, a 1:00 game the next day in a different city is really unusual, but the plus to that is, if we have a strong game Friday night, we can build off of it and let our emotions carry us into the next game since it's such a quick turnaround.
Mark Olver, on his thoughts on where the team is entering the road trip:
I think we're just in the middle of the season right now, we've kind of found our identity, but I also think we kind of lost it this past weekend. So it's about re-finding that again and really coming to work on Friday when we play Stockton.
Olver, on Friday night's matchup versus Stockton:
I think it's going to be a hard battle both ways, obviously the last time we went in there I think we had that line brawl at the end of the game, so they're going to be just as ready as we are.
Olver, on the quick Friday-Saturday turnaround:
Obviously if you have a bad game or if the team struggles, it's nice to be able to wake up the next morning and get right back at it, you don't have to think about it. If we win, the point becomes to get four points on the road. We need these wins big time right now for us after this past weekend against San Antonio.