NEWS & STATS
January 9 practice notes; Lamb quotes
By: Alex Kinkopf
January 09, 2017 12:33 PM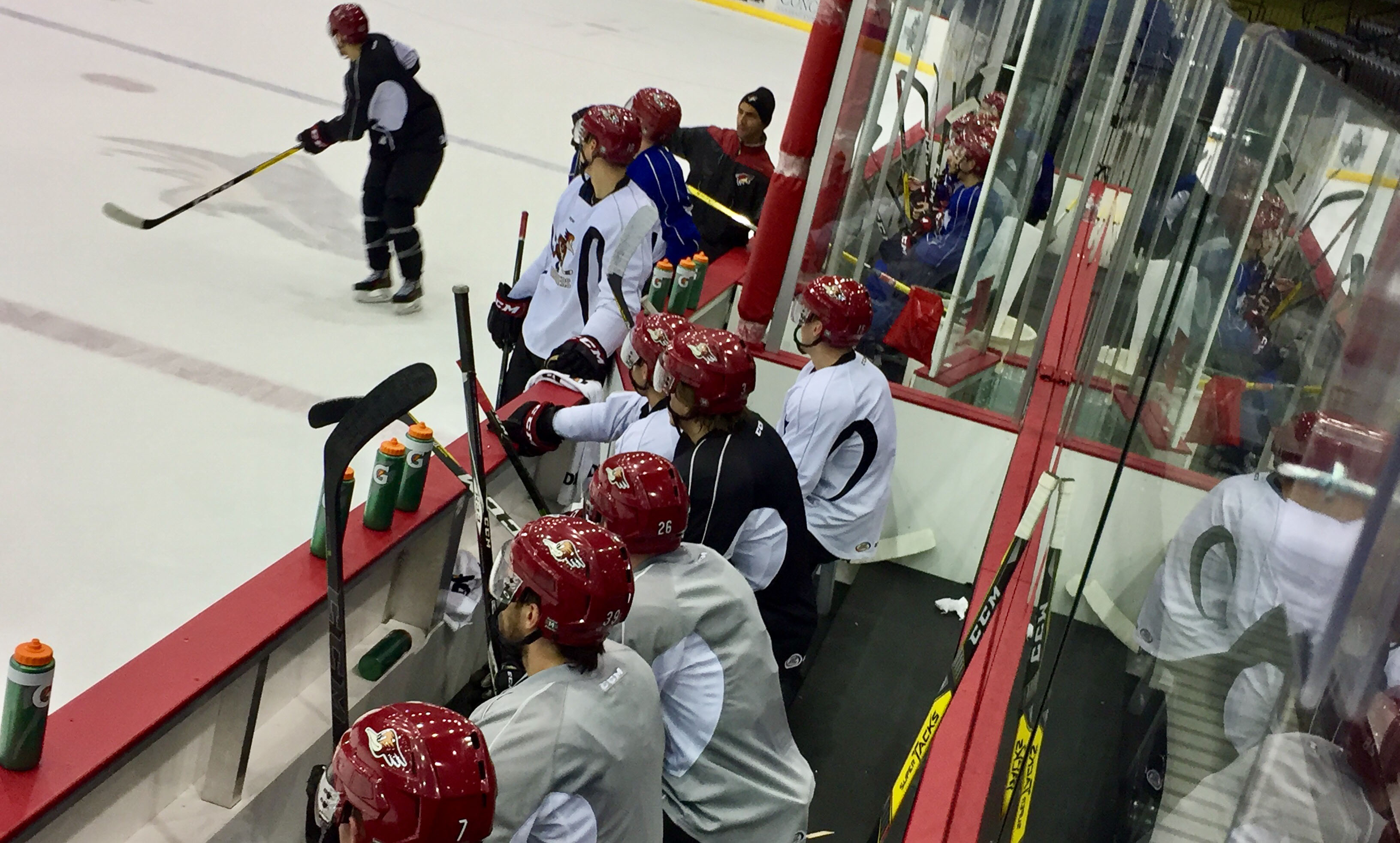 Good afternoon from Tucson Arena, where the Roadrunners have wrapped up an hour-plus practice in return from their two-game road trip in Northern California where the club earned a point in meetings with Stockton and San Jose.
The team begins a five-game home stand Tuesday night when they host the Manitoba Moose – a game that is the makeup date for the affair that was postponed between the two clubs on November 19.
On Sunday, as the team was traveling back from San Jose, forwards
Laurent Dauphin
,
Brendan Perlini
, and defenseman
Anthony DeAngelo
were assigned to Tucson
.
The flurry of transactions likely relates to the Coyotes' NHL-mandated 'bye week', which following their 2-1 shootout win over the New York Islanders on Saturday night, they are on until Thursday.
All three assignments were on the ice Monday morning. Brendan Perlini, dressed in red, skated on the left side of Chris Mueller and Christian Fischer on the first line. Laurent Dauphin dressed in white on the second line with Tyler Gaudet and Lindsay Sparks. Anthony DeAngelo joined the defensemen in black.
Forward Garret Ross (undisclosed) and defenseman Zbynek Michalek (undisclosed) were the only two players to not be accounted for. Hunter Fejes skated as a defenseman, and likely will for the remainder of the Coyotes' bye week.
In total, 23 names were on the ice Monday morning. They aligned thusly:
FORWARDS (COLOR CODED):
RED: BRENDAN PERLINI – CHRIS MUELLER – CHRISTIAN FISCHER
WHITE: LAURENT DAUPHIN – TYLER GAUDET – LINDSAY SPARKS
GREY: TREVOR CHEEK – RYAN MACINNIS – STEFAN FOURNIER
BLUE: MICHAEL BUNTING – MARK OLVER – CONOR GARLAND – HENRIK SAMUELSSON
DEFENSEMEN (BLACK):
JARRED TINORDI – KYLE WOOD
DAKOTA MERMIS – JAMIE MCBAIN
BRANDON BURLON – DYSIN MAYO
ANTHONY DEANGELO – HUNTER FEJES
GOALTENDERS (BLACK):
ADIN HILL
JUSTIN PETERS
Manitoba comes to Tucson playing the final of a seven-game road trip, where they've posted a 2-3-1-0 record thus far; they are currently riding a three-game losing streak.
The Roadrunners are in the midst of a season-long four-game losing streak; they will hold a morning skate ahead of Tuesday night's contest at 10:00 AM at Tucson Arena.
Head Coach Mark Lamb took the time to address a couple of questions following Monday's skate:
Mark Lamb, on where he feels the team is in their return home, what the additions bring:
It gives you life, you could see it in practice today, I really liked the way we practiced today. We're just a little bit – nothing seems to really be fitting right now, the injuries, the call-ups, the illnesses – I'm not making any excuses, those are just facts, but for the most part I've really liked how we've played. Over the weekend I thought we played really hard, we were in every game, the score wasn't indicative of our last game. We got a point in Stockton, which is a very hard place to get points in, which was all right, but now we need to get out of the mud and get some wins. Just because we've gotten those three guys down, doesn't automatically give you points. We've got to do a lot of the things we've been talking about, we've got to play the system, play as a team, and if we do that we'll have a real good chance to win.
Lamb, on if he's taking a 'one day at a time' approach to the assignments being in Tucson:
I've learned in my short period in the American Hockey League that that's how you've got to take it. It's all about developing the guys, it's all about call-up – the guys are just so happy when they get called up. On the other hand, it's about call-ups from the other leagues too. When these guys get up here, they have to do a good job and they have to fill roles. Everything's constantly changing; for a coach, it's hard, but for development-wise, for learning, for figuring things out, it's really good.
More to come from what will be a very, very busy week in Tucson, Arizona.