NEWS & STATS
January 10 postgame quotes: Perlini, Hill, Fischer, Lamb
By: Alex Kinkopf
January 10, 2017 9:55 PM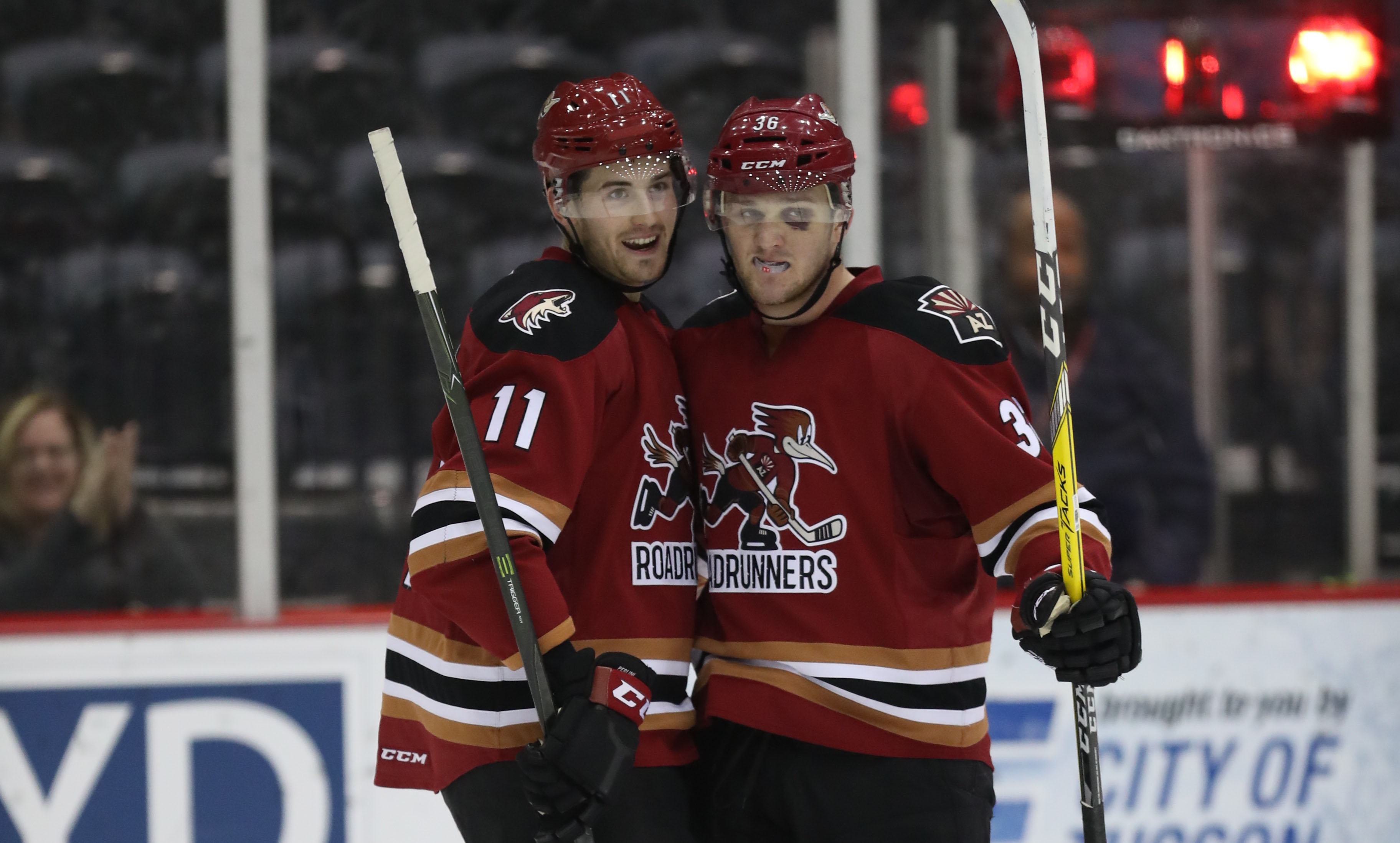 Brendan Perlini, on his overall thoughts on the team's recovery from an early deficit, performance:
Obviously it wasn't the start we wanted, it kind of seems like we've been doing that all year. They guys played hard, we battled back, and had some good power plays, so overall it was a good game.
Perlini, on how he felt being back playing with Chris Mueller and Christian Fischer:
I have perfect chemistry with those guys; I can read Fisch and Muells really well, they're good players, so I was excited to be back playing with them. We had a good game, all three of us, and we're glad to have gotten the win.
Perlini, on his three goals scored:
The first one was just off the draw; Muells just won it back and I tried to get a quick shot on net. The second one was pretty much just an empty net from Muells, a nice little play from the back-door. The last one was obviously just the empty net, so it was a great effort from the guys, and a good win.
Adin Hill, on relaxing after Manitoba scored two goals in the opening two minutes:
You've just got to focus on the next shift, take it one step at a time and not focus on getting both back, but just one at a time. I thought we did a good job, we got one before the period was over, and took that momentum into the second.
Hill, on Manitoba's second goal:
It was an odd bounce, but I personally thought I should have had it, and that's my bad.
Hill, on how he's felt in his three appearances back with the team:
It feels great, it feels good to be back with the team here, and I feel like tonight we played a great game. I'm happy we got the win, and I'm looking forward to this weekend.
Christian Fischer, on Manitoba's ramped start, the team's ability to rebound:
Obviously it wasn't the start we were looking for; they came out with two goals quick there. We had to regroup there after the first, and obviously our power play was out there clicking today, so that helped out a lot. Obviously it was a great performance by Perlini coming in here and scoring three goals, Mueller made a lot of the good passes there. We just found a way there at the end, it was a good team effort, so it was great.
Fischer, on the team's early timeout:
Coach called a timeout right away; it was nice for us just to calm down there. We have a great leadership group here, a lot of veteran guys stepped up and told us just to take a deep breath, told us we were okay, and we've come back plenty of times this season, so it was a great job by the veteran guys, and it was great to get a win there.
Fischer, on showing the physical aspect to his game as of late:
I play a power-forward game, so with that there's always going to be some physicality. Obviously, when playing with more of the skilled guys, I think I'm more of the meat and potatoes on that line, so I just try to create some space for those guys. The game I play is going to call for some physicality, so it works out well.
Mark Lamb, on the rough start, the team's overall performance:
We've come back from early deficits a lot. It's really nice that you can come back in those types of situations; it shows a lot of heart and it shows a lot of character to be able to do that. I liked a lot of things that we did, but we took too many penalties, so we couldn't use our bench as much as we wanted to, but our special teams won us the game tonight.
Lamb, on what he saw in Henrik Samuelsson's first game back:
Sammy's a real smart player; he can play with the puck, he knows where to go on the ice. For his first game back, I thought it was a real good test for him. I liked the way the lines were set up tonight, they made sense, and it shows when you can have your match-ups and go out there and everyone can play the right way.
Lamb, on the timeout called early in the first period:
We needed to change. The momentum was totally on their side, we need to relax, get back to it. We've been in that situation before.
Lamb, on the value of Brendan Perlini:
I'd just like to kidnap him. You watch him out there, you look at the confidence, he's just oozing with it right now. I think he really enjoys playing the game; he looks like he's having fun out there. He comes down and he scores three goals; and he doesn't just do that, the impact he has when he has the puck, killing penalties, and he really fills out a first line.
Lamb, on if Perlini looked a half-step faster tonight:
That happens when you go up [to the NHL]. He's an unbelievable skater. With him, he's improving, that's what it is, he's getting better all of the time, he's a guy that wants to play, he looks like he's having fun with it, and good for him.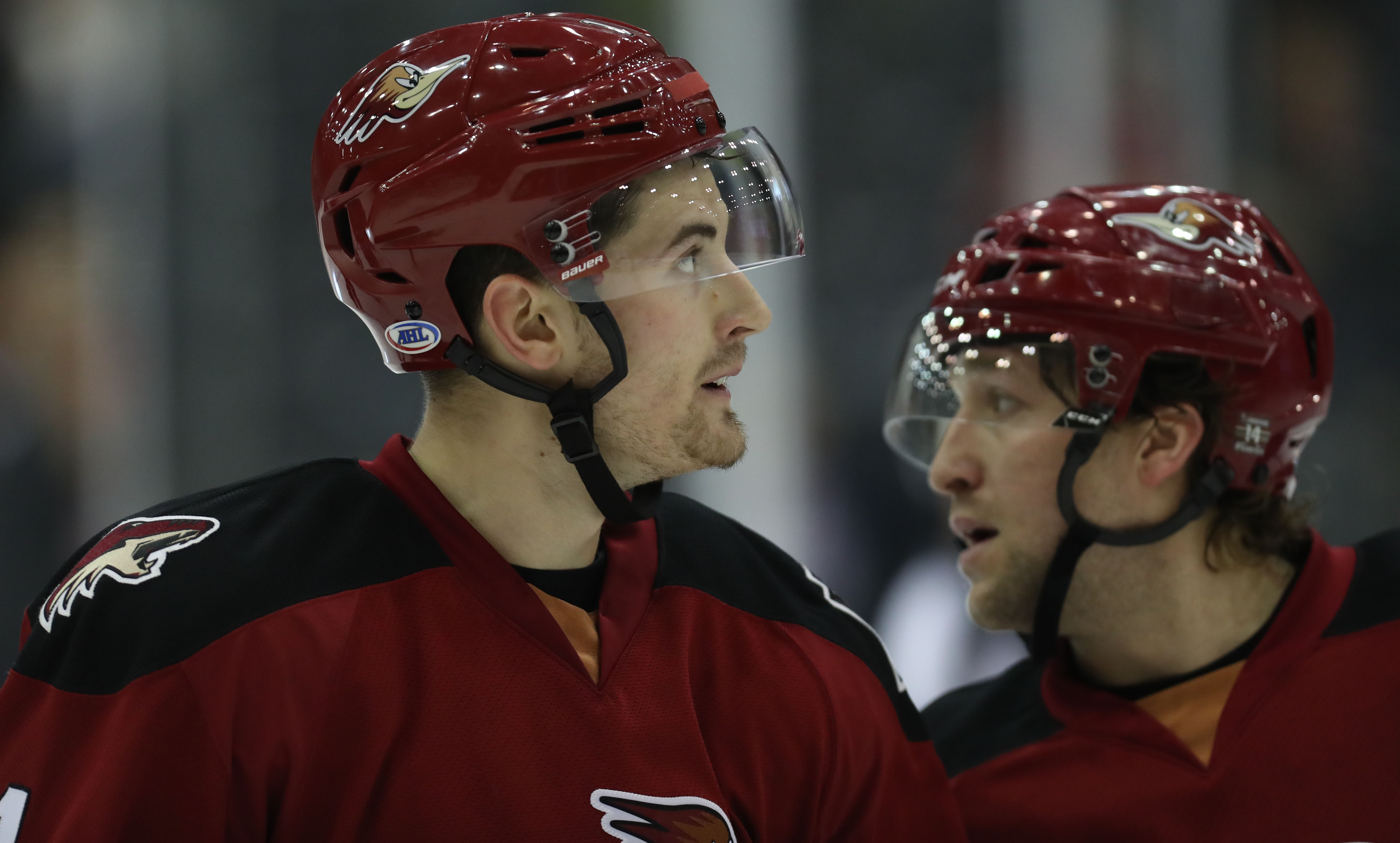 *Photos taken by: Chris Hook