NEWS & STATS
January 14 postgame quotes: Fejes, Fournier, Fischer, Hill, Lamb
By: Alex Kinkopf
January 14, 2017 10:22 PM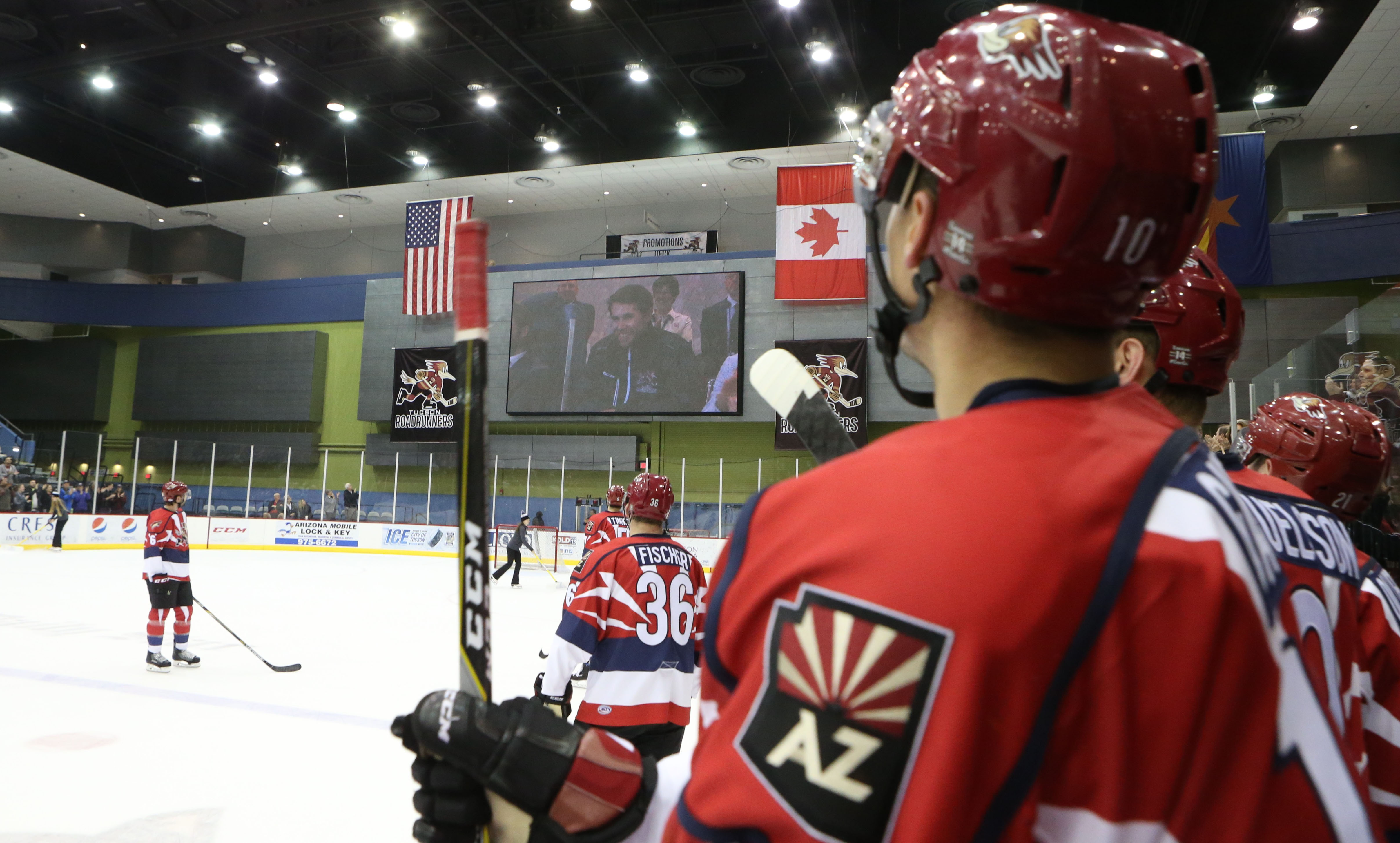 Hunter Fejes, on Cunningham surprising the team:
I think it was good for our team. Everyone was really excited to see him in the locker room, and that's why we had the great first period that we did. He's our Captain, and he'll be our Captain for the rest of the year.
Fejes, on the team's balanced scoring, his personal performance:
I just try to control my effort and my attitude, that's all I can do. When coach calls my name, I know that I have to keep my game simple, get pucks in and get pucks out, and sometimes I've been getting those bounces.
Stefan Fournier, on Craig Cunningham visiting with the team, attending the game:
I think it brings up a lot of emotions for everyone. Everyone here has obviously seen Craig throughout the process, but for a lot of us it was just great to see him around the rink, see him smile, hear him laugh a bit before the game, it was awesome.
Fournier, on if he feels Cunningham's presence provided any extra energy, spark:
Yeah for sure; obviously we wanted to play harder because he was here.
Fournier, on the team's performance:
We came out of the gate really hot; I think the last two periods they kind of had the momentum going their way, but two points is great, so we're happy to walk away with a win.
Fournier, on the team's depth scoring, his personal play of late:
I'm extremely glad to just contribute; I feel what I do kind of goes kind of beyond getting goals and assists. Obviously getting the puck in is a great feeling, and helping the team win is awesome.
Christian Fischer, on Cunningham's visit:
We didn't know that he was coming in, so it was pretty cool to see him in here. I think anytime we see him in here, our spirits are pretty high just to see him smile. It was nice to be able to give him a little tribute too. He's stuck with it all of the way, it's amazing to see this comeback that he's came from. When he's here, that definitely lifts our spirits and gives us a little more energy. We played for him tonight.
Fischer, on the team winning three-straight games:
We're on a little roll here, which is nice. Obviously it was nice to get both games during the weekend here, and it's a quick turnaround to Ontario coming in here on Monday, so it's nice to get these points. They were below us in the standings, so it was nice to get a little separation.
Adin Hill, on having Cunningham back in the building:
It's a great morale for us anytime we see him. It's great to seem him happy and smiling. Having him around the group is great, he's a big part of our team, he's our Captain.
Hill, on where he feels the team is following the win:
I feel like we're playing good; there are still things that we need to clean up if we want to keep winning. We're playing well, and we just need to keep taking it one game at a time. The standings are pretty close right now, so every win's huge.
Mark Lamb, on having Cunningham in the room before the game, his presence:
It was great coming into the room like we always do at the eight-minute mark before the game, and he was there sitting in his stall, it was great to see him there, it was just too bad we couldn't start him. It made all of the guys feel good; it made him feel good. We all feel comfortable with him around; he can come around whenever he wants. I think we played a really good first period for him, and then we kind of lost some gas. The game didn't necessarily go our way, but it ended up our way. The last two periods they took it to us; we were lucky to get the points tonight.
Lamb, on if Cunningham's presence attributed to the team's solid first period:
I think so. I think the guys were excited to see him; I know I was, I know the coaching staff was. He told me that he's still fast, which is great. But yeah, I think him being there gave us some life in a couple of ways, gave us some life to get going, and then it made us hold on.
Lamb, on the team having won three consecutive games:
We need some rest; we lost a lot of gas there. We'll take tomorrow off and regroup. Today was the hump game. Getting this game in now – it's never downhill, we've got two more games left, but it really sets us up to have a good home stand.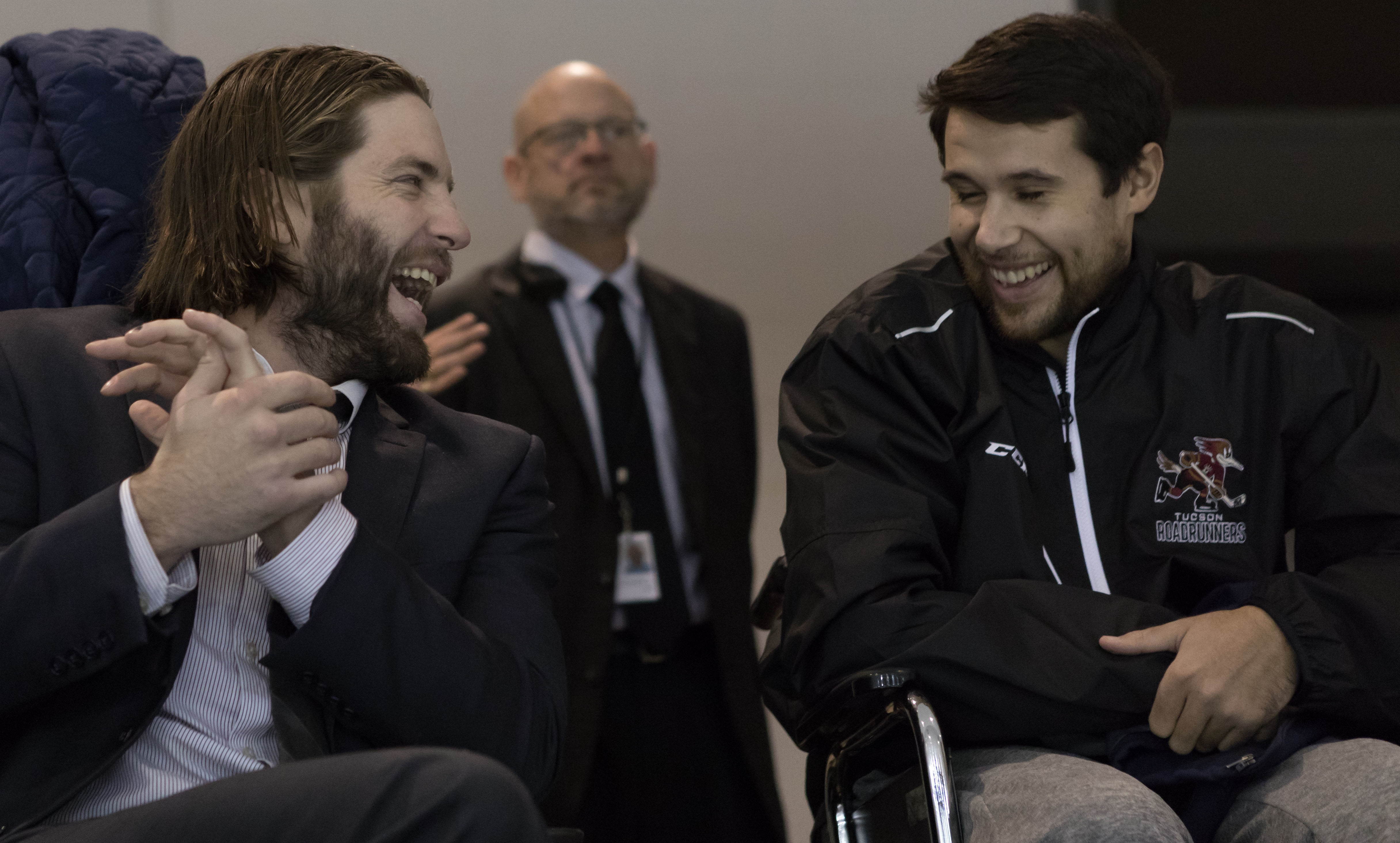 *Photos taken by: Chris Hook and Kate Dibildox