NEWS & STATS
GAME #35: Tucson at Charlotte
By: Alex Kinkopf
January 22, 2017 9:33 AM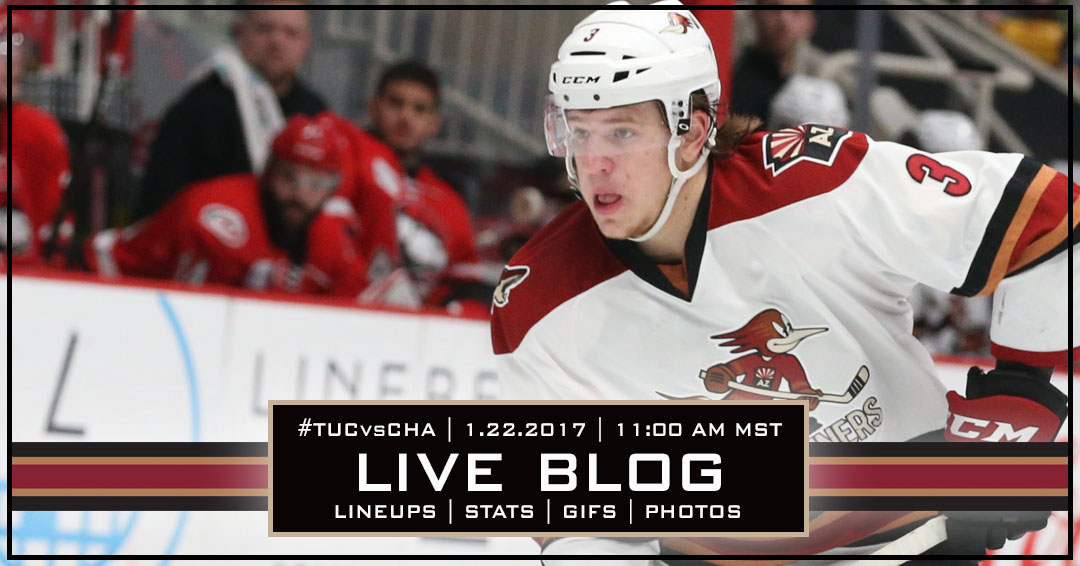 TUCSON ROADRUNNERS 1, CHARLOTTE CHECKERS 2
Final/OT | 0:04 Remaining
Tucson (20-9-4-0) at Charlotte (16-21-3-0)
Saturday, January 22, 2017, 11:00 a.m. MST
Bojangles' Coliseum, Charlotte, North Carolina
Referees: #43 Tom Chmielewski, #2 Jarrod Ragusin
Linesmen: #98 Beaudry Halkidis, #58 Terry Wicklum
AHL Live, iHeart Radio
TUCSON: G Adin Hill, D Jamie McBain, D Jarred Tinordi, LW Mark Olver, C Tyler Gaudet, RW Anthony Duclair
CHARLOTTE: G Daniel Altshuller, D Trevor Carrick, D Dennis Robertson, LW Andrej Nestrasil, C Andrew Poturalski, RW Patrick Dwyer
---
SOG - TUC 23; CHA 36
PP – TUC 0/4; CHA 0/4
FIRST PERIOD:
1) TUC - Anthony Duclair (1) (Jamie McBain, Chris Mueller) 18:38
SECOND PERIOD:
2) CHA - Valentin Zykov (10) (Patrick Brown, Jake Chelios) 19:22
THIRD PERIOD:
No Scoring
OVERTIME:
3) CHA - Lucas Wallmark (13) (Andrew Poturalski) 4:56
---
NOTES
Pregame:
- Adin Hill leads the team out of the tunnel and onto the ice for warm-ups, set to make his 17th start of the season.
- Anthony Duclair has shifted to the Right Wing spot on the team's second line, playing alongside Mark Olver and Tyler Gaudet.
- Henrik Samuelsson is playing on the first line today, his first time doing so this season.
- No other changes appear to be made to the lineup used Saturday night.
First Period:
- Charlotte has had a flurry of solid scoring chances early, a couple of which were intitiated off of Tucson turnovers. The Checkers are outshooting the Roadrunners 5-0 through the first TV timeout.
- Tucson registers their first shot of the game 8:32 minutes in on a solid Henrik Samuelsson opportunity.
- Anthony Duclair, standing alone on the left side of Charlotte's slot, buries a loose puck to register his first-career American Hockey League goal, giving the Roadrunners a 1-0 lead on just their third shot of the game.
Second Period:
- Tucson will start the middle frame with 1:02 left on a power play.
- Duclair almost gets his second of the afternoon, ringing a wrist shot off the post from the high slot.
- Roadrunners can't capitalize on a five-minute major power play, registering only one shot.
- Charlotte gets on the board with 37 seconds left in the period, tying the game as Valentin Zykov deflects a point shot past Adin Hill.
Third Period:
- Roadrunners granted an early power play, but can't capitalize.
- Tucson plays their best period of the game, holding Charlotte to four shots.
Overtime:
- In the waning seconds of overtime, Lucas Wallmark slams home a one-time feed to secure a 2-1 victory for Charlotte.
FORWARDS:
LAURENT DAUPHIN - CHRIS MUELLER - HENRIK SAMUELSSON
MARK OLVER - TYLER GAUDET - ANTHONY DUCLAIR
MICHAEL BUNTING - RYAN MACINNIS - CONOR GARLAND
HUNTER FEJES - TREVOR CHEEK - LINDSAY SPARKS
(STEFAN FOURNIER - GARRET ROSS)
DEFENSEMEN:
JARRED TINORDI - JAMIE MCBAIN
ANTHONY DEANGELO - ZBYNEK MICHALEK
DAKOTA MERMIS - KYLE WOOD
(BRANDON BURLON - DYSIN MAYO)
GOALTENDERS:
ADIN HILL
JUSTIN PETERS
---
GIF HIGHLIGHTS
- Anthony Duclair corrals a loose puck and buries Tucson's first goal of the game late in the opening frame.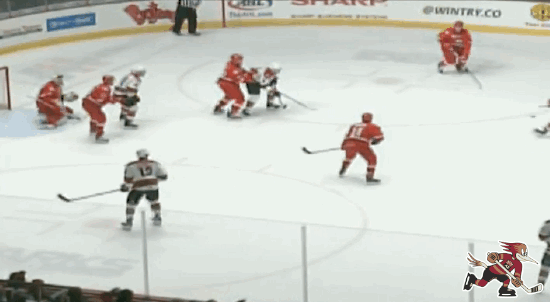 - Adin Hill makes a sprawling save midway through the second.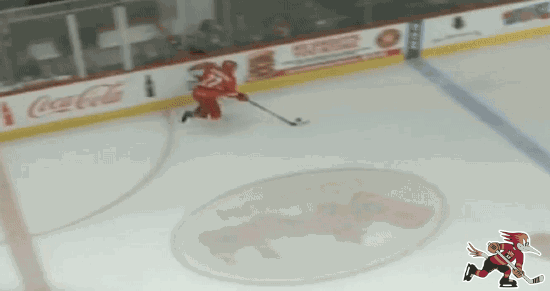 ---
PHOTOS