NEWS & STATS
January 27 morning skate notes; Fischer to play
By: Alex Kinkopf
January 27, 2017 10:52 AM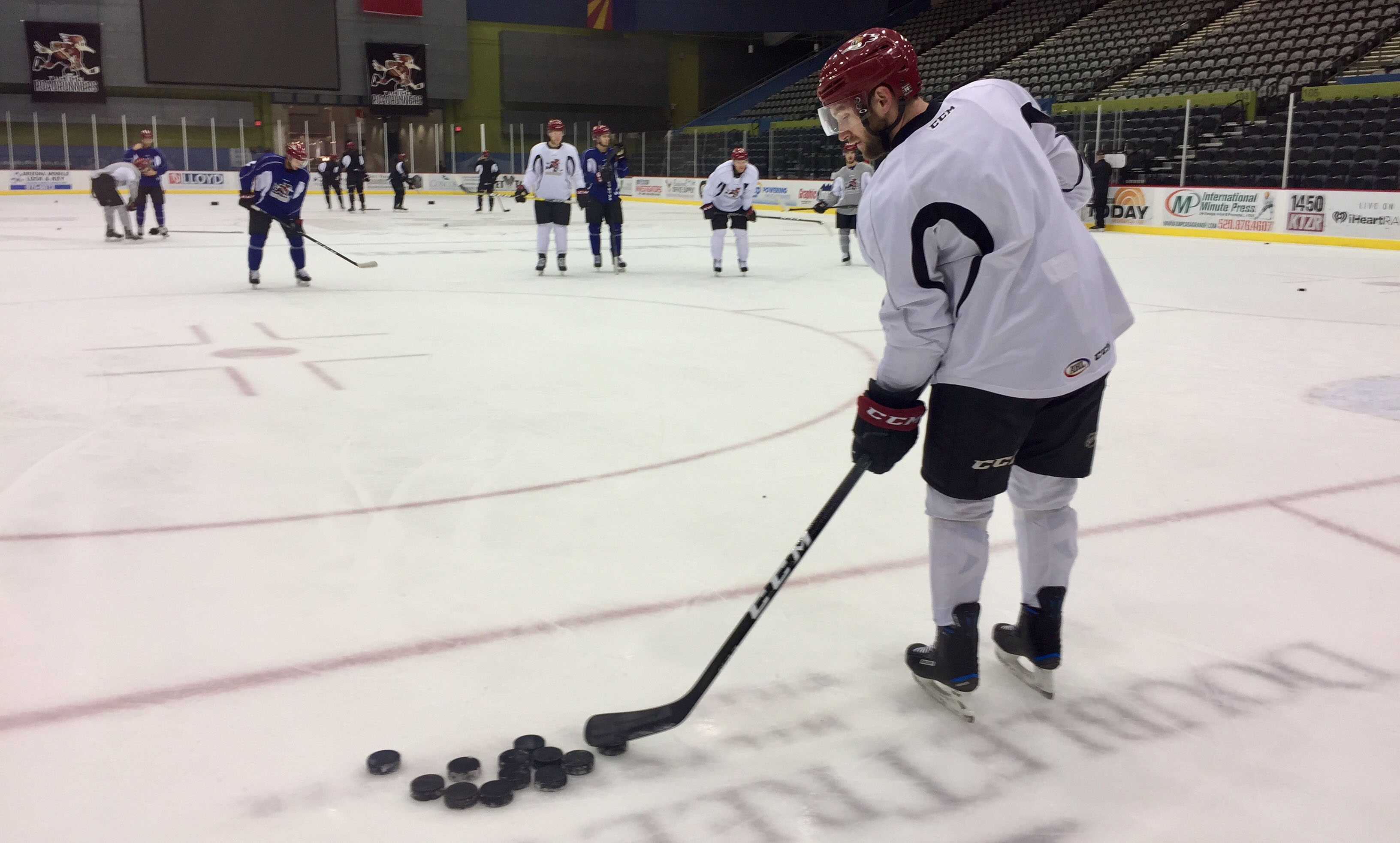 Good morning from Tucson Arena, where the team assembled for a morning skate ahead of tonight's game against the San Diego Gulls, which is slated for a 7:05 PM start.
Tonight's game features 'Anti-Bully Night', which is presented by News Channel 4 KVOA. Kids in attendance are encouraged to sign an Anti-Bully pledge, and in doing so, will receive a free wristband and an exclusive ticket offer to a future home game.
For the Roadrunners, it was the team's final morning skate at Tucson Arena until February 24 when they host the San Jose Barracuda.
19 skaters were on the ice along with goaltenders Adin Hill and Justin Peters. Hill was the first goalie off and is expected to make his 18th start of the season and his second against the Gulls.
Prior to the morning walk-through, Christian Fischer was assigned to Tucson by Coyotes' General Manager John Chayka. Fischer, who was not yet back with the team this morning, is expected to be in the Roadrunners' lineup tonight and tomorrow.
Eric Selleck skated with the team again, but did so in a green 'non-contact' jersey. Selleck, who is not yet ready to return to game action, filled in on the right side of Anthony Duclair and Chris Mueller during line rushes – the spot Fischer will likely fill tonight.
Laurent Dauphin is not with the team; he is taking a personal leave-of-absence.
The 19 skaters and two goaltenders aligned as such:
FORWARDS (COLOR CODED):
RED: ANTHONY DUCLAIR - CHRIS MUELLER
WHITE: MARK OLVER - TYLER GAUDET - HENRIK SAMUELSSON
GREY: MICHAEL BUNTING - RYAN MACINNIS - CONOR GARLAND
BLUE: HUNTER FEJES - TREVOR CHEEK - LINDSAY SPARKS
GREEN: ERIC SELLECK
DEFENSEMEN (BLACK):
JARRED TINORDI - JAMIE MCBAIN
ANTHONY DEANGELO - ZBYNEK MICHALEK
DAKOTA MERMIS - KYLE WOOD
BRANDON BURLON
GOALTENDERS (BLACK):
ADIN HILL
JUSTIN PETERS
Mark Lamb, on the decision for the team not to practice Tuesday:
The travel has really hurt us, our energy and stuff. We went over a lot of video and tried to clean up a lot of the stuff that we did in the game. After we did that I didn't think going on the ice would benefit us at all. Showing them some stuff, going over some stuff, getting out of here and staying off the ice, kind of refreshing and resetting, and getting ready for tonight.
Lamb, on how the team felt about Wednesday's 8-1 loss:
They're taking responsibility. I thought it was pretty black and white and we'll see the response tonight. It's about playing the right way. Win or lose, that doesn't matter, doing the right things gives you a chance to win hockey games. You look at that team over there, they're a strong, deep hockey team, and you've got to do the right things to beat them. You've got to compete with them and you've got to play the systems the right way. They've got two more guys down from the NHL, and they're going to be an even better team tonight, so system-wise and team-wise, we need to be better.
Lamb, on if he expects Christian Fischer to play this weekend:
I expect him to play both nights.
More to come from a sunny - yet chilly, game day in Tucson, Arizona.