NEWS & STATS
January 27 postgame quotes: Mueller, Hill, Tinordi, Lamb
By: Alex Kinkopf
January 27, 2017 9:32 PM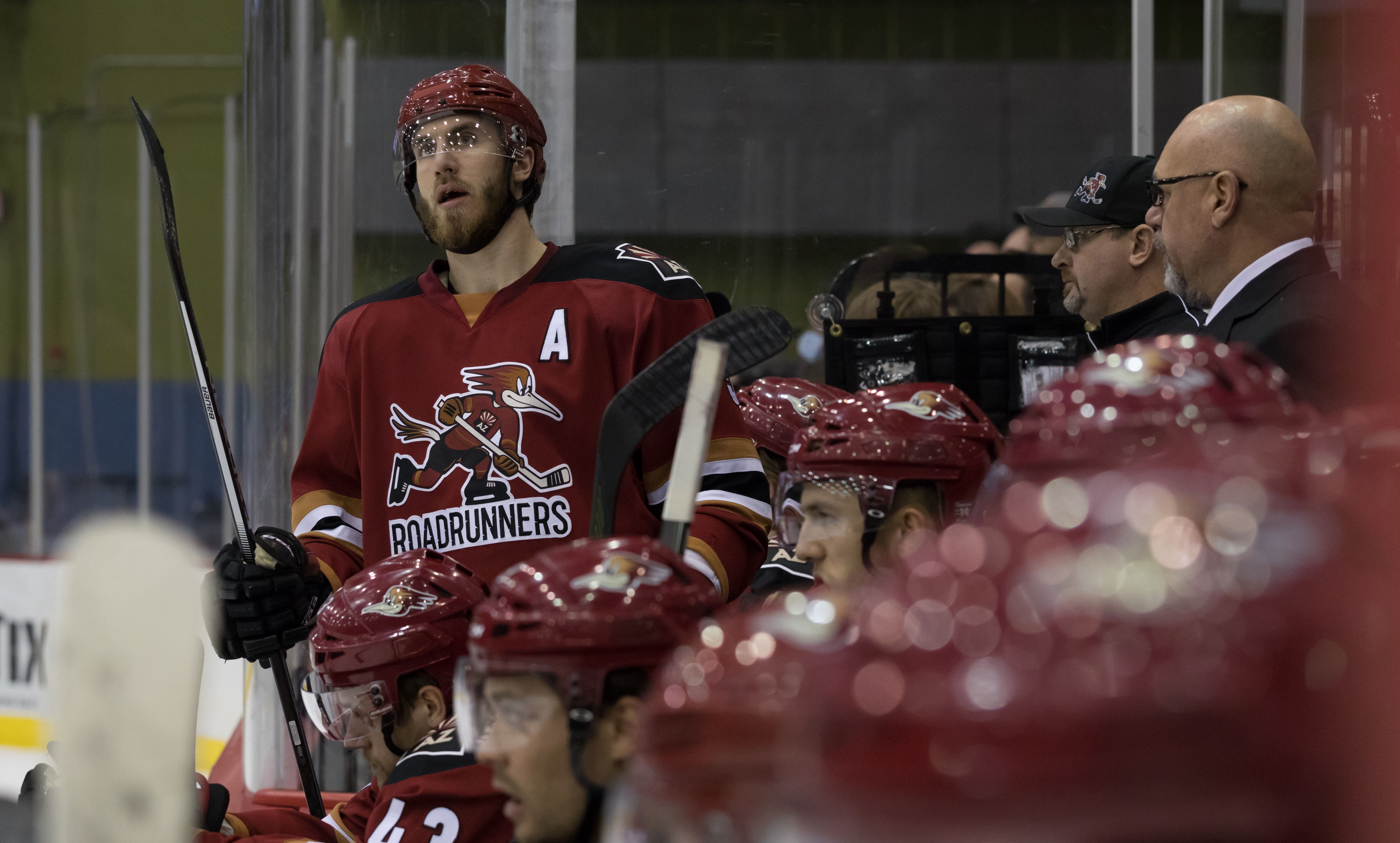 Chris Mueller, on what improvements he saw to the team's game Friday night:
Our compete level was there; we played tighter, so that was a positive. We didn't get the win, and that's all that matters. We're on a four-game losing streak here and we've got to turn it around and find a way to score goals five-on-five. We had our chances. The power play was good the first two times, but then the third one wasn't great. It doesn't matter if we score first and get more chances than them, we still have to put the puck in the net. We had some breakaways and some two-on-ones that we didn't capitalize on, and they did on a couple of theirs. The effort was there, it was much better than last game, which is what we wanted and what we talked about, but we've got to find ways to win – that's all that matters.
Adin Hill, on the team's performance:
I thought we played pretty good for the most part; we kept a lot of their shots to the outside. I think the biggest thing is we've got to clean up some of our breakouts, and make sure we're getting the puck in behind their defense and working it down low and getting some shots to their net.
Hill, on how he thought he played personally:
I thought I had a pretty good game, but then again the team kept guys out from screening me and made the shots simple.
Jarred Tinordi, on how he thought the team's 'compete' level was:
I thought we started the game really well; our first period was a strong period. I think we definitely played a little bit tighter with the puck; we didn't have as many turnovers. We were a little more physical, which I think was good, we kind of set the tone pretty early in the game, but unfortunately we couldn't hold on to it.
Tinordi, on where he feels the team is at amidst a four-game losing streak:
We're battling right now. I think before this we won five-straight. This game goes in swings. I think how we get out of this is through hard work. I think when we get up tomorrow, we need to put the work in and we need to get everybody on the same page.
Mark Lamb, on how he felt the team competed in comparison to Wednesday night:
It was a better game; we were better. We did a lot of things a lot better. Fisch, you know, I thought was the difference, he brought some rhythm. We lost Garland there, so we lost a little bit of rhythm in our lines. We still have to clean up turnovers, and we have to get the puck to the net more.
Lamb, on the team's struggles against the Gulls this season:
They've played well against us. They have a good team. They do a lot of good things. Sometimes you never know why that happens, but I think it's more how we're playing. We haven't played our best games against them at all.
Lamb, on the team's streakiness, how they crawl out of the four-game losing streak:
There's so much change. You get a lot of good rhythm and you get a lot of good things going, and then stuff happens. More than ever, that's what has really happened to us. You just need to stick with it, find the rhythm, find the chemistry, and keep moving on.
Lamb, on what Fischer's return brought to the team, the locker room:
Everything about him is good. He's so noticeable; he's got a great presence to him. Besides being a good hockey player, he does things the right way out there. It's so noticeable. He tries so hard, he plays hard every shift, and he's a big leader on this team.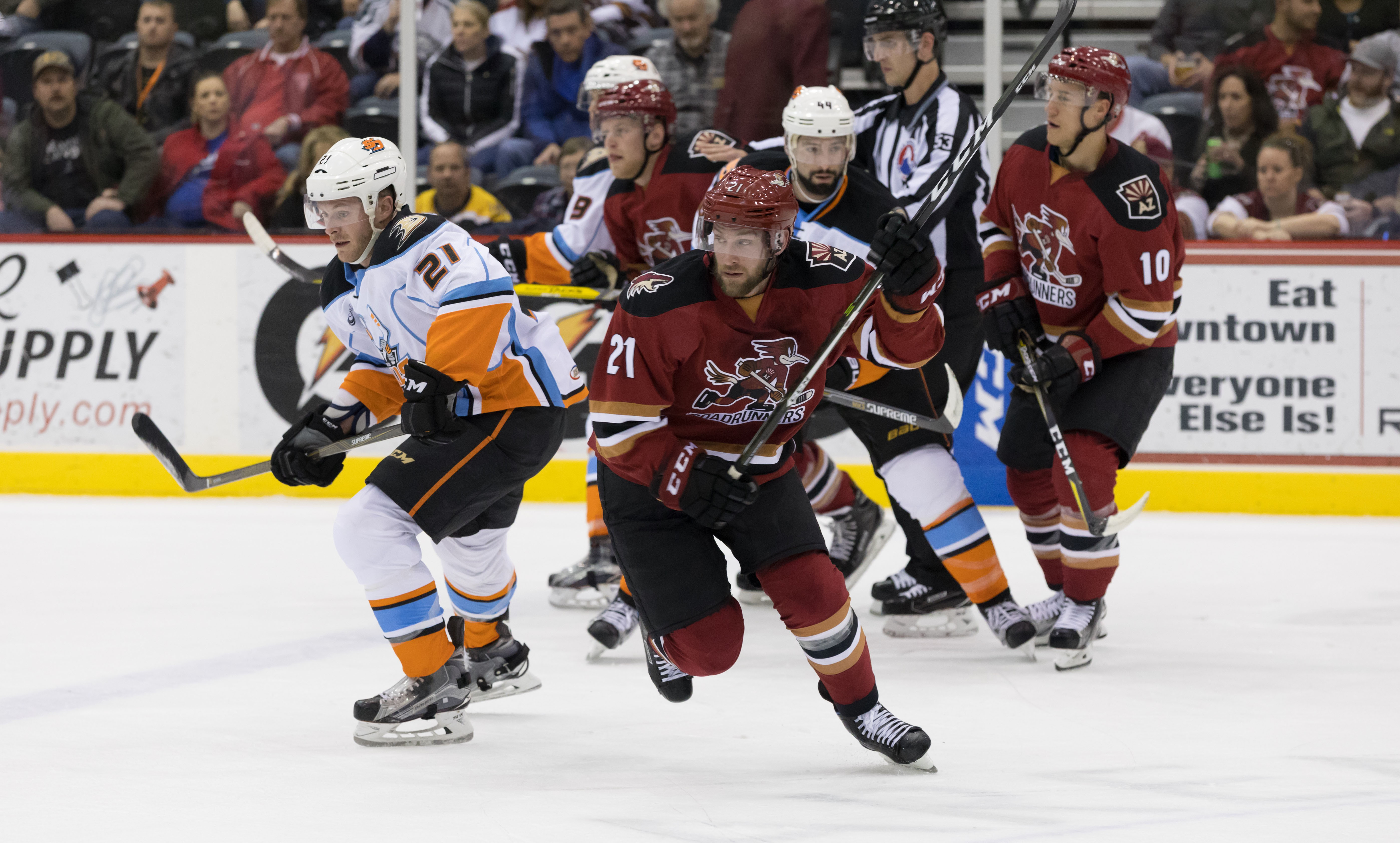 *Photos taken by: Kate Dibildox