NEWS & STATS
February 2 practice notes; Team returns from All Star break
By: Alex Kinkopf
February 02, 2017 3:31 PM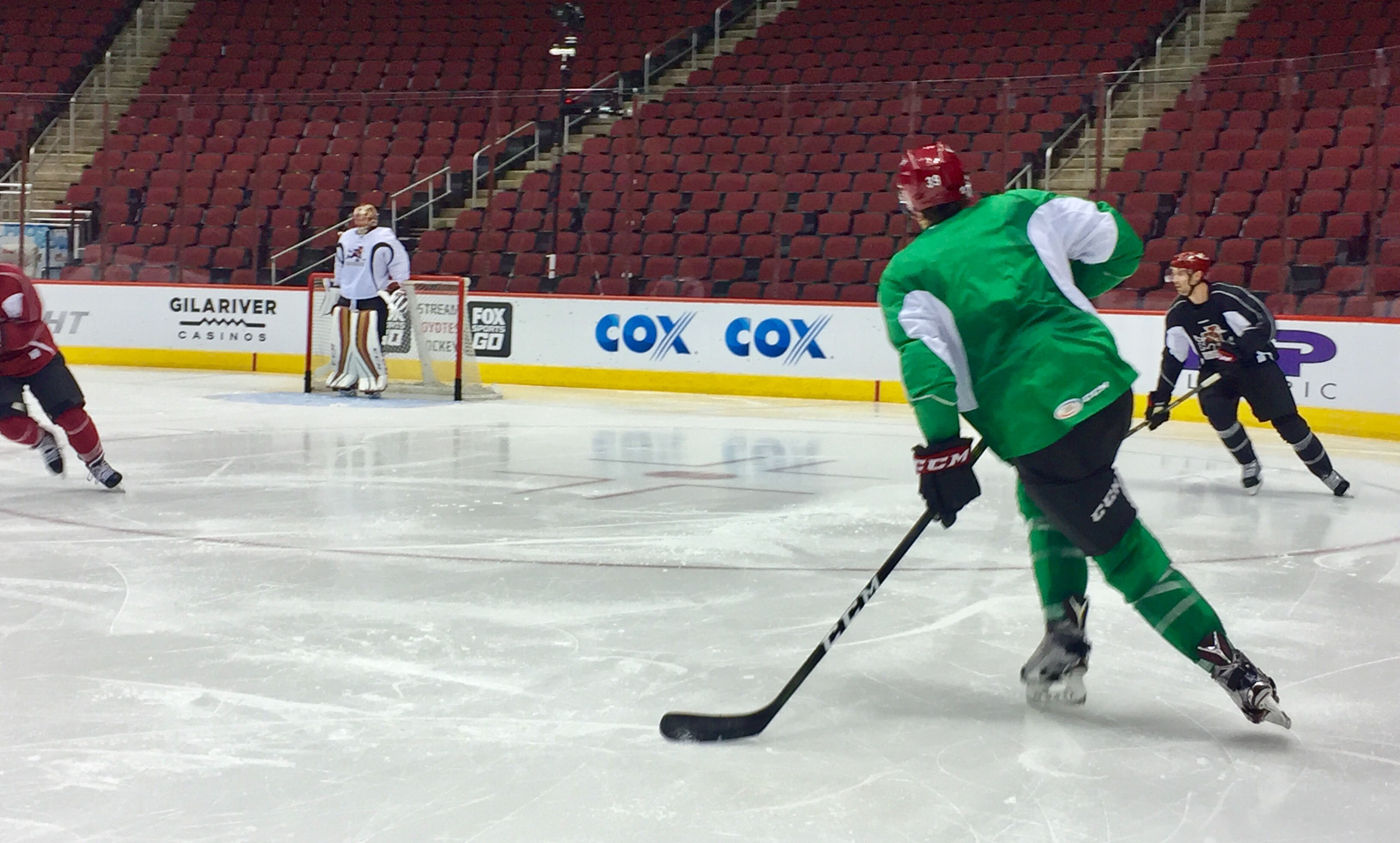 Good afternoon from Gila River Arena, where the team returned from the All Star break for their first practice ahead of Friday and Saturday night's contests against the Charlotte Checkers, which are to be played in Glendale at the Coyotes' home arena.
A highly populated session is was for the Roadrunners, who in total had 24 skaters on the ice along with goaltenders Adin Hill and Marek Langhamer.
A very energized, lively skate it was as well.
Included in the participants at Thursday's practice were forwards Brendan Ranford and Branden Troock – who skated with the Roadrunners for the first time since being acquired in a four-player deal on Wednesday for Justin Peters and Justin Hache.
Ranford skated on the left side of Chris Mueller and Christian Fischer on the first line; Troock on the right side of Tyler Gaudet and Eric Selleck on the third line.
Selleck, who has been out with a lower-body injury since the first week of December, skated in full on Thursday and is expected to be back in the lineup this weekend.
Laurent Dauphin, who has missed the previous three games, was back on the ice with the team today, skating with Michael Bunting and Anthony Duclair on the team's second unit.
Amidst the backdrop of Gila River Arena's Sedona red seats, under the building's bright LED lighting system, the players aligned thusly:
FORWARDS (COLOR CODED):
RED: BRENDAN RANFORD – CHRIS MUELLER – CHRISTIAN FISCHER
WHITE: MICHAEL BUNTING – LAURENT DAUPHIN – ANTHONY DUCLAIR
GREY: ERIC SELLECK – TYLER GAUDET – BRANDEN TROOCK
BLUE: MARK OLVER – RYAN MACINNIS – CONOR GARLAND
GREEN: HUNTER FEJES – STEFAN FOURNIER – LINDSAY SPARKS – TREVOR CHEEK
GOLD: GARRET ROSS
DEFENSEMEN (BLACK):
JAMIE MCBAIN – ZBYNEK MICHALEK
JARRED TINORDI – KYLE WOOD
DAKOTA MERMIS – ANTHONY DEANGELO
BRANDON BURLON
GOALTENDERS (BLACK):
ADIN HILL
MAREK LANGHAMER
Mark Lamb, on the importance of the All-Star break:
It was great. It doesn't really matter when you do get a break in this business; you really have to take advantage of it. Different times of the season, and whether you're winning or losing, it doesn't matter, you really need to take advantage of time away because it does really get bogged down. The schedule that we had after Christmas with the amount of travel, it really started getting to us, injuries were really starting to pile up. You can just refresh and reset everything. During this break we made some moves, and you can see in today's practice that I felt there was a lot of life there today. Whether that's from resetting from being away and getting refreshed, or the new guys coming in, I think it's a little bit of everything. You want to put behind the losing streak, you want to spend some time with your family, and it's very important.
Lamb, on if Selleck's timetable to return to the lineup:
I think he's ready to go. With Fournier and Garland, we've got a couple of more guys who are back and ready. We're going to have some players around now, and we're going to have some coaching decisions.
Lamb, on the team's acquisition of three forwards on Wednesday:
Change happens quickly. It can be positive change for the position that you're in, and it could be negative, because it could be your spot that's taken. That's why you really have to take advantage of situations when you're put in situations because things can happen quickly. Now when you put the lines together, they all kind of make sense. I really like the depth of everything and where it is right now.
Lamb, on the Charlotte Checkers:
We were in and out; I didn't think we were there as a team at all in the two games in Charlotte. The compete level, the chemistry, the lines, there was a whole lot of things that just didn't fit. We went in there for two games and got one point, and I thought we were lucky to get a point. They're a good, hard-working hockey team that we're going to have to be ready for tomorrow.
The Roadrunners are scheduled for a 10:00 AM morning skate ahead of Friday night's game against the Checkers.