NEWS & STATS
February 3 morning skate notes; Selleck, new guys are in
By: Alex Kinkopf
February 03, 2017 11:06 AM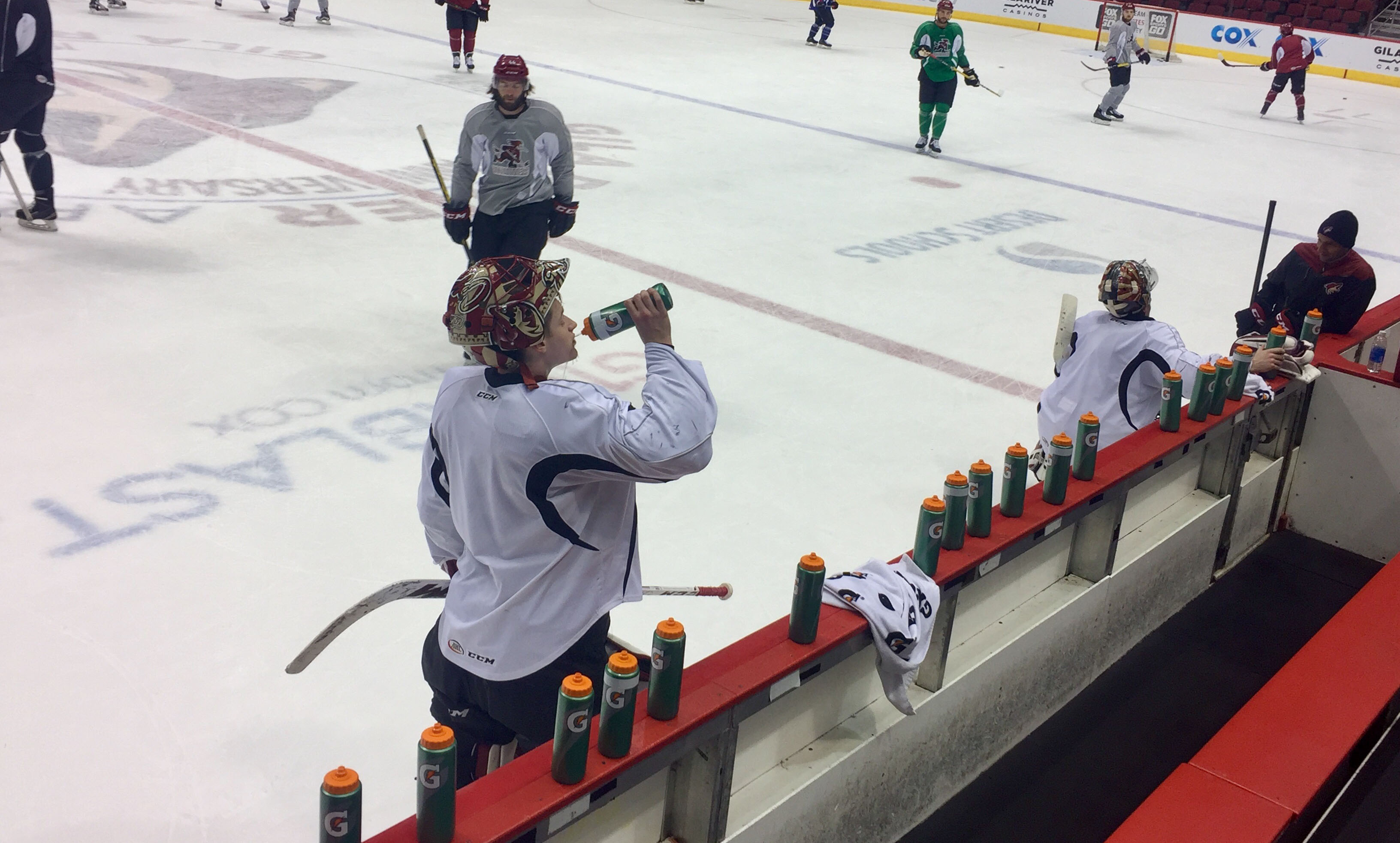 Good afternoon from the gorgeous get-up that is Gila River Arena, where the team held a 10:00 AM morning skate ahead of tonight's game against the Charlotte Checkers, which is scheduled for a 7:05 PM start.
Tonight's contest marks the first for the Roadrunners in return from the All Star break. The club is in search of a fresh start having lost five consecutive games prior to the mid-season hiatus.
22 skaters were on the ice for the club Friday morning, along with goaltenders Adin Hill and Marek Langhamer. Hill was the first goalie to leave the ice and is projected to make his 20th start of the season.
Brendan Ranford and Branden Troock, who were acquired in a four-player trade Wednesday, are expected to make their Roadrunners debuts. Ranford skated on the left side of Chris Mueller and Christian Fischer on the first line, Trook on the right side of Eric Selleck and Tyler Gaudet on the third unit.
Selleck, who has been out with an injury since the first week of December, will return to play his first game since December 3.
Forwards Stefan Fournier, Trevor Cheek, and Mitch Moroz remained on the ice for extra work with defenseman Anthony DeAngelo, so those four are presumed to be out tonight.
Under the hospitable confines of the Coyotes' NHL building, the team aligned thusly:
FORWARDS (COLOR CODED):
RED: BRENDAN RANFORD – CHRIS MUELLER – CHRISTIAN FISCHER
WHITE: MICHAEL BUNTING – LAURENT DAUPHIN – ANTHONY DUCLAIR
GREY: ERIC SELLECK – TYLER GAUDET – BRANDEN TROOCK
BLUE: MARK OLVER – RYAN MACINNIS – CONOR GARLAND
GREEN: STEFAN FOURNIER – TREVOR CHEEK – MITCH MOROZ
DEFENSEMEN (BLACK):
JARRED TINORDI – ZBYNEK MICHALEK
DAKOTA MERMIS – JAMIE MCBAIN
BRANDON BURLON – KYLE WOOD
ANTHONY DEANGELO
GOALTENDERS (WHITE):
ADIN HILL
MAREK LANGHAMER
The Checkers took the ice at 11:15 for their pregame skate.
Charlotte is coming off of an eight-game home stand in which they posted a 5-2-1-0 record. The Roadrunners dropped both of their visits to Charlotte's Bojangles' Coliseum on January 21 & 22.
"We were in and out; I didn't think we were there as a team at all in the two games in Charlotte," Head Coach Mark Lamb said after Thursday's practice. "The compete level, the chemistry, the lines, there was a whole lot of things that just didn't fit. We went in there for two games and got one point, and I thought we were lucky to get a point. They're a good, hard-working hockey team that we're going to have to be ready for."
More to come from a busy game day in Glendale.