NEWS & STATS
February 3 postgame quotes: Selleck, Wood, Hill, Lamb
By: Alex Kinkopf
February 03, 2017 9:46 PM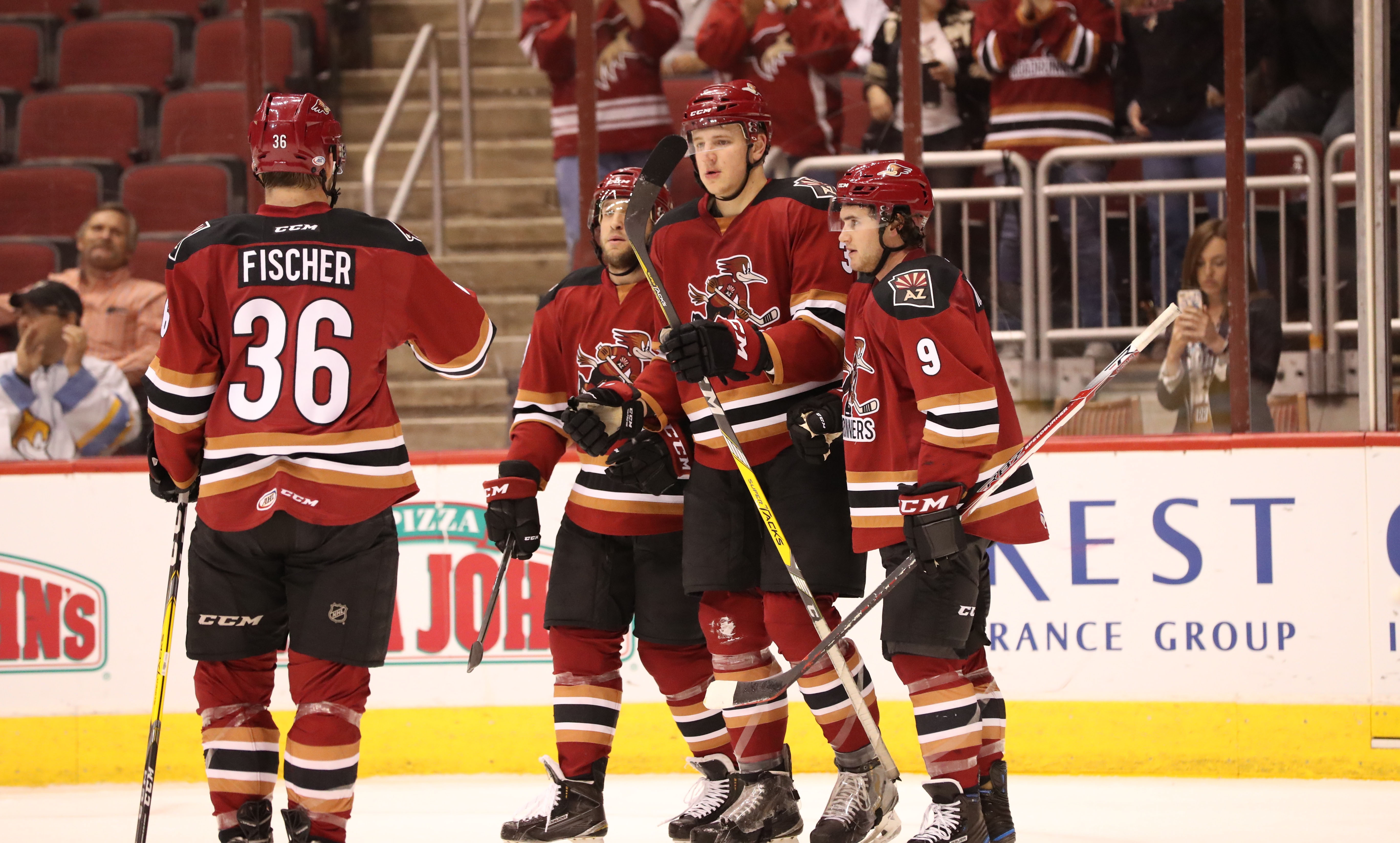 Eric Selleck, on his first game back:
It was good. I'm glad to be back obviously, I'm happy to get back here and get the win.
Selleck, on how he felt physically during the game:
I felt pretty good right away. I had a few practices before this. It's all about the timing; it'll take some time.
Selleck, on the team's win:
It was a good team effort from everybody; Woody with a couple of goals and Dauph with the winner. Those guys came through and we all played hard, and we hope we can get another one tomorrow.
Kyle Wood, on his two goals:
On the first one, I saw it behind the goal-line there on the power play, and Muells walked behind the net and gave me a wide-open net, so I just tapped it in on that one. One the second goal, I just got some time at the point, walked in a little bit, and put it five-hole.
Wood, on the team coming back from the break with a win:
That's what we talked about before the game; we just had to get out of this rough patch one game at a time. We battled for the first couple of periods and almost lost it there, but we got a big goal late to get the two points.
Wood, on the team finding a goal late to beat Charlotte:
It's always nice getting a late goal for the win. We worked so hard the whole game, and to go in tied into overtime is no good, so we just wanted to get a late goal there to seal the two points.
Adin Hill, on his general thoughts on the team's win:
I thought we did a better job of getting guys in front of the net, and we got a few goals out of it, so it was nice.
Hill, on what it means for the team to respond with a win out of the break:
It was nice, everybody took a little break and got their legs back, except for Woody – who had two goals tonight, so that was good for him. So it was good, we needed that little break, we got our minds refocused and we got the two points tonight.
Hill, on if playing in an NHL building poses any differences for a goaltender:
The lighting kind of differs from rink to rink, but it's cool anytime you step into an NHL building, it's special.
Mark Lamb, on the importance of returning from the break with a win:
It's huge to get the win. You never want to critique the game too much, especially when you're on a losing streak like we were, it's very hard to come out of. How we did come out of it was that we had really good goaltending once again. Hiller was unbelievable; he made those saves. We've got to try the chemistry, I thought we looked a little all over the map at times, we turned the puck over too many times, which led to Hiller making those good saves. Our power play got us a goal, our penalty killing was good, and that's kind of how we've been winning during the year, but I thought we made too many mistakes. But to get out of the mud, as we call it when you're on a losing streak, it's nice to get out of it and now we can move on.
Lamb, on Wood's two-goal performance:
He's improved in a lot of areas. His shot is something that everyone looks at, and now they're going to look at it even more because it's all over the place that he's got the hardest shot in the league. We'd even like him to use his shot more because it's such a threat all of the time. His game is really evolving; he's learning how to play in the defensive zone, and he's a young guy with a lot of potential.
Lamb, on the team capitalizing with a game-winning goal in the final seconds:
It's huge; it's a huge win. We're up 2-0 going into the third, and then we were holding on. We didn't score on our power play, we didn't score on our penalty shot, so the momentum was really starting to switch the other way, and to score like that – it was a great individual effort. Duclair, he took it, he made some plays, and it turned into a real nice goal, and usually that doesn't happen at that time of the game.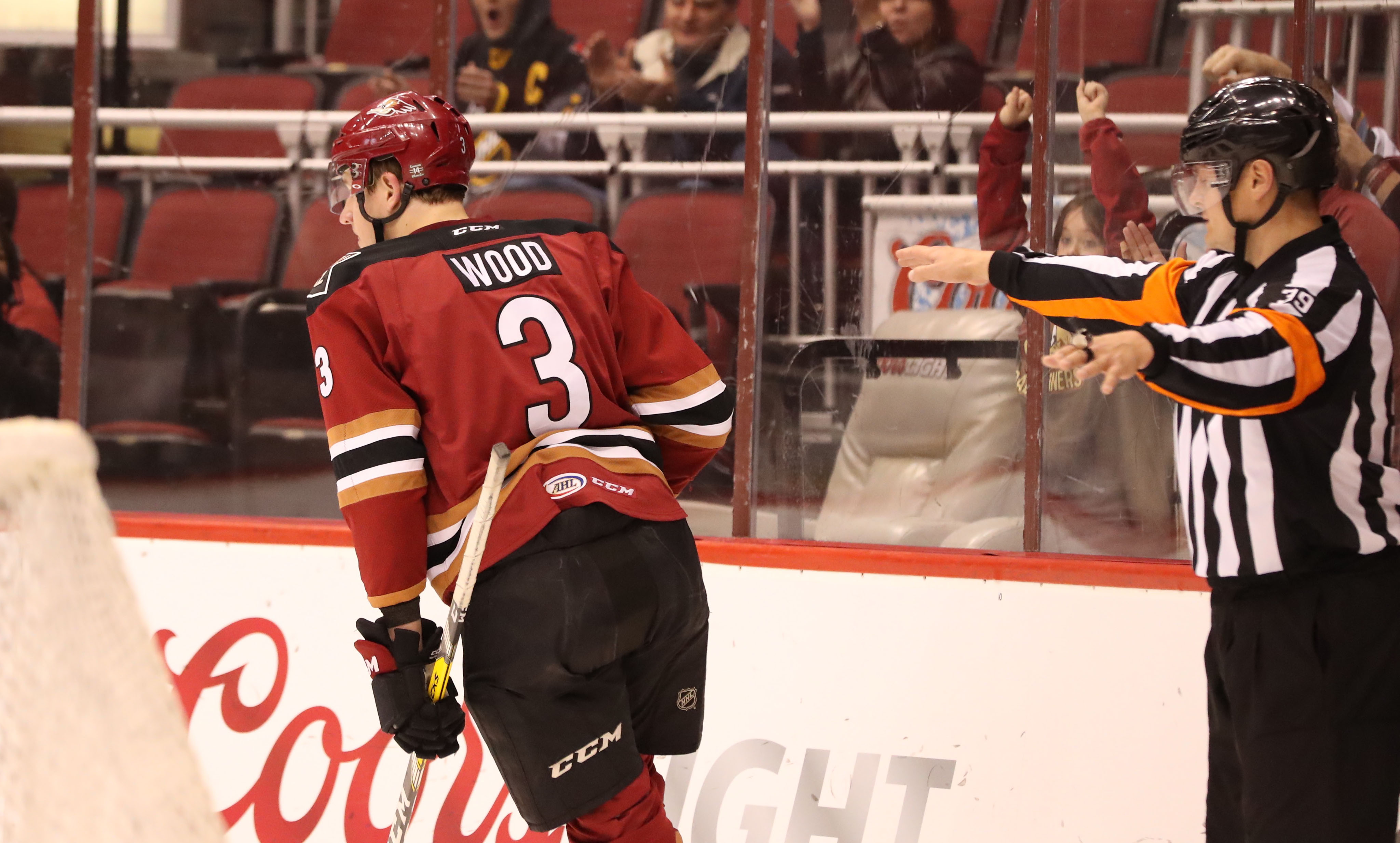 *Photos taken by: Chris Hook