NEWS
Lengthy road trip to be a crucial one for Roadrunners
By: Alex Kinkopf
February 09, 2017 4:17 PM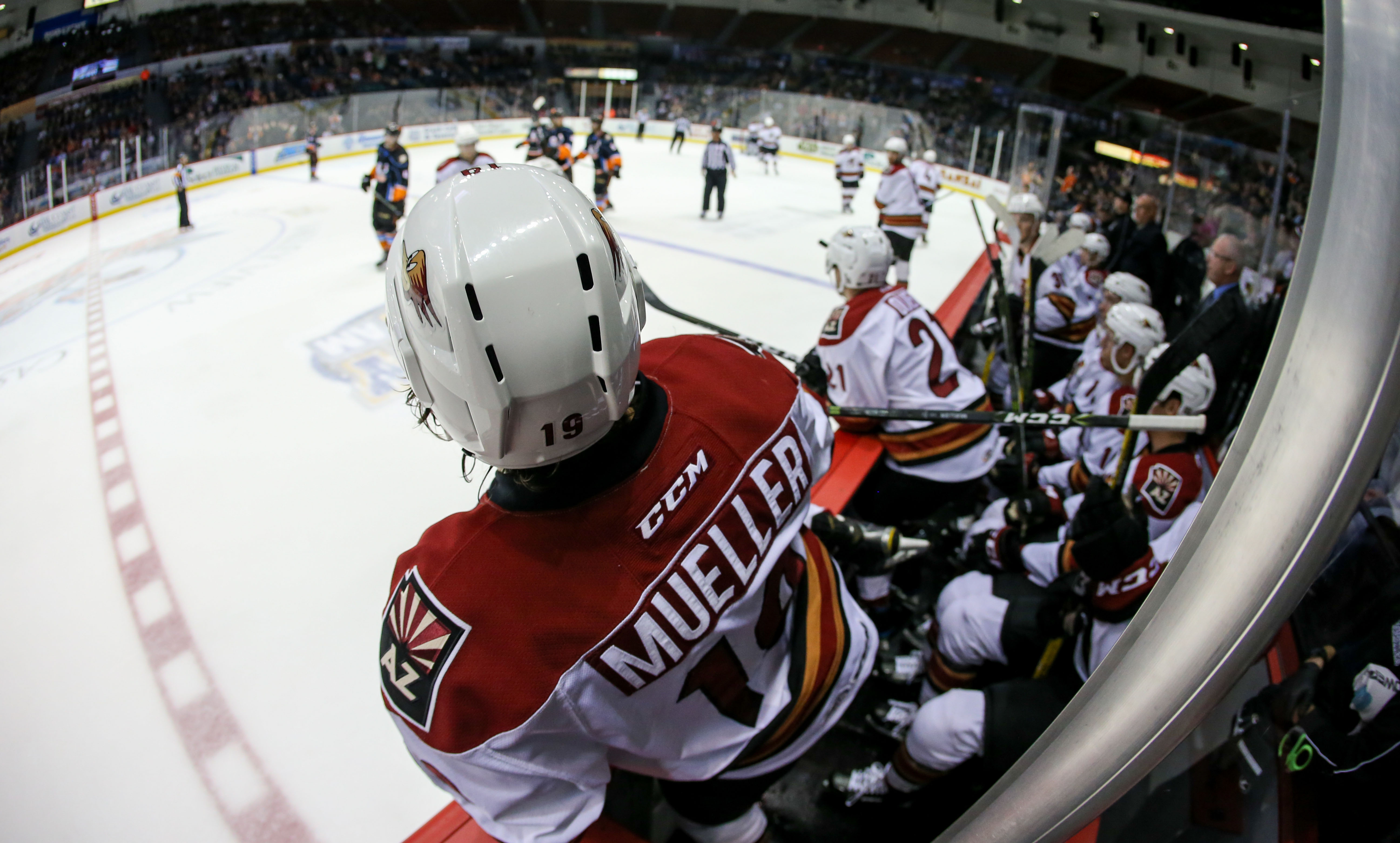 The phrase 'make or break' is a rather cliché one, an idiom that's bound to be used on an occasion or two during the course of a given campaign.
For the Roadrunners, who are set to get the wheels rolling on a season-long six-game road trip Friday night in Texas, the coming slate of games could very well to prove to be crucial as the team sits on the cusp of the playoff picture at fourth-place in the Pacific Division.
There are, however, 28 games left to be played.
18 of the Roadrunners' remaining games, including the next six, are away from the team's home confines of Tucson Arena. The club hasn't been particularly successful in opposing buildings, posting a 6-7-3-0 mark.
"If you look at our schedule, and you look at the rest of our schedule, it gives me hives," Head Coach Mark Lamb said. "It's going to be a tough battle, and mentally you have to be able to battle through it, so we better start getting mentally prepared right now."
Following their longest win-streak in franchise history, where the team strung together five consecutive victories from January 10-18, the Roadrunners have struggled mightily, posting a 1-5-1-0 record during their seven games since.
Tucson will first see the Texas Stars for a pair of games this Friday and Saturday night. The Roadrunners are 2-0-1-0 in their three previous meetings with the Stars this season.
Then it's off to San Jose, where the Roadrunners will see the Barracuda for one game on February 14, a back-to-back set against the Ontario Reign and San Diego Gulls on the 17th and 18th, and one more visit to Ontario on the 22nd.
The club has not won a game on the road since December 28, a 4-1 victory over the Stockton Heat at Stockton Arena.
"It's going to be a tough go, it really is," Lamb said. "That's where the preparation has to be there, and we're going to have to talk about that, we're going to have to push it, and get ready for one game at a time, which is always what you want to do."
In the four buildings Tucson is set to visit during the six-game trip, they have compiled a 1-4-0-0 record so far this season.
In 12 games played against the upcoming opponents on home ice, the Roadrunners are a respectable 7-3-2-0. The test will be, though, if they can beat these teams on the road.
"It's a lot different of a setup," Dakota Mermis said of being on the road for an extended period of time. "You're not in your own bed, you're not cooking your own meals and that kind of stuff, so I just think everyone's got to find their own way. It's a mental battle more than anything, and you've just got to do it."
The push toward the playoffs, with all intents and purposes, starts now. If there is to be an honest test for this roster, a six-game series in unfamiliar territories will be just that.