NEWS & STATS
GAME #42: Tucson at Texas
By: Alex Kinkopf
February 11, 2017 4:02 PM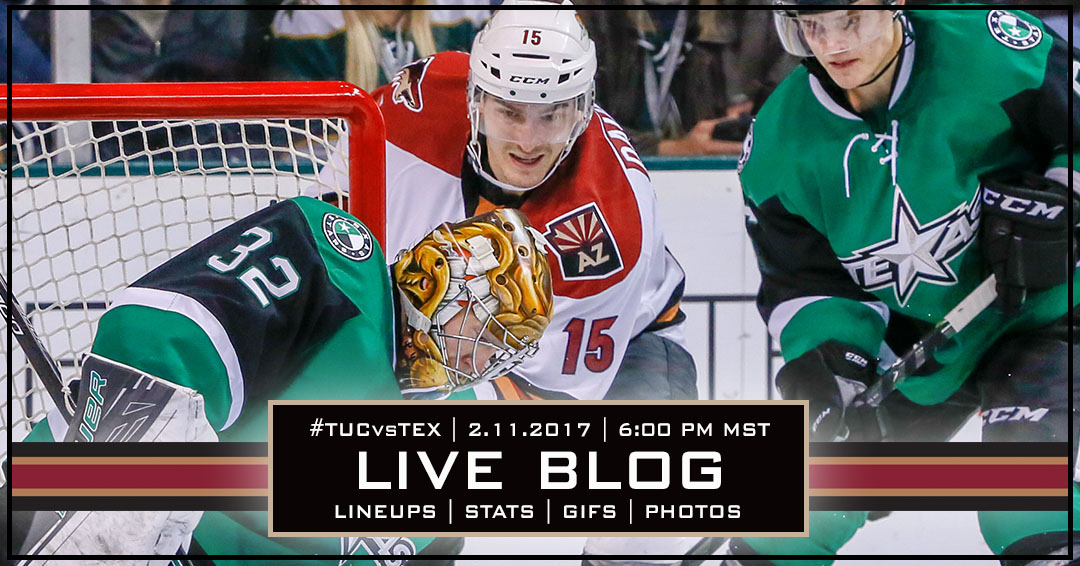 TUCSON ROADRUNNERS 2, TEXAS STARS 6
Final | 0:00 Remaining
Tucson (21-15-5-0) at Charlotte (22-20-1-2)
Saturday, February 11, 2017, 6:00 p.m. MST
H-E-B Center, Cedar Park, Texas
Referees: #90 Mike Langin
Linesmen: #30 Fred Hudy, #12 Carl Sasyn
AHL Live, iHeart Radio
TUCSON: G Adin Hill, D Jamie McBain, D Jarred Tinordi, LW Michael Bunting, C Tyler Gaudet, RW Eric Selleck
TEXAS: G Justin Peters, D Matt Mangene, D Justin Hache, F Gemel Smith, F Ethan Wereck, F Dustin Stevenson
---
SOG - TUC 28; TEX 28
PP – TUC 0/4; TEX 4/7
FIRST PERIOD:
1) TEX - Travis Morin (16) (Nick Ebert, Brandon DeFazio) 10:39
2) TEX PPG - Julius Honka (6) (Travis Morin, Matej Stransky) 12:10
SECOND PERIOD:
3) TEX PPG - Nick Ebert (7) (Ethan Werek, Gemel Smith) 2:46
4) TUC - Christian Fischer (18) (Chris Mueller, Laurent Dauphin) 11:35
5) TUC - Eric Selleck (4) (Anthony Duclair, Zbynek Michalek) 19:57
THIRD PERIOD:
6) TEX PPG - Matej Stransky (17) (Travis Morin, Julius Honka) 9:12
7) TEX PPG - Gemel Smith (8) (Nick Ebert, Mattias Backman) 10:20
8) TEX - Remi Elie (7) (Jason Dickinson) 12:41
---
NOTES
Pregame:
- Adin Hill leads the team onto the ice for warm-ups. It will mark his 22nd start of the season and his fourth against the Stars. He is 2-0-1-0 in his three previous starts versus Texas.
- Mitch Moroz is on the ice with the team and looks to be making his debut with the Roadrunners tonight. He is wearing #29.
- Stefan Fournier looks to be returning to the team's lineup. He has not played in a game since January 16.
- Justin Peters is making his fourth consecutive start in net for the Stars.
- Branden Troock, Conor Garland, and Dakota Mermis look to be tonight's healthy scratches for the Roadrunners.
First Period:
- Roadrunners coming out with a heavy physical presence. Being outshot 5-1 through the first six minutes of the game, however.
- Hill loses his stick after making a point-blank stop, Texas takes advantage and scores on the ensuing play.
- Texas takes a 2-0 lead, scoring on their first power play of the evening on a point-shot through traffic.
- Tucson outshoots Texas 6-1 through the final seven minutes of the first, but go into the intermission trailing 2-0.
Second Period:
- Stars take a 3-0 lead, scoring on their second power play of the evening just under three minutes into the period.
- A combined 62 penalty minutes are assessed at the 8:21 mark of the period.
- Christian Fischer scores his second goal in as many nights, burying a shot from the high-slot to get the Roadrunners on the board.
- Eric Selleck jams home a puck amidst a scrum in Texas' crease to get the Roadrunners to within a goal with three seconds left in the period.
Third Period:
-
FORWARDS:
LAURENT DAUPHIN – CHRIS MUELLER – CHRISTIAN FISCHER
BRENDAN RANFORD – MARK OLVER – ANTHONY DUCLAIR
MICHAEL BUNTING – TYLER GAUDET – ERIC SELLECK
MITCH MOROZ – RYAN MACINNIS – STEFAN FOURNIER
(BRANDEN TROOCK – CONOR GARLAND)
DEFENSEMEN:
JARRED TINORDI – JAMIE MCBAIN
ANTHONY DEANGELO – KYLE WOOD
BRANDON BURLONG – ZBYNEK MICHALEK
(DAKOTA MERMIS)
GOALTENDERS:
ADIN HILL
MAREK LANGHAMER
---
GIF HIGHLIGHTS
- Mark Olver and Brendan Ranford combine for a hit behind Texas' net early in the first period.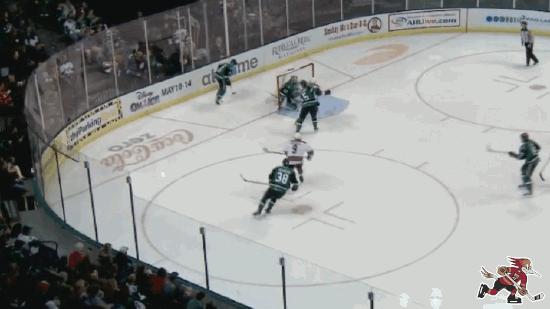 - Eric Selleck jams home a loose puck for the Roadrunners' second goal of the night.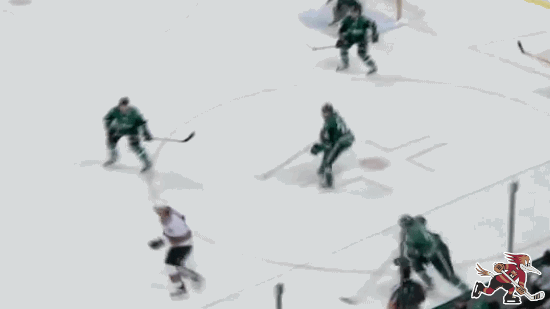 ---
PHOTOS