NEWS & STATS
GAME #44: Tucson at Ontario
By: Alex Kinkopf
February 17, 2017 6:07 PM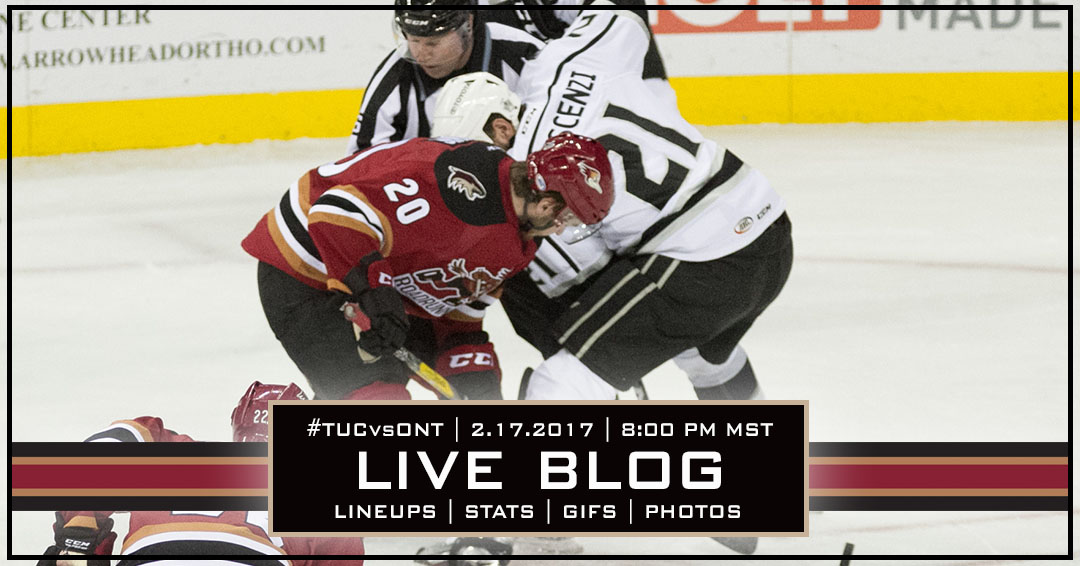 TUCSON ROADRUNNERS 1, ONTARIO REIGN 4
Final | 0:00 Remaining
Tucson (21-17-5-0) at Ontario (25-12-8-0)
Friday, February 17, 2017, 8:00 p.m. MST
Citizens Business Bank Arena, Ontario, California
Referees: #50 Andrew Howard, #57 Andrew Wilk
Linesmen: #62 James Parker, #96 Michael McBain
AHL Live, iHeart Radio
TUCSON: G Adin Hill, D Jamie McBain, D Anthony DeAngelo, LW Brendan Ranford, C Chris Mueller, RW Christian Fischer
ONTARIO: G Jack Campbell, D Alexx Privitera, D Kurtis MacDermid, LW Daniel Ciampini, C Andrew Crescenzi, RW Justin Auger
---
SOG - TUC 37; ONT 29
PP – TUC 0/6; ONT 0/3
FIRST PERIOD:
1) TUC - Laurent Dauphin (8) (Anthony Duclair, Mark Olver) 5:05
2) ONT - Mike Amadio (10) (Jonny Brodzinski, Alexx Privitera) 12:54
SECOND PERIOD:
3) ONT SHG - Brett Sutter (11) (Andrew Crescenzi) 19:44
THIRD PERIOD:
4) ONT - Jonny Brodzinski (20) (T.J. Hensick) 13:50
5) ONT ENG - Cameron Schilling (8) (Jack Campbell) 18:20
---
NOTES
Pregame:
- Adin Hill leads the team out of the tunnel and onto the ice in Ontario. He'll be making his fourth start of the season against the Reign tonight. He is 3-0-0-0 in his previous three encounters with the Kings' affiliate.
- Conor Garland returns to the lineup tonight; he is playing to the left of Ryan MacInnis and Stefan Fournier on the fourth line.
- Branden Troock and Mitch Moroz are the two forwards out tonight; Brandon Burlon is out.
- Austin Lotz has dressed for his first-career AHL game. He will be serving as Hill's back-up tonight.
First Period:
- After Anthony Duclair was shut down on a point-blank chance, Laurent Dauphin follows the play and buries the loose rebound to give the Roadrunners a 1-0 lead just over five minutes in.
- Dauphin's goal gave the Roadrunners their first lead in a game since February 3, a 245:26 minute span.
- Mike Amadio ties up the game just past the midway point of the first on what arguably could be the softest goal Adin Hill has allowed this season.
- Eric Selleck and Kurtis MacDermid drop the mits.
- The teams finish the opening period tied in shots (11) and goals (1). A rather uneventful frame.
Second Period:
- Roadrunners can't convert on a power play early in the period. Now 0-2 on the man advantage.
- Roadrunners third power play their most productive, but again fail to find the back of the net.
- Dakota Mermis saves a goal with just over five minutes left in the frame, sliding and blocking a back-door chance with Adin Hill out of position.
- Brett Sutter backhands a shorthanded goal past Adin Hill with 16 seconds left in the period.
Third Period:
- The Roadrunners will begin the period with 1:16 minutes left on a power play.
- Tucson comes out hot, but can't convert on carry-over power play. They've outshot the Reign 5-0 through the first three minutes of the period.
- Dakota Mermis fires a shot that looks to have gone in and caromed out. Immediately waved off, not reviewed by the officials.
- Jonny Brodzinski gives Ontario a two-goal lead with just over six minutes left to play moments after Adin Hill robs Zach Leslie with a gorgeous glove save.
- Ontario buries an empty-net goal with 1:40 to play.
FORWARDS:
BRENDAN RANFORD – CHRIS MUELLER – CHRISTIAN FISCHER
MARK OLVER – LAURENT DAUPHIN – ANTHONY DUCLAIR
MICHAEL BUNTING – TYLER GAUDET – ERIC SELLECK
CONOR GARLAND – RYAN MACINNIS – STEFAN FOURNIER
(BRANDEN TROOCK – MITCH MOROZ)
DEFENSEMEN:
ANTHONY DEANGELO – JAMIE MCBAIN
JARRED TINORDI – ZBYNEK MICHALEK
DAKOTA MERMIS – KYLE WOOD
(BRANDON BURLON)
GOALTENDERS:
ADIN HILL
AUSTIN LOTZ
---
GIF HIGHLIGHTS
- Laurent Dauphin follows an offensive zone rush and slams home a rebound to give the Roadrunners a 1-0 lead early in the first period.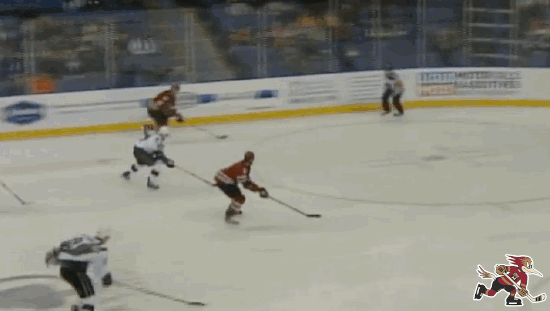 - Adin Hill makes a nice glove save on Ontario's Zach Leslie midway through the third.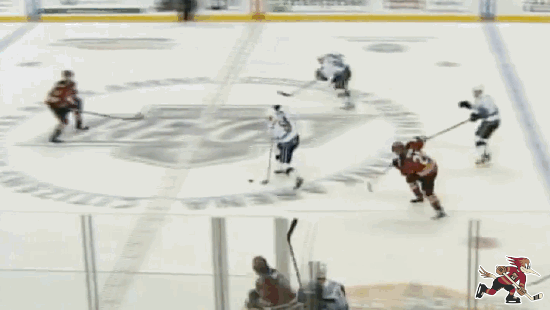 ---
PHOTOS