NEWS & STATS
February 21 practice notes: Mueller, Fournier, Lamb talk recent stretch
By: Alex Kinkopf
February 21, 2017 4:33 PM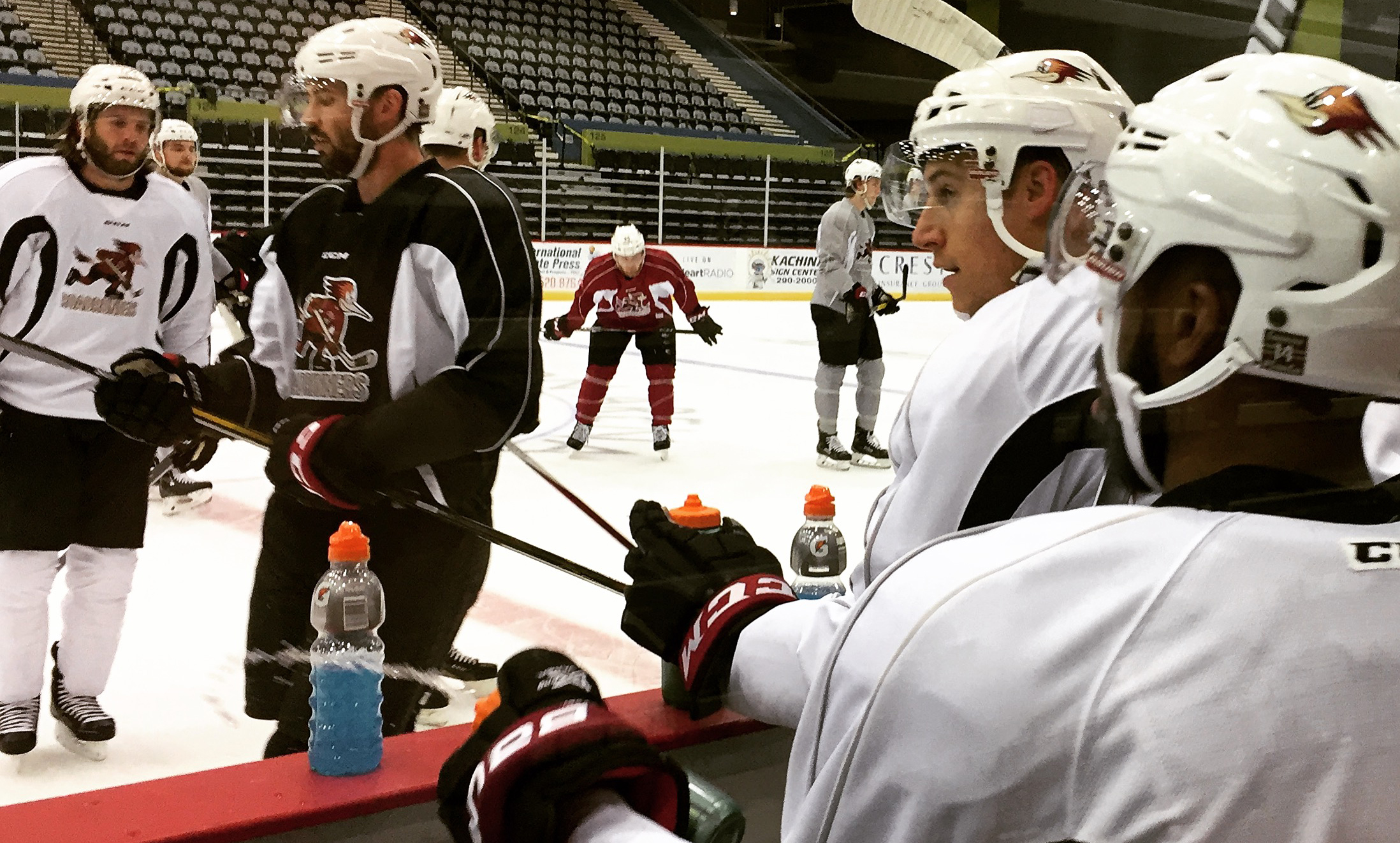 Good afternoon from Tucson Arena, where the team held an engaged 10:30 AM practice before heading out to Southern California's Inland Empire for their Wednesday night date with the Ontario Reign, which is scheduled to start just after 8:00 PM MST at Citizens Business Bank Arena.
For the Roadrunners, Tuesday morning's practice was the first time the team skated at their home facility in over 25 days. They will play their first games at Tucson Arena since January 28 this coming Friday and Saturday night.
Tomorrow night's contest will conclude the club's season-long six-game road trip, where they've posted a 1-4-0-0 record thus far.
Entering the third of their six scheduled stops in Ontario, where they're winless in their two previous visits this season, the Roadrunners maintain playoff positioning, sitting at fourth-place in the Pacific Division.
As the team's bus to Ontario patiently waited outside the arena, the players aligned as such for their quick Tuesday morning homecoming:
FORWARDS (COLOR CODED):
RED: LAURENT DAUPHIN – CHRIS MUELLER – CHRISTIAN FISCHER
WHITE: ANTHONY DUCLAIR – TYLER GAUDET – ERIC SELLECK
GREY: MICHAEL BUNTING – RYAN MACINNIS – BRANDEN TROOCK
GREEN: MITCH MOROZ - BRENDAN RANFORD – CONOR GARLAND – STEFAN FOURNIER
DEFENSEMEN (BLACK):
JARRED TINORDI – ZBYNEK MICHALEK
BRANDON BURLON – JAMIE MCBAIN
DAKOTA MERMIS – KYLE WOOD
GOALTENDERS (BLACK):
ADIN HILL
AUSTIN LOTZ
Chris Mueller, on the struggling start to the road trip:
We weren't in a good spot, that's for sure. I think the ball was kind of rolling downhill; it's tough to stop, and we weren't putting ourselves in a position to stop it. When things are going bad, mentally you start feeling bad, the pressure starts building a little bit, and then you just start playing differently because you're in a different spot mentally. I think getting that win [on Saturday] and coming back the way we did, and the way we won – we played physical and it was an exciting atmosphere. Hopefully we can build off of that and create some momentum our way now.
Mueller, on the team's win, third period performance in San Diego:
I think we just came out a little more desperate, and that's what we've been talking about wanting to do, and we were actually able to put it in place. It doesn't help when you have 10,000 fans booing you and trying to get on you. Guys were hitting; Mermis stepped up and made a big hit, Troock made a big forecheck hit, and one thing led to another. It was just about playing with some desperation, and we were trying to preach that in our games. We weren't putting it together, but finally in the third we put some shifts together, we got some momentum, and things started going well.
Mueller, on facing the Ontario Reign Wednesday night:
We have to have that same third period mentality we had in San Diego and just know that we have to keep this momentum going on our side now that we have it. Hopefully a little bit of pressure is off of everybody and a little bit of the bad feeling of losing is off. It wasn't an easy trip, we played Texas, who are great in their own arena, and then San Jose, San Diego, and Ontario are the top three teams in our division, so it's tough and we've got to focus. To beat Ontario, you can't really make any mistakes because they don't make many.
Stefan Fournier, on how big Saturday night's win was for the team:
I think it's huge. Obviously when you're losing like that, it comes to a character win like that to pull yourselves out of it. I think a lot of us knew going into that third period that we were going to have to push the pace, and we ended up coming away with a win, so it was pretty good.
Mark Lamb, on how important Saturday's win was for the team's morale:
It's big in a couple of ways. When you're on a losing streak, so many things have to happen to get out of it. We scored a power play goal, we shut them out on our penalty kill, and we had outstanding goaltending, and that's kind of how we've been winning this year when we've been on any type of streak, so that's all positive. To win against [San Diego], they've been one of the hottest teams, if not the hottest team in the last month in our league, they're a very deep team, and a team that can play a lot of different ways, so it was a very positive win.
Lamb, on the team being back home for 36 hours:
Well, you need it. You need time to breathe, you need time to see your own family and sleep in your own bed. It's been a real tough go; it was 19 days on the road. Even though we played a couple of games up in Glendale, those weren't really home games at all. It's not excuses, it's just the way the schedule is, and we have to fight through it. To be home, to practice here, it was a good feeling.