NEWS
February 24 morning skate notes; Fischer talks return home
By: Alex Kinkopf
February 24, 2017 10:42 AM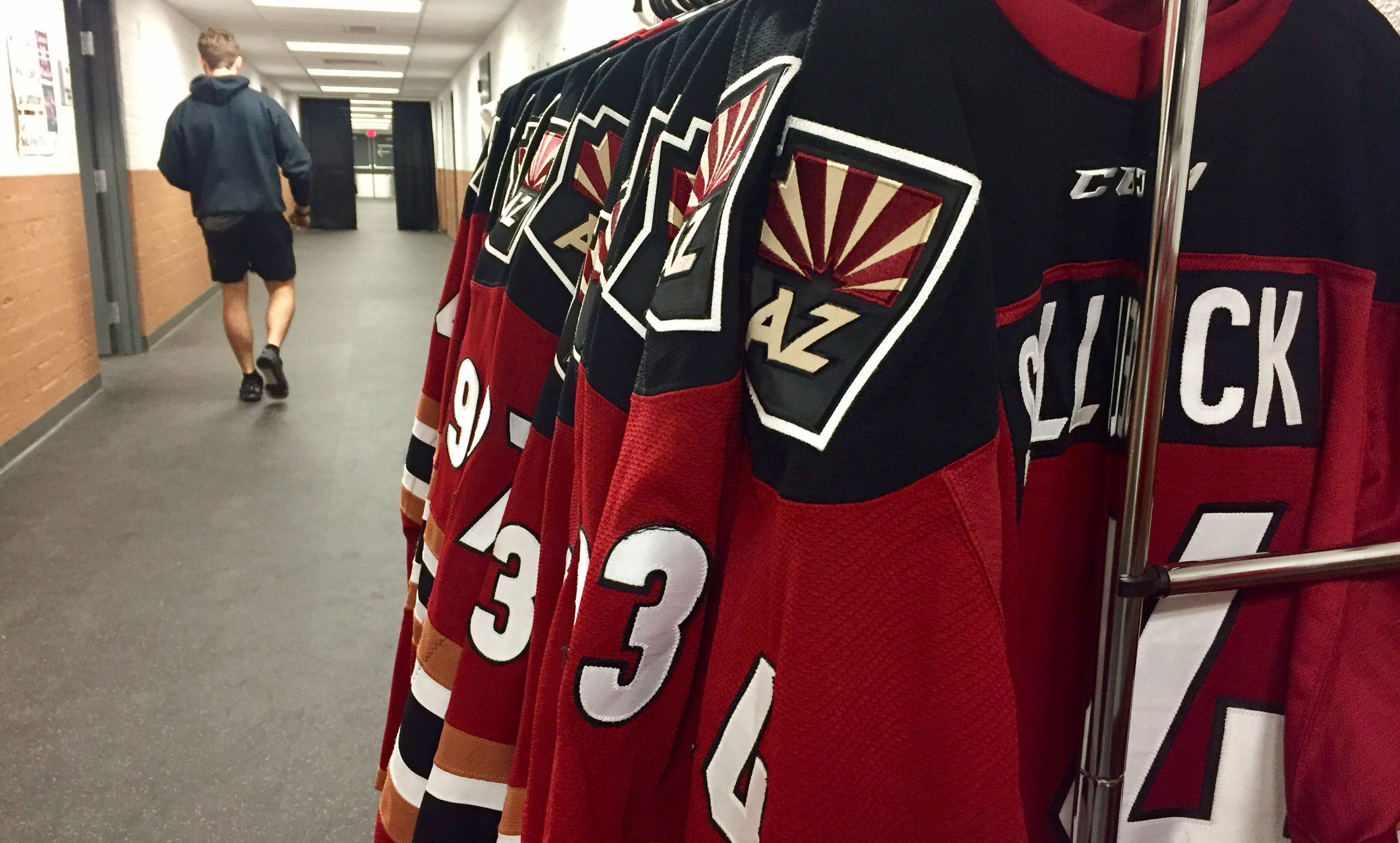 Good morning from Tucson Arena, where the Roadrunners held a morning skate in anticipation of tonight's game against the San Jose Barracuda, which is scheduled to start just after 7:05 PM.
Tonight's contest is the first for the Roadrunners at the corner of Granada Avenue and Congress Street since January 28. The club's homecoming will be no easy task – the Barracuda come into the night having won their last 12 games and are atop the Pacific Division with a 31-11-1-3 record.
In non-hockey news, Chris Mueller and family welcomed their second child to the world on Thursday, a beautiful baby girl named Saylor Knox Mueller. A hearty congratulations to the Mueller clan!
The team's morning skate was optional; 13 skaters took part in the pregame walk-through along with goaltenders Adin Hill and Marek Langhamer.
Langhamer was the first goaltender off the ice and is projected to make his 11th start of the season. He made 35 saves in his one previous outing against the Barracuda on February 14, a 4-1 loss.
The assemblance of players aligned thusly:
FORWARDS (COLOR CODED):
RED: CHRISTIAN FISCHER
WHITE: TYLER GAUDET
GREY: BRANDEN TROOCK – RYAN MACINNIS – MITCH MOROZ
GREEN: CONOR GARLAND – BRENDAN RANFORD – STEFAN FOURNIER – MICHAEL BUNTING
DEFENSEMEN (BLACK):
DAKOTA MERMIS – KYLE WOOD
BRANDON BURLON – DYSIN MAYO
GOALTENDERS (BLACK):
ADIN HILL
MAREK LANGHAMER
Christian Fischer, on the team being back home:
It feels good to obviously sleep in your own bed and feel more comfortable at the rink. It's definitely easier playing at home; we've got the hometown crowd, we know the rink well, so it's definitely an advantage here and we'll see if we can get the two points tonight.
Fischer, on where he feels the team is at coming into the weekend:
Obviously we're going through a little bit of a rough patch, but I think a little three-game home stand here is going to be good for us, it'll give us a little bit of time to regroup here. We're not out of the count yet, we're still right there for that fourth spot. It starts with tonight, and hopefully we can get things rolling.
Fischer, on San Jose's red-hot club:
They're a real fast, skilled team. You can't give them the power play because they'll capitalize, and any turnovers we make are going to kill us, they're really fast and they transition well. I think it helps us that we played them last week. We know what to expect, we've got some video to look over too, so we'll see if we can put one together here.
More to come from another gorgeous game day in Tucson.