NEWS
February 25 postgame quotes: Wood, Dauphin, Fischer, Hill, Lamb
By: Alex Kinkopf
February 25, 2017 9:58 PM
Kyle Wood, on the team being able to earn a point against San Jose:
I feel like we played well. They're the top team in the league, and I feel like we played well for the first couple of periods there. They got a couple of lucky power play goals at the end there. I feel like we battled all night, and we deserve the point we got, that's for sure.
Wood, on the team killing off a late five-on-three:
That was definitely awesome by our PK there to get that job done. We thought we got gipped by a couple of calls there in OT. We played well, and we deserved that point.
Laurent Dauphin, on the team's performance:
We cannot win a game. We need to do something to find a way to win a game. It's not good enough. With two minutes left we had a lead and then all of a sudden it's tied.
Dauphin, on if there's positives to take away from the team killing off a five-on-three situation:
Yeah sure, the guys battled through. We have to score on three-on-three overtime though. It was a nice kill to get it into overtime.
Christian Fischer, on if the team was frustrated with the officiating:
I think there may have been a few questionable calls but that's out of our control, I don't think we can really put the blame on that. That's two straight games where we're letting in third period goals late, so I think we just need to tighten up with that. We were winning the game with two minutes left, and that was kind of our downfall there. We need to start tightening up during the last five minutes.
Fischer, on if there's positives that can be taken from the two games against San Jose:
In both games we came back. It's hard to be positive after a loss. We battled back, we came back both games there, some guys were stepping up and scoring goals. There are little positives, but obviously we lost.
Adin Hill, on how he felt after traveling to and from Dallas to be with the Coyotes:
It felt good to get back on the ice in front of the team here. It's nice that we got a point, but you always want to come out with a win at the end of the night.
Hill, on the team's ability to kill off a five-on-three situation late in the game:
The guys did a great job in front of me killing it off and we got it done. That's what you have to do, you have to play desperate hockey.
Hill, on what he took away from the team's performance against a hot San Jose club:
I thought we played a great game, a hard game. I thought we played physical and got pucks to the net, and we put three pucks in the net and that should be enough to win.
Mark Lamb, on the team earning a point Saturday night:
I thought we worked really hard. I thought it was a good game except for the refereeing. They took control of the game, and that's the outcome.
Lamb, on the team's high emotions in regards to certain calls made:
It's emotional for everybody. When you're working hard and things happen out on the ice it's emotional. They can watch the tape.
Lamb, on the team playing a pair of tightly contested games against the hottest team in the league:
You can take a lot of positives away from it. I thought we battled hard and did a lot of good things. We hung in there and killed off a five-on-three to earn a point, and that was huge.
Lamb, on Hill's performance after a tumultuous 36 hours of travel:
Nothing fazes him. He just comes to play, and loves to play goal.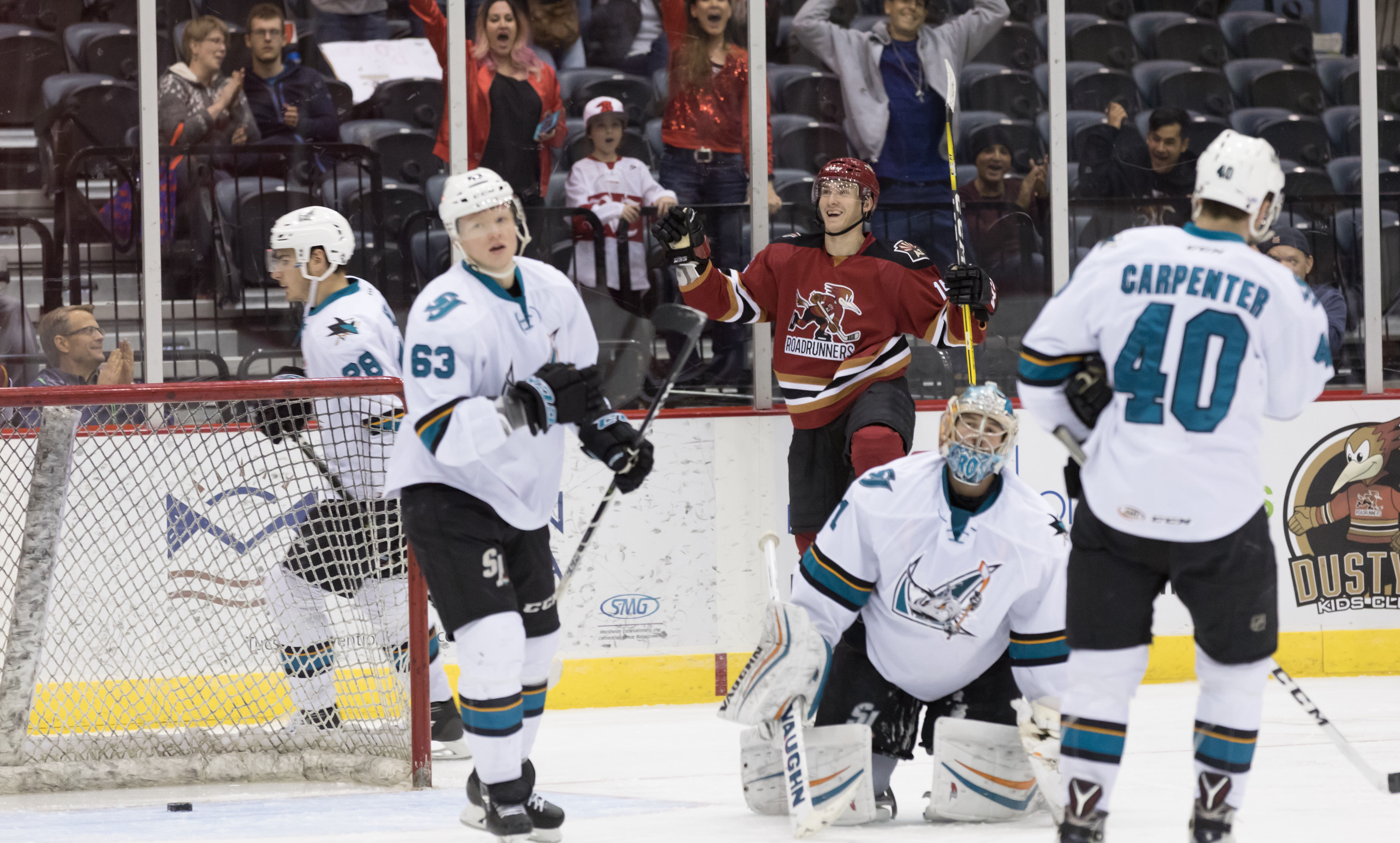 *Photos taken by: Kate Dibildox