NEWS
February 28 morning skate notes; Morin, Downing talk Roadrunners debuts
By: Alex Kinkopf
February 28, 2017 10:52 AM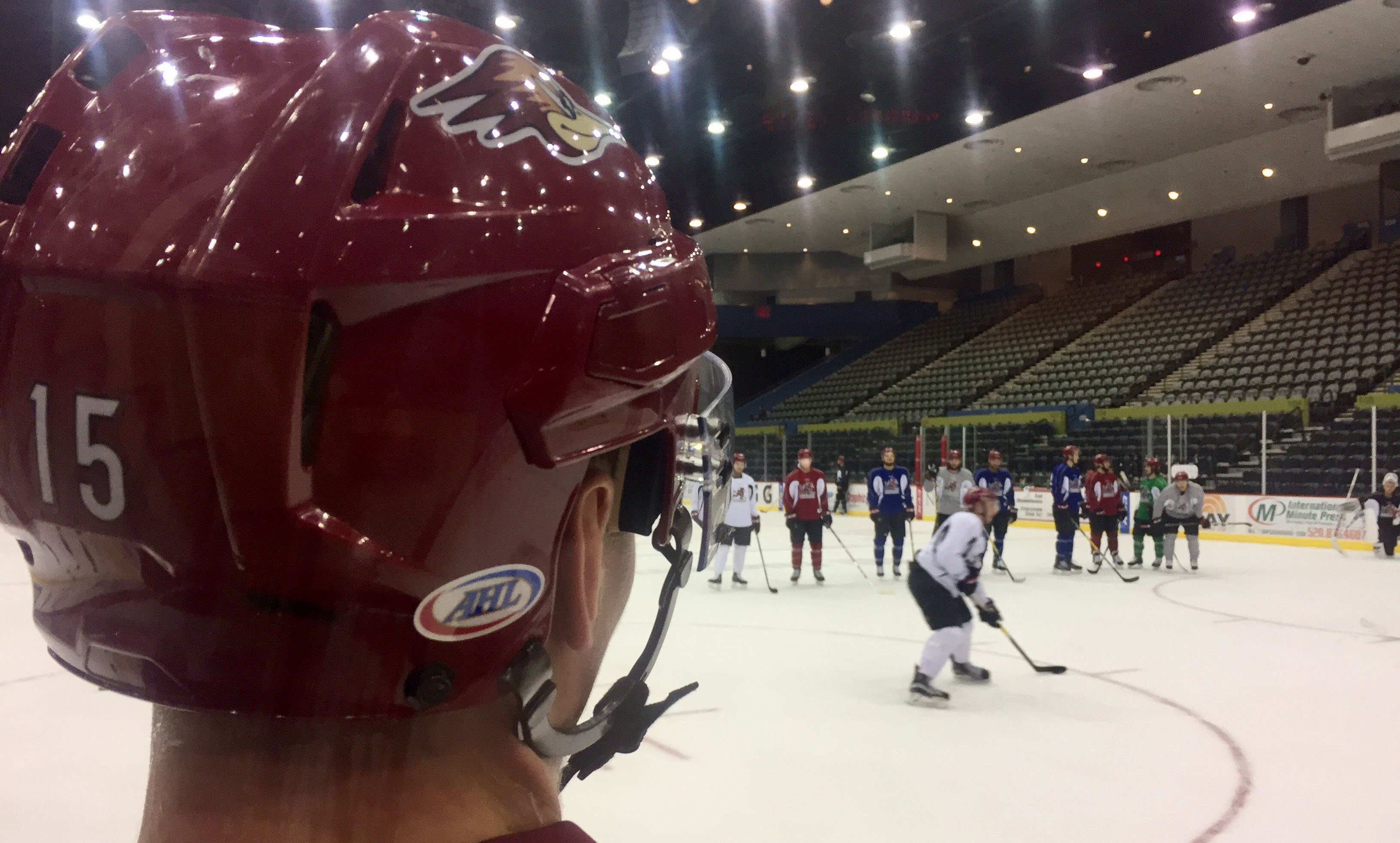 Good morning from Tucson Arena, where the team held a morning skate ahead of tonight's game against the San Diego Gulls, which is scheduled to start just after 7:05 PM.
Tonight's contest, not originally on the team schedule, is a remake of November 23's postponed affair between the two clubs.
The Roadrunners come into the night just outside of fourth-place in the Pacific Division behind the Bakersfield Condors, who host the Texas Stars at 8:00 PM MST.
In total, 21 skaters were on the ice along with goaltenders Adin Hill, Marek Langhamer, and Austin Lotz. Hill was the first goalie off the ice and is projected to start in net.
Both Jeremy Morin and Grayson Downing skated with the team and will be in tonight's lineup. They both were on the second line with Michael Bunting.
The players aligned thusly:
FORWARDS (COLOR CODED):
RED: LAURENT DAUPHIN – CHRIS MUELLER – CHRISTIAN FISCHER
WHITE: MICHAEL BUNTING – GRAYSON DOWNING – JEREMY MORIN
GREY: ERIC SELLECK – TYLER GAUDET – ANTHONY DUCLAIR
BLUE: MITCH MOROZ – RYAN MACINNIS – BRANDEN TROOCK
GREEN: CONOR GARLAND – BRENDAN RANFORD
DEFENSEMEN (BLACK):
JARRED TINORDI – ZBYNEK MICHALEK
DAKOTA MERMIS – JAMIE MCBAIN
DYSIN MAYO – KYLE WOOD
BRANDON BURLON
GOALTENDERS (BLACK):
ADIN HILL
MAREK LANGHAMER
AUSTIN LOTZ
Mark Lamb, on if he knows much about Morin, Downing:
No, I don't. You follow up after the fact. I'll start talking to some coaches and some people that I know in the game, and get the reports from some of our guys. Both are supposed to be pretty good players, both top-six type players at this level.
Lamb, on what he expects to see against San Diego:
They're like San Jose. They're really deep, and we're going to have to do a lot of good things. In our games, if we get a lead, we need to be able to lock it down and play a lot smarter in a lot of areas. It's going to be a good battle; they're a real good hockey team. We have to play a real smart game with good goaltending, which we usually get.
Jeremy Morin, on playing with a new group of teammates:
Obviously it's a lot of new faces, but I've done this before. It's exciting to be able to come in to a battle for a playoff spot; it makes it exciting.
Morin, on describing his playing style:
I think I'm a shoot-first guy for sure; I like to create offense off the shot. Just skate hard, create turnovers, get my offense going, cycle the puck, and hopefully I can get all of that going early here.
Grayson Downing, on arriving to Tucson late Monday night, turning around to play Tuesday:
Honestly it's just been a whirlwind, I haven't thought about it too much. I'm just thinking about going out and playing, I haven't really had time to think about the whole situation, so I'm excited more to just play, I think that's the biggest thing right now.
Downing, on what role he feels he brings with his game:
I see myself as a skilled forward who brings a presence to both sides of the puck. I pride myself in my role defensively, but my offensive game is what I'm suited for.