NEWS & STATS
GAME #50: Tucson at San Diego
By: Alex Kinkopf
March 03, 2017 6:17 PM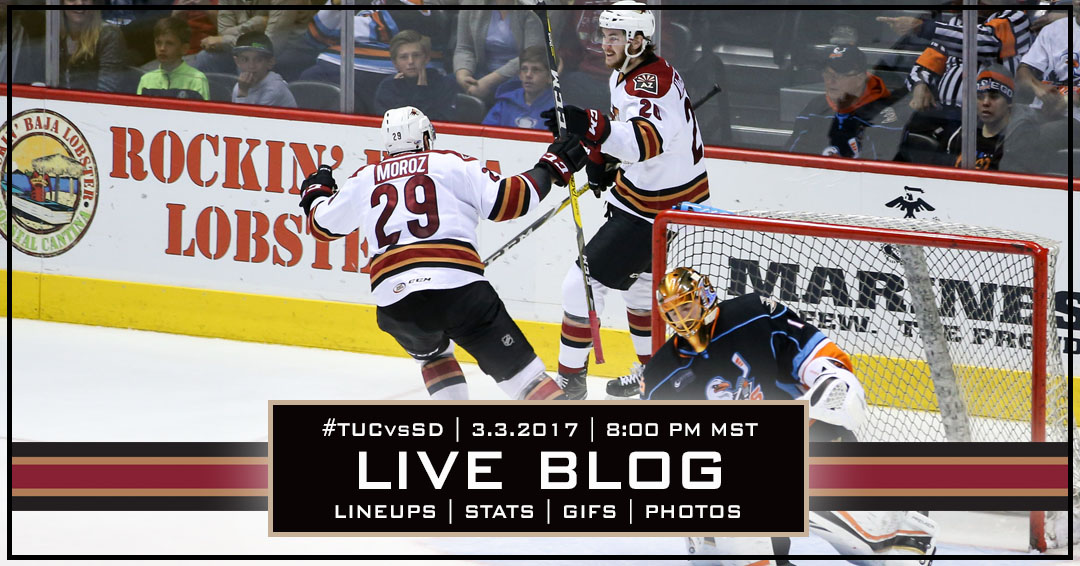 TUCSON ROADRUNNERS 1, SAN DIEGO GULLS 3
Third Period | 14:13 Remaining
Tucson (22-21-6-0) at San Diego (31-14-2-2)
Friday, March 3, 2017, 8:00 p.m. MST
Valley View Casino Center, San Diego, California
Referees: #10 Terry Koharski, #34 Stephen Reneau
Linesmen: #43 Steven Berry, #20 Anthony Falette
AHL Live, iHeart Radio
TUCSON: G Marek Langhamer, D Dakota Mermis, D Zbynek Michalek, LW Eric Selleck, C Tyler Gaudet, RW Michael Bunting
SAN DIEGO: G Kevin Boyle, D Brian Cooper, D Shea Theodore, LW Kevin Roy, C Tyler Morley, RW Nick Sorenson
---
SOG - TUC 33; SD 20
PP – TUC 1/5; SD 1/4
FIRST PERIOD:
1) SD PPG - Keaton Thompson (3) (Andrew Welinski, Sam Carrick) 7:08
2) SD - Nick Sorenson (8) (Tyler Morley, Jordan Samuels-Thomas) 15:29
SECOND PERIOD:
3) SD - Brian Cooper (2) (Kyle MacKinnon, Kevin Roy) 3:23
4) TUC PPG - Dysin Mayo (1) (Grayson Downing, Joe Whitney) 7:36
THIRD PERIOD:
---
NOTES
Pregame:
- Marek Langhamer leads the team out onto the ice for warm-ups.
- Joe Whitney, wearing #16, will make his Roadrunners debut, skating on the left side of Grayson Downing and Jeremy Morin on the team's second unit.
- Conor Garland and Brandon Burlon look to be tonight's healthy scratches.
First Period:
- Roadrunners get a power play in the opening two minutes of play; can't convert, register one shot.
- Roadrunners able to kill off a 40-second 5-on-3 penalty kill. Gulls score on the layover time of the secondary infraction.
- San Diego strikes for their second goal late in the period as Nick Sorenson tips home a pass while driving to the net through two Roadrunners defensemen.
- Roadrunners outshoot the Gulls 11-8 in the first, but don't put together any Grade-A scoring chances.
Second Period:
- San Diego takes a 3-0 lead early into the middle frame. Marek Langhamer has been pulled from the game for Adin Hill. He stopped eight of 11 shots faced.
- Dysin Mayo dips down during a power play and one-times home his first-career AHL goal to get the Roadrunners on the board.
- Grayson Downing and Joe Whitney register their first points in Roadrunners uniforms with assists on Mayo's marker.
- Roadrunners outshoot the Gulls 14-9 in the period.
Third Period:
-
FORWARDS:
LAURENT DAUPHIN – CHRIS MUELLER – CHRISTIAN FISCHER
JOE WHITNEY – GRAYSON DOWNING - JEREMY MORIN
MICHAEL BUNTING - TYLER GAUDET - ERIC SELLECK
MITCH MOROZ - RYAN MACINNIS - BRANDEN TROOCK
(CONOR GARLAND)
DEFENSEMEN:
JARRED TINORDI – JAMIE MCBAIN
DAKOTA MERMIS – ZBYNEK MICHALEK
DYSIN MAYO – KYLE WOOD
(BRANDON BURLON)
GOALTENDERS:
MAREK LANGHAMER
ADIN HILL
---
GIF HIGHLIGHTS
- Jarred Tinordi drops the gloves with Scott Sabourin in the first period.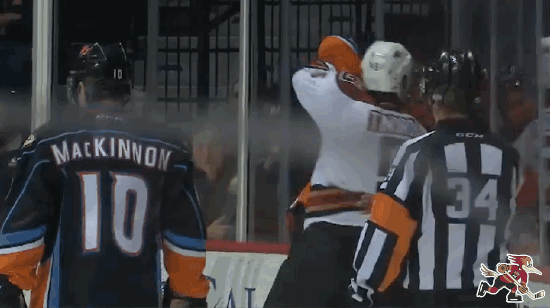 - Dysin Mayo bangs home a Grayson Downing feed to get the Roadrunners on the board.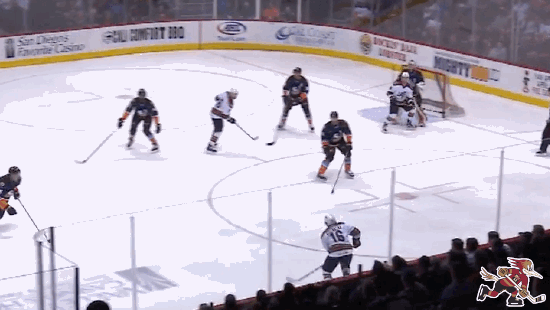 ---
PHOTOS