NEWS & STATS
March 8 practice notes; Hill, Fischer quotes
By: Alex Kinkopf
March 08, 2017 12:21 PM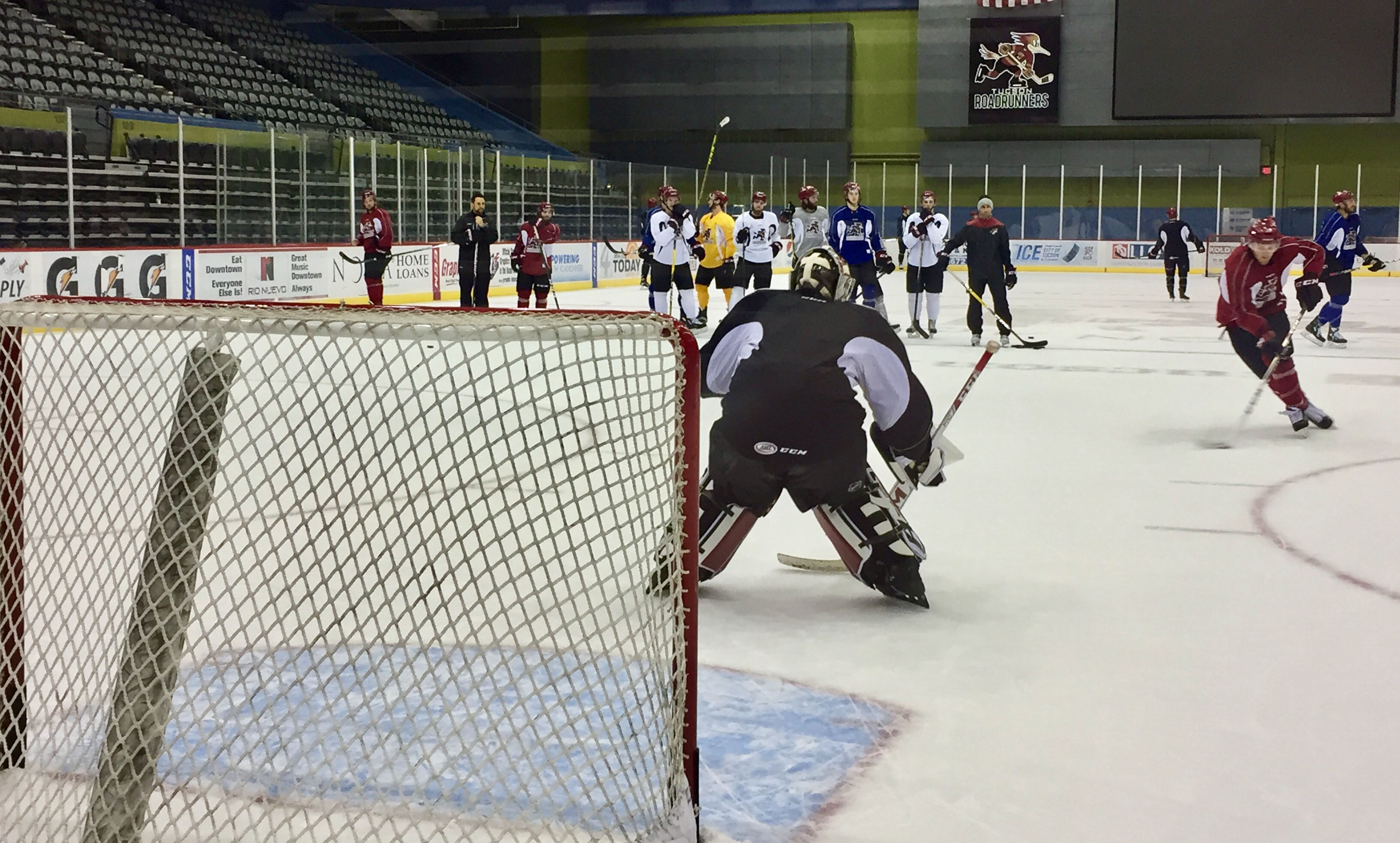 Good afternoon from Tucson Arena, where the Roadrunners returned for the first of two practices prior to venturing back out on the road for three games in three days this weekend.
After another skate Thursday morning, the team will travel to San Diego for their game against the Gulls, which is scheduled for an 8:00 PM MST start Friday night at the Valley View Casino Center. That contest will be followed by two against the Ontario Reign at Citizens Business Bank Arena Saturday night at 7:00 PM MST and Sunday afternoon at 4:00 PM MST.
The team is in the thick of a playoff race for the final postseason berth in the Pacific Division, trailing the Bakersfield Condors' .549 win percentage with their own .510 mark. The Condors are active in the AHL's schedule on this day, set to visit the Stockton Heat tonight at 7:00 PM MST. Stockton currently sits in sixth-place in the Pacific with a .500 mark.
The team's travel hasn't been the only major turnaround of late. Just a few days ago, the skating surface at Tucson Arena was buried in thick layers of dirt for Monster Jam.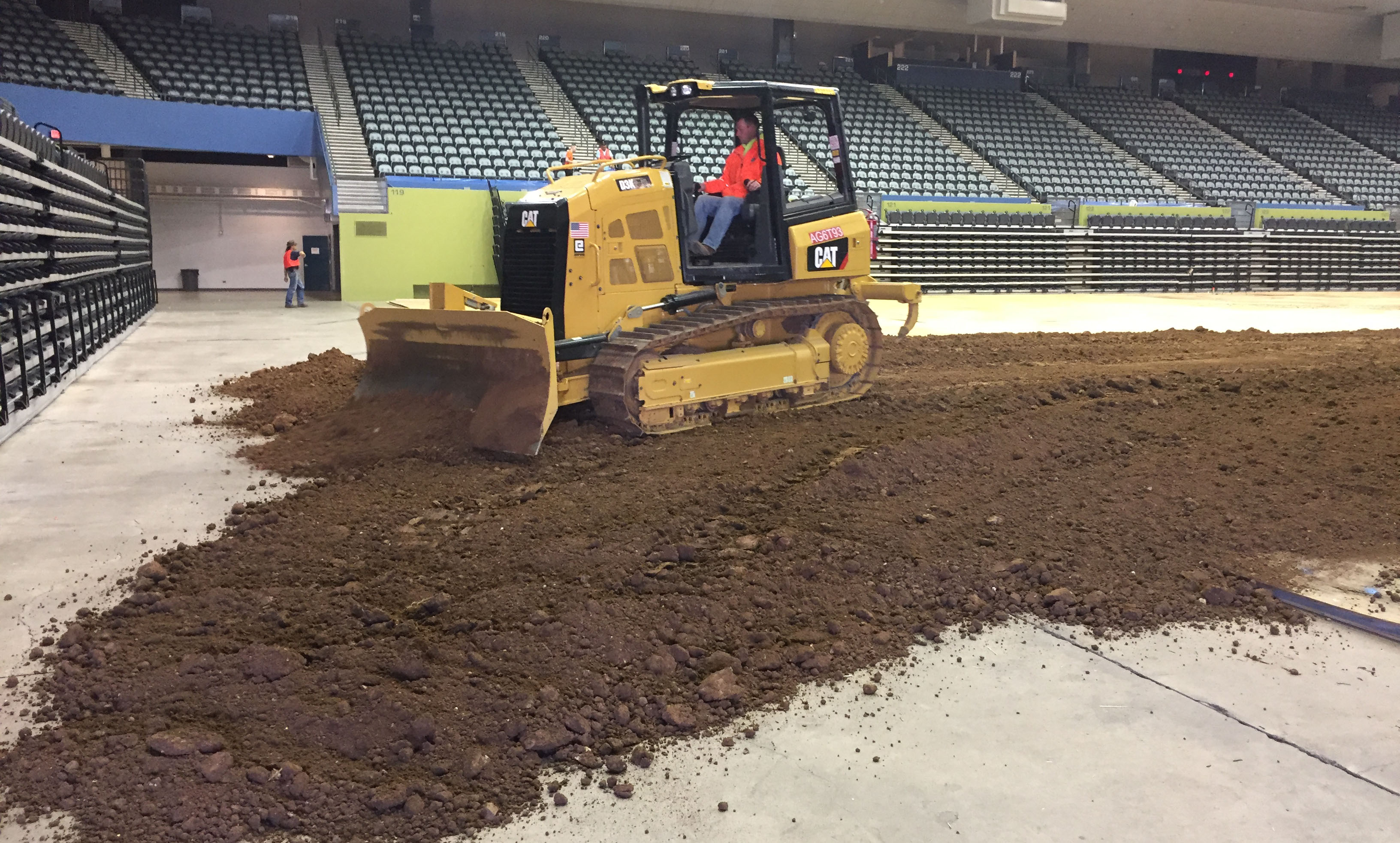 All was clear Wednesday. 20 players took to the ice along with goaltenders Adin Hill and Marek Langhamer.
Joe Whitney, who has registered an assist in each of his first two games with the Roadrunners, skated for the first time at Tucson Arena Wednesday since being acquired in a trade on March 1.
David Musil, reassigned by Bakersfield's parent club the Edmonton Oilers to the Roadrunners earlier in the week, got his first taste of the club's home building as well.
The team aligned thusly:
FORWARDS (COLOR CODED):
RED: JOE WHITNEY – CHRIS MUELLER – CHRISTIAN FISCHER
WHITE: MICHAEL BUNTING – LAURENT DAUPHIN – JEREMY MORIN
GREY: ERIC SELLECK – TYLER GAUDET – CONOR GARLAND
BLUE: MITCH MOROZ – RYAN MACINNIS – BRANDEN TROOCK
YELLOW: GRAYSON DOWNING
DEFENSEMEN (BLACK):
JARRED TINORDI – ZBYNEK MICHALEK
DYSIN MAYO – KYLE WOOD
BRANDON BURLON – JAMIE MCBAIN
DAVID MUSIL
GOALTENDERS (BLACK):
ADIN HILL
MAREK LANGHAMER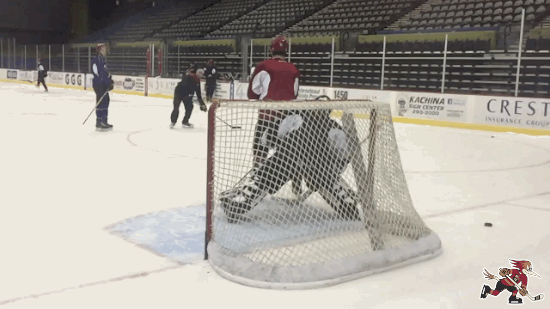 Following the skate, Adin Hill and Christian Fischer took a few moments to field a few questions on the team's brief return home, the recent slew of transactions, and the feelings involved with being in a tight playoff race:
Adin Hill, on the importance of being back home for a couple of days:
It's nice not always having to switch between hotels, it's good to get a day back here in Tucson and do what you're familiar with – sleep in your own bed, cook your own food, so everyone likes it a lot, and you get to practice in your own rink. We're comfortable here so it's real nice. We'll get back on the road this weekend for three games and then we're back here again.
Hill, on how the team has adapted to the number of roster changes:
I think it's been great; the guys that we've picked up all seem like good character guys in the room and good guys on and off the ice. I think we've added some skill to our forwards, and I think we're going to be a good team here.
Hill, on the playoff race, and if he's ever been a part of a memorable one:
Yeah last year [in Portland (WHL)] we made it in by I think two points. It's fun, every game counts. Every game is a playoff game before the playoffs, right? You just have to come in with that intensity that it's do-or-die every night.
Christian Fischer, on the team being home in Tucson for a quick stay:
It feels good. Life on the road gets pretty tiring after a while. It's definitely nice to be able to practice in our own rink, sleep in our own beds, see our families and friends. When you're at home it's the best.
Fischer, on the team's new additions:
We feel real confident. We look like we have pretty good depth to our team; I think that's the biggest word that we can probably use right now – that we have a lot of depth. We expect to go far, and we know that we can win games, and I think we showed that in our last game in Ontario – I think that was one of our best team games we've played the whole year. If we put the pieces together right, I obviously think we're going to get into a playoff spot, and I think we can go pretty far.
Fischer, on describing the excitement, adrenaline rush of being in a playoff race:
It's really exciting. Every point counts, so whenever points are up for grabs we need to take advantage of it, and it starts with this weekend when we play three games in three nights. It's going to be tough, but we're going to need every point we can get.