NEWS & STATS
Roadrunners ready themselves for a 'huge' weekend ahead
By: Alex Kinkopf
March 09, 2017 2:56 PM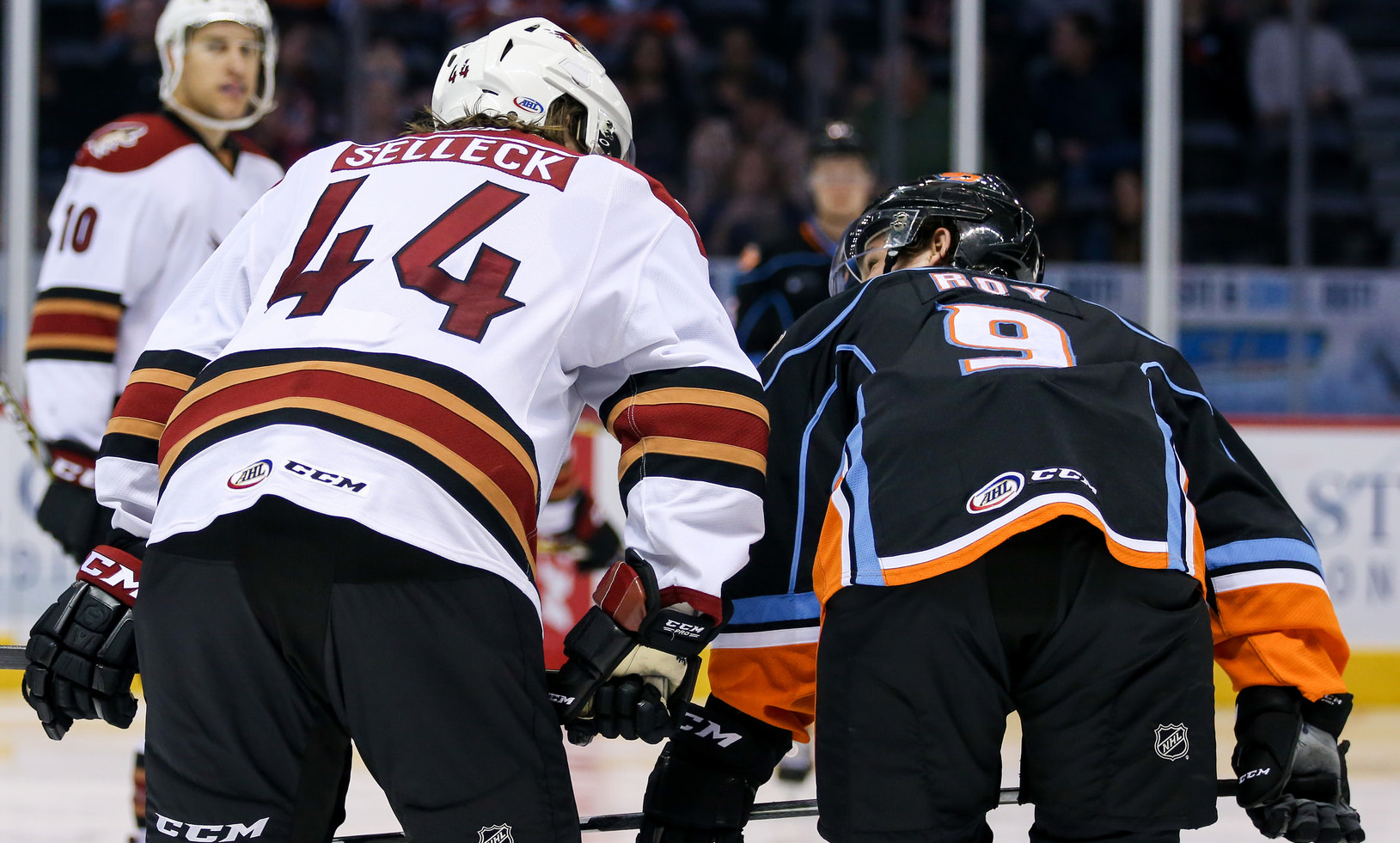 "[These games are] massive. This is the toughest stretch of the year here."
Sitting on the cusp of playoff positioning, the Roadrunners are set to venture out on a three-game, three-night swing to cap off the team's current five-game road trip. There isn't a ton of room for error; wins are needed as the end of the regular season schedule inches nearer.
"If we can come out of this with a few wins here it would be great," Eric Selleck said. "For three games in three nights, we're going to have to be mentally and physically prepared."
The Roadrunners currently trail the Bakersfield Condors for the fourth and final playoff spot in the Pacific Division, who they host for a pair of crucial games on March 17 and 18 at Tucson Arena. Tucson's .510 win percentage is in close contention with Bakersfield's .538 mark.
The club is 8-13-3-0 on the road this season; they are scheduled to play 10 of their remaining 17 contests away from Tucson Arena.
"We have to win on the road, there's no doubt about it, it's pretty simple math when you get it all down in front of you," Mark Lamb said. "Going into San Diego, we've had two good practices, our mindset is very positive and very strong, and I'm feeling very comfortable."
Those wins on the road must start this weekend in Southern California.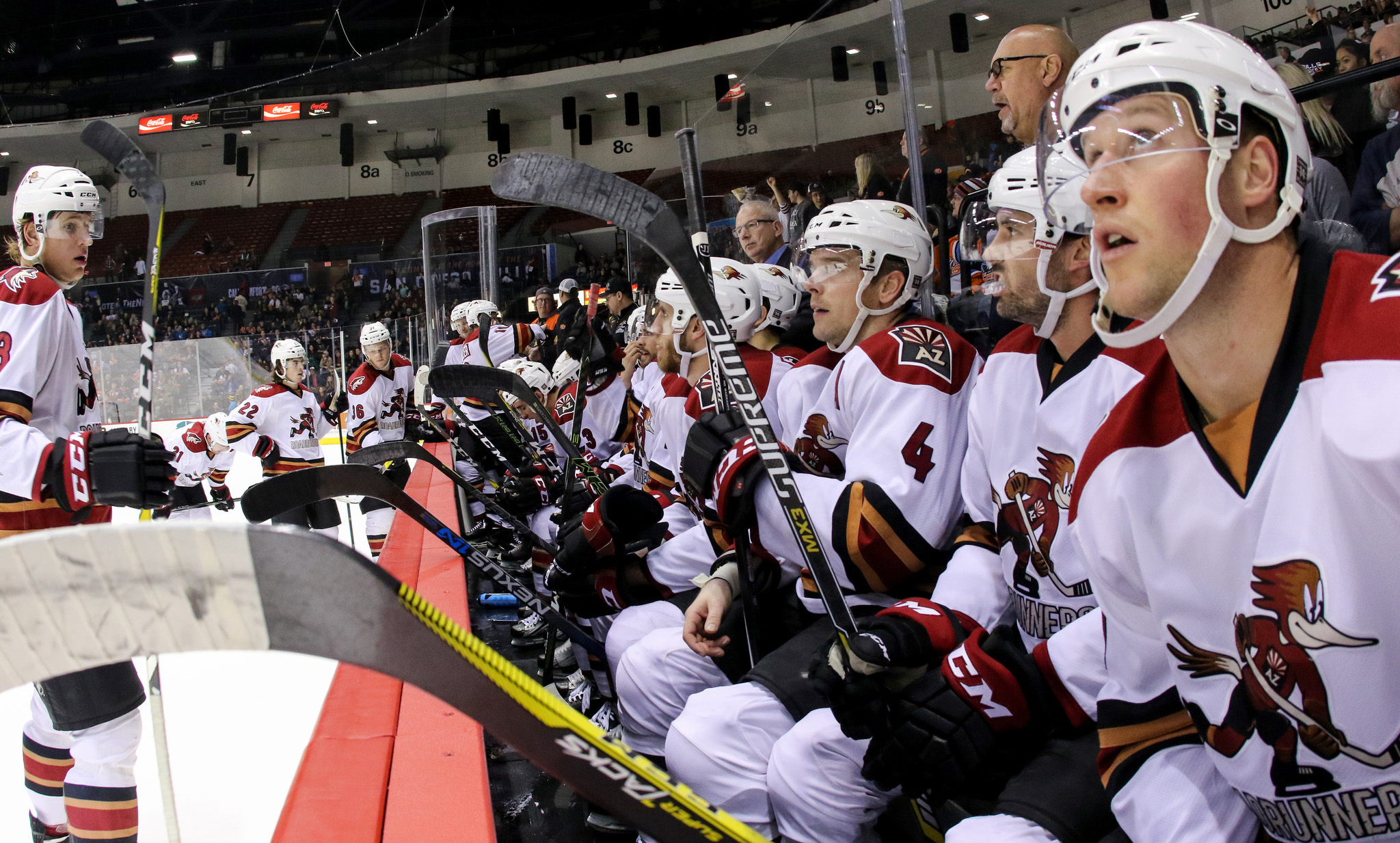 "We're going on the road here and we're trying to get some points and looking to gain some ground," Kyle Wood said. "We're just outside of a playoff spot right now, but we're just trying to look forward here. We've got a good team right now and we're kind of clicking at the right time, so this weekend's huge for us."
This stretch in the schedule marks the first time in franchise history that the team will play games in three consecutive days. "Actually, the Sunday game is a 3:00 game, so you could even say it's three games in two and a half days," Lamb noted.
As to how the roster is approaching the seemingly overwhelming stint in their schedule, it all boils down to simplicity.
"We can't think about the games ahead, but the one that's in front of us," Wood said. "We just have to keep it simple and play one game at a time."
The first game, Friday night in San Diego, will undoubtedly be huge in setting the table for the weekend's outset.
"You want to get that first game, and then you can readjust after that a little bit," said Lamb. "You don't want the mindset of getting four out of six points when you can get all six. The goal is to go game by game, I don't want to go too deep into it, I just want the guys to focus on small, simple things."
With a new crop of players acquired prior to the trade-deadline, the roster seems to be feeling rather good about themselves heading into the stretch run.
"We played some of our best hockey last weekend with [the new] guys in the lineup," noted Selleck. "We all bought in and we all played the right way, so we want to build on that. The feeling is good here; we know anything can happen and we need to stick to the game plan."