NEWS & STATS
March 17 morning skate notes; big-game outlook
By: Alex Kinkopf
March 17, 2017 11:07 AM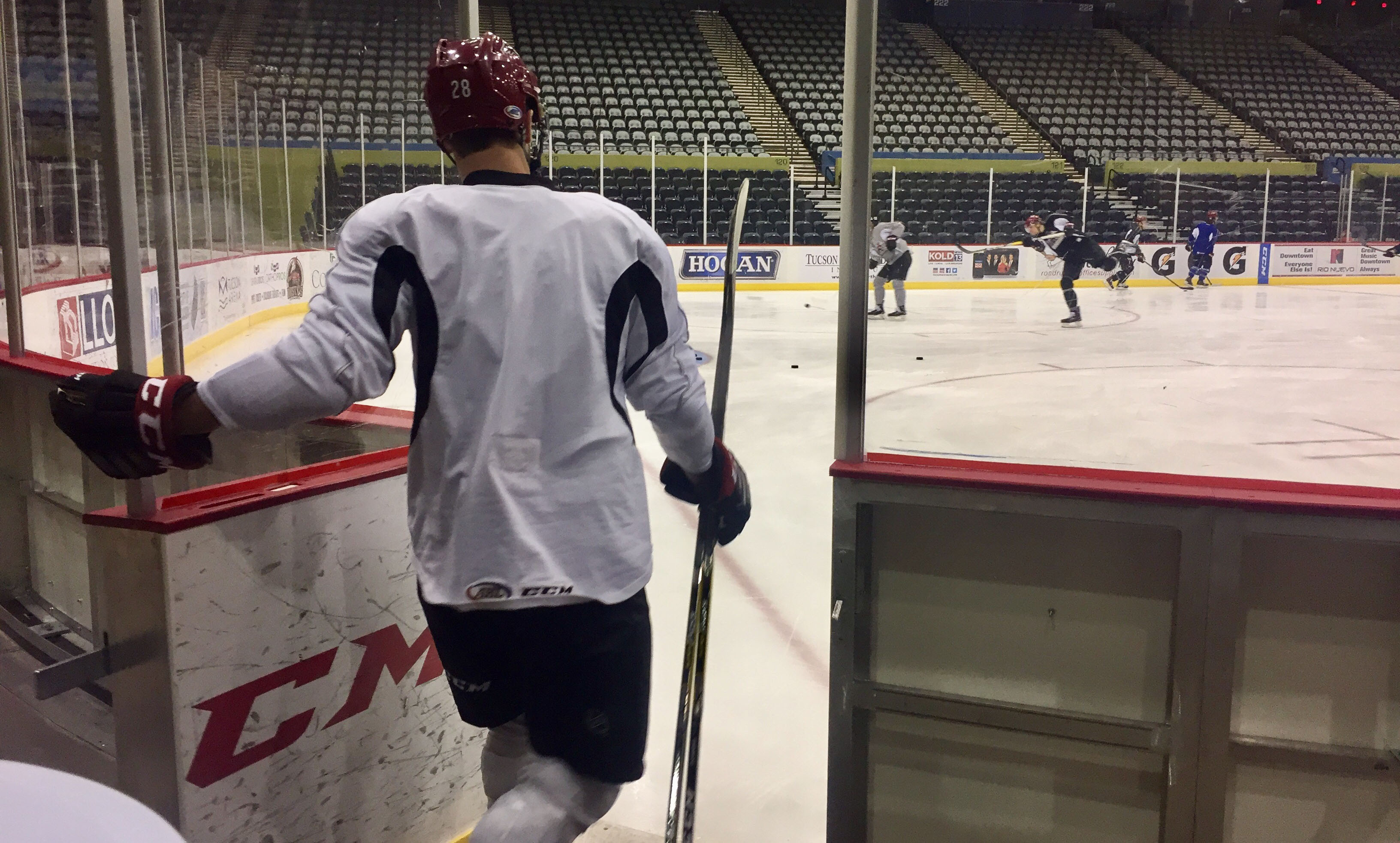 Good morning from Tucson Arena, where the team held a morning skate ahead of tonight's game against the Bakersfield Condors, which is scheduled to start just after 7:05 PM.
There's no disputing that tonight's contest is the biggest game of the year for the Roadrunners, who currently sit in sixth-place in the Pacific Division and are chasing the Condors' current positioning.
"Without a doubt this is the biggest game of the year," said Head Coach Mark Lamb. "It's fun. It's excitement. We've had a real good week, hopefully mentally we've cleared our heads. We've had a couple of good practices; our heads are in the right spot. You need to go out there and play the right way. We talk about playoffs all of the time; this is playoffs right now. It's going to be a real fun game."
The Roadrunners come into the night with a 4-1-1-0 mark against the Condors this season, including a 2-0-0-0 record on home ice.
Bakersfield has lost two-straight games, and three of their past four. Two of those losses have come at the hands of the Stockton Heat, who are sandwiched between the Condors and Roadrunners at fifth-place. The Heat play the Pacific's-best San Jose Barracuda tonight.
Tonight marks the first instance in which Henrik Samuelsson, Mark Olver, Mitch Moroz, and David Musil have a chance to face their former teams.
No changes were observed to the lines the team skated with during Thursday's practice. Adin Hill was the first goaltender off and is projected to start in goal.
FORWARDS (COLOR CODED):
RED: LAURENT DAUPHIN – CHRIS MUELLER – JOE WHITNEY
WHITE: MICHAEL BUNTING – GRAYSON DOWNING – JEREMY MORIN
GREY: ERIC SELLECK – TYLER GAUDET – CHRISTIAN FISCHER
BLUE – MITCH MOROZ – RYAN MACINNIS – CONOR GARLAND – BRANDEN TROOCK
DEFENSEMEN (BLACK):
JARRED TINORDI – JAMIE MCBAIN
DAVID MUSIL – ZBYNEK MICHALEK
DAKOTA MERMIS – KYLE WOOD
DYSIN MAYO – BRANDON BURLON
GOALTENDERS (BLACK):
ADIN HILL
MAREK LANGHAMER
"I think these are definitely the biggest games of our season so far," Michael Bunting said following the morning skate. "If we can win these two games it's going to be huge for us, we'll gain a lot of ground on [the Condors]. We need to come in and focus, and we need to win these two games. We just have to have a positive mindset and bring a lot of energy."
More to come from a warm, yet extremely important game day in Tucson, Arizona.