NEWS & STATS
Roadrunners Night Out At The Hub Set For Wednesday, March 29
By: Tucson Roadrunners
March 24, 2017 5:55 PM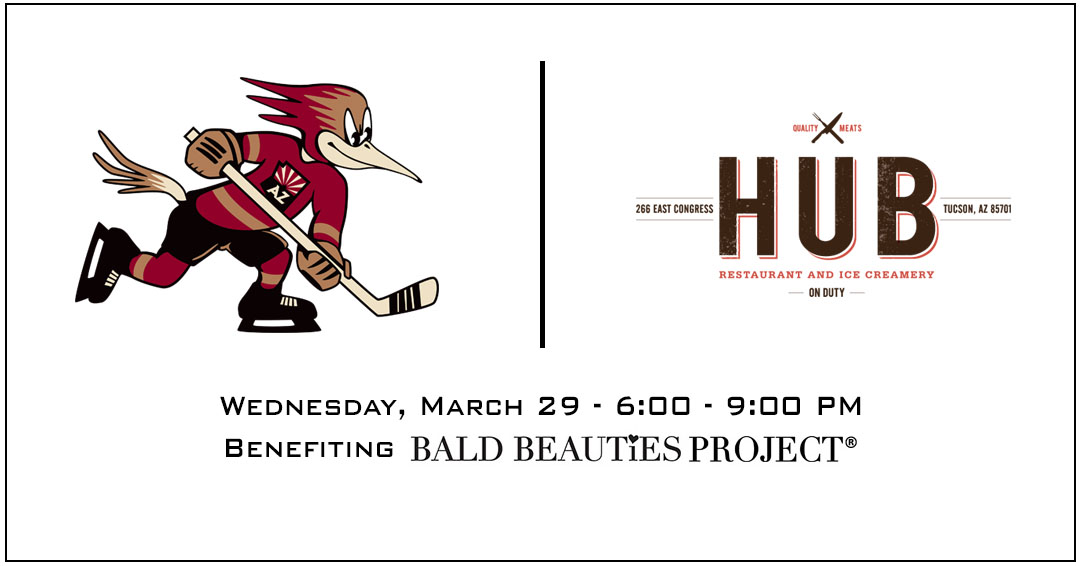 TUCSON, AZ - The Tucson Roadrunners and The Hub restaurant have partnered to raise money for the Bald Beauties Project with 'Roadrunners Night Out at The Hub', 266 East Congress Street in downtown Tucson, on Wednesday, March 29 from 6:00 PM – 9:00 PM.
Fans and customers visiting The Hub during the designated time will see 10% of their final bill donated to the Bald Beauties Project. Conceived and created by Kelsey Taylor Luria during her treatment for Acute Myeloid Leukemia, the Bald Beauties Project looks to benefit children and young adults with pediatric cancer in Tucson and Southern Arizona through promoting beauty and self-confidence, kindness and research. Although Kelsey lost her battle with cancer, her spirit, legacy and desire to positively impact the lives of children and young adults with cancer lives on through the Bald Beauties Project.
Additionally, any customer with a purchase of more than $50 during the designated time period will receive a pair of tickets to the Roadrunners game on March 31 when they host the San Diego Gulls.
There will also be raffle prizes including Roadrunners jerseys, team autographed sticks, Hub gift certificates and more with 100% of the raffle proceeds going directly to the Bald Beauties Project.
For more information, contact the Tucson Roadrunners at (866) 77-HOCKEY (774-6253) or visit TucsonRoadrunners.com.