NEWS & STATS
March 25 morning skate notes; #CunnyDid Night
By: Alex Kinkopf
March 25, 2017 10:33 AM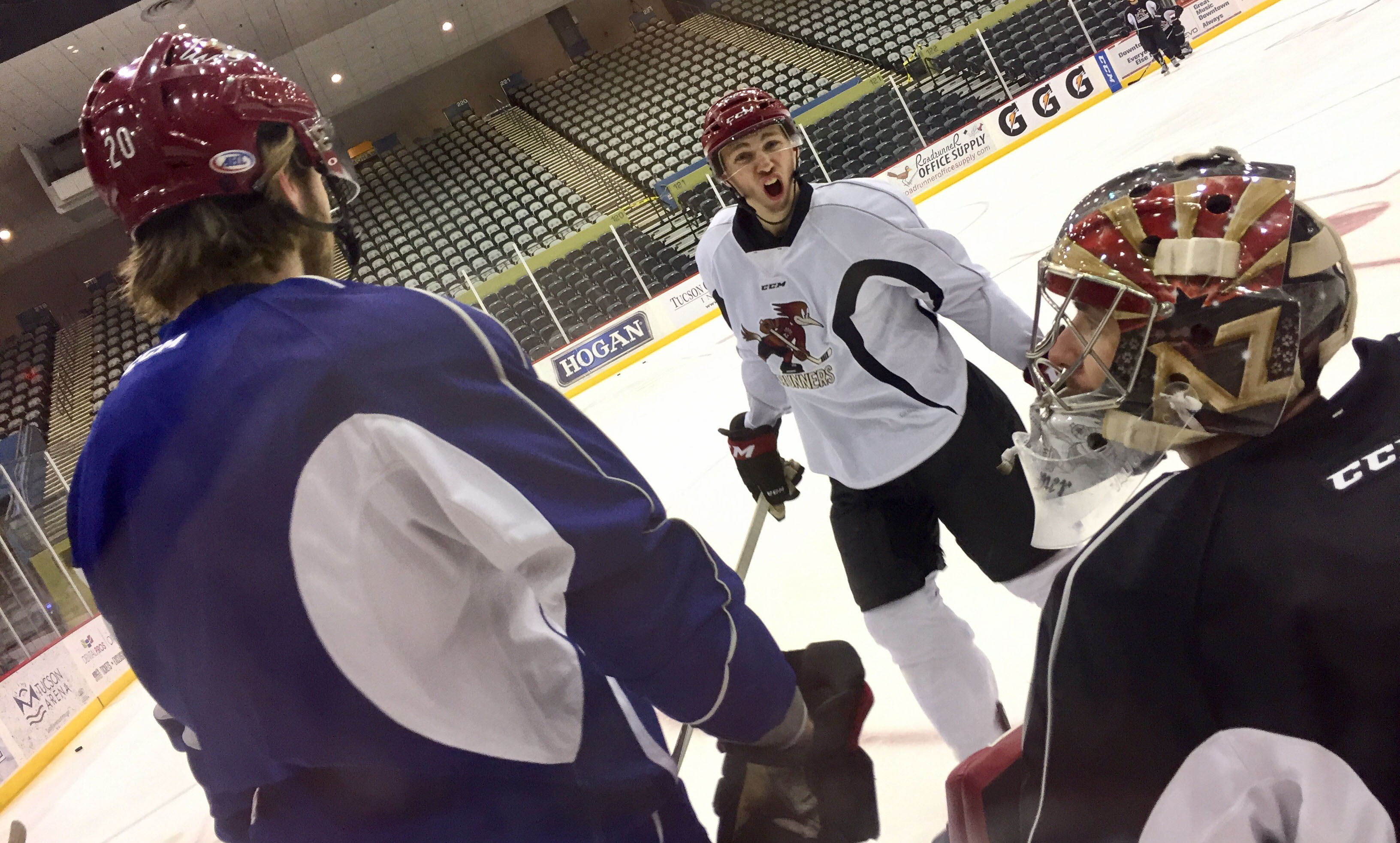 Good morning from Tucson Arena, where the Roadrunners held an optional morning skate ahead of tonight's game against the San Jose Barracuda, which is scheduled for a 7:05 PM start.
Nine players assembled for the option, along with goaltenders Marek Langhamer and Adin Hill. Hill, who was the first of the two netminders to leave the ice, is expected to draw-in for the start.
This evening's game will be featured as '#CunnyDid Night'. Team captain Craig Cunningham and his family will be honored, and the doctors who helped aid his recovery process from his November incident will be recognized.
TSN and ESPN are in town shooting bits for upcoming documentary/feature pieces on Craig Cunningham's recovery process; a handful of players and coaching staff took some time to provide insight into their perspectives on Friday.
A pregame ceremony will highlight the festivities, where Cunningham and his doctors are scheduled to participate in a ceremonial puck drop.
Among those in attendance will be American Hockey League President and CEO Dave Andrews.
A few aesthetic changes have been made to Tucson Arena for tonight's events:
The team held a full practice on Friday morning; and with Saturday's morning skate being highly optional, the line combinations used then are likely to be the ones put forth this evening. They are as such:
FORWARDS (COLOR CODED):
RED: LAURENT DAUPHIN – CHRIS MUELLER – JEREMY MORIN
WHITE: MICHAEL BUNTING – GRAYSON DOWNING – CONOR GARLAND
GREY: MITCH MOROZ – TYLER GAUDET – ERIC SELLECK
BLUE: JOE WHITNEY – RYAN MACINNIS – BRANDEN TROOCK
DEFENSEMEN (BLACK):
JARRED TINORDI – DAKOTA MERMIS
JAMIE MCBAIN – KYLE WOOD
DAVID MUSIL – DYSIN MAYO
BRANDON BURLON
GOALTENDERS (BLACK):
ADIN HILL
MAREK LANGHAMER
San Jose is in Tucson for the final time this regular season; they are 2-0-0-0 against the Roadrunners in their two previous visits, winning 4-3 on February 24 and 4-3 in OT on February 25.
The Barracuda, with a .707 win percentage (38-14-2-4) are first-place in the Pacific Division, and atop the entire league.
The Roadrunners are 0-3-1-0 in their four meetings with the Barracuda this season; they are scheduled to play the league's top club in four of their remaining 10 games – including tonight. They'll be looking for their first win against San Jose.
More to come from a busy, and very special game day in Southern Arizona.