NEWS & STATS
For Burlon, recognition was never the reason
By: Alex Kinkopf
March 30, 2017 3:04 PM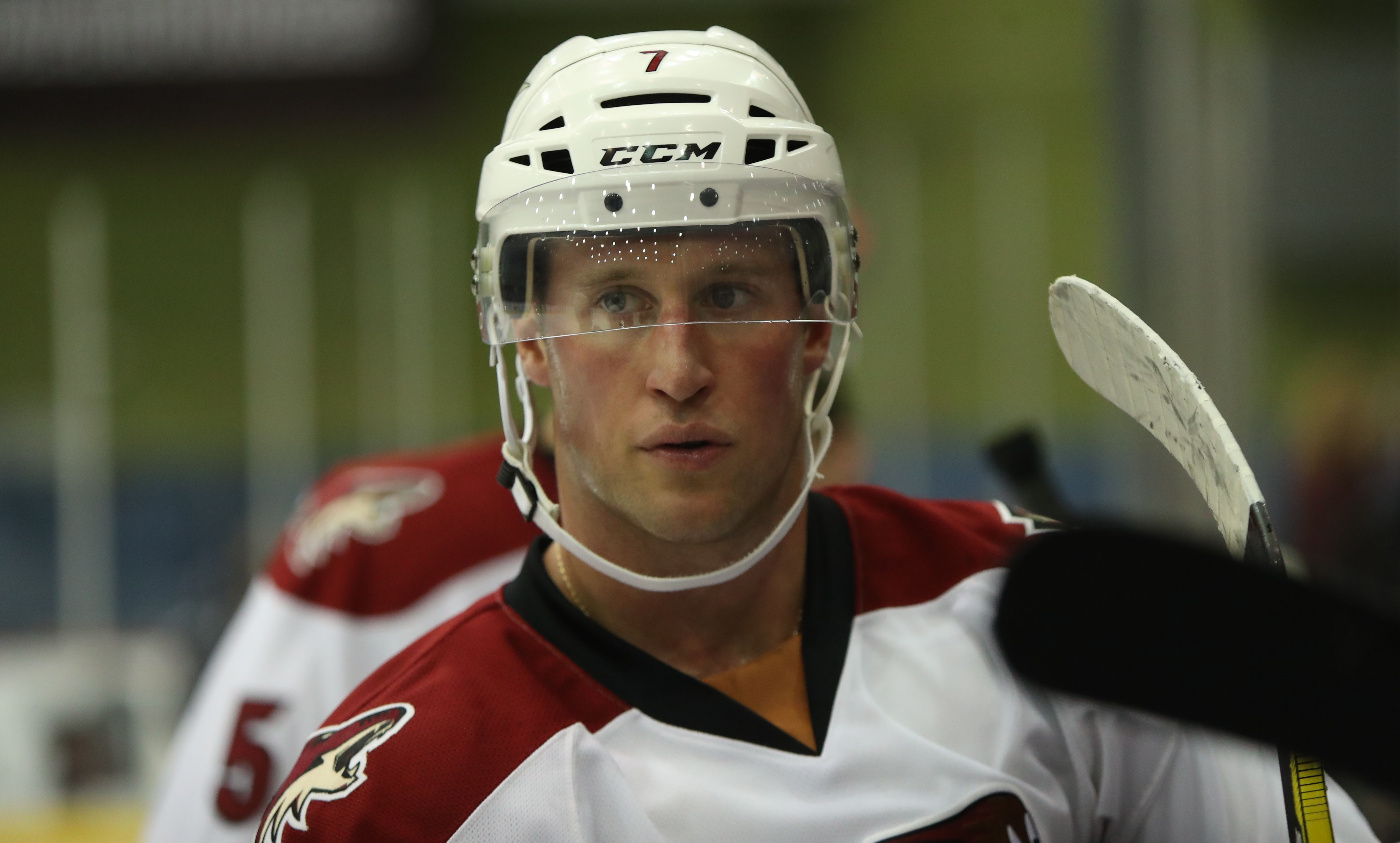 "It's about taking care of those who take care of you."
He is now automatically a finalist for the league's Yanick Dupre Memorial Award; a winner will be announced at a later date.
Burlon, who was the first player officially signed by the Tucson organization back in August, has been a constant fixture in community events, team visits, and youth hockey initiatives in the city throughout the club's inaugural season.
"You want to be able to give your fans a little bit of interaction with the team, whether it be personally in the visits that we do, or after the games, seeing them, talking to them, signing some stuff," Burlon said. "All of that goes a long way in not only establishing a fan base, but solidifying it and keeping it around for seasons to come."
For a team in its first season in a new city, Burlon's presence has been a blessing. Developing a strong, first-person relationship with the community is more often than not just as important as the on-ice game itself.
"I think there's a direct correlation," he said of being a well-rounded professional on and off the ice. "If you're a pro at the rink, then there's a good chance that you're going to be a pro away from the rink. The fans are important. It's tough to play in front of an empty building, so if you can keep the fans coming and keep them engaged, it's better for everybody."
He has been inclusive in a variety of outreach events, including delivering teddy bears to the Banner University Children's Hospital in December, volunteering at the Food Bank of Southern Arizona in January, and visiting patients at the University of Arizona Cancer Center.
"The common denominator is in all of these visits, is that they were focused on helping people," he reiterated.
When it comes to rounding up players to be involved in community events, Burlon has consistently been at the forefront of enlisting himself and others to give their own time back to the people in a Tucson community that has warmly embraced the organization's arrival.
"Personally I enjoy doing it," Burlon said of community outreach endeavors. "I know it brings a lot of joy to whoever we're visiting or whatever the event is. For me, it's rewarding, and for some new guys in the league who haven't done it or haven't been exposed to it, I like to let them know that it's something good to do to not only feel good about yourself, but to bring some happiness to those people as well."
For Burlon, and for many professional athletes who have been fortunate enough to land the dream of making the sport they love into a career, often times the priorities they set toward giving back are based on their own experiences, experiences they want to recreate for others.
"There's a guy, a former NHL'er, who's actually with the Coyotes – Nick Boynton," he fondly recalled. "He's from the same hometown as I am. When I was a kid, he was going through his OHL draft and NHL draft, and he was a big name in town. I'll never forget it – he was driving up our street one day when we were playing ball hockey, and he got out of his truck and he got out to play with us for a little while. This was a guy that was going to be a first-round pick in the NHL coming from a small town. He didn't need to do that, and it always stuck with me."
Alas, it's about paying it forward.
"If there's one kid that can take something away from something that I do, in the way I did with [Nick Boynton], then it's all worth it to me."