NEWS
April 5 practice notes; Team bids farewell to Tucson Arena
By: Alex Kinkopf
April 05, 2017 1:04 PM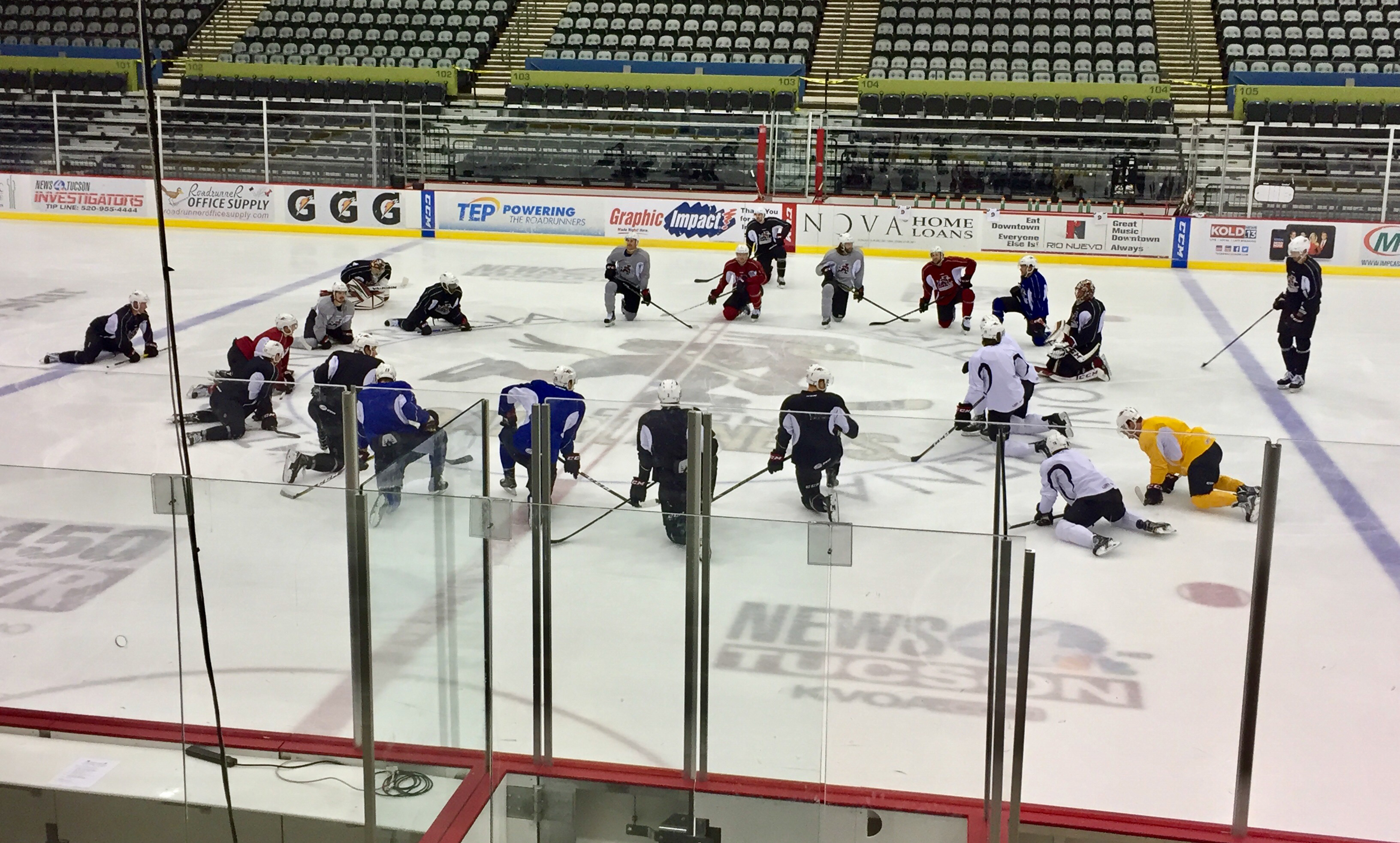 Good afternoon from Tucson Arena, where the team held its final practice of the campaign in their home arena before venturing off on a season-ending five-game road trip Thursday.
The team will make their first and only visit to the MTS Centre this weekend to take on the Manitoba Moose, followed with a pair of games at SAP Center against the San Jose Barracuda before playing their regular season finale on April 15 against the Stockton Heat at Stockton Arena.
"I'm just excited to be a part of it," Capobianco said of getting his first taste of pro hockey. "I found out right after [my team] was eliminated [from the OHL playoffs], I talked to someone in the Arizona Coyotes' organization and they let me know that I was coming down."
The 19 year-old Missassauga, ONT native is familiar with a few of the names on the roster, most notably Michael Bunting, who he worked out with last summer.
Trevor Cheek, who was signed to a PTO Wednesday morning, skated with the team. He has registered three assists in 20 games with the Roadrunners this year.
The roster, sans Capobianco, aligned thusly during their final skate on Tucson Arena's ice sheet:
FORWARDS (COLOR CODED):
RED: MICHAEL BUNTING – CHRIS MUELLER – CHRISTIAN FISCHER
WHITE: JOE WHITNEY – RYAN MACINNIS – JEREMY MORIN
GREY: ERIC SELLECK – TYLER GAUDET – CONOR GARLAND
BLUE: MITCH MOROZ – TREVOR CHEEK – MARK COOPER
DEFENSEMEN (BLACK):
JARRED TINORDI – JAMIE MCBAIN
DAKOTA MERMIS – DAVID MUSIL
DYSIN MAYO – KYLE WOOD
BRANDON BURLON – JALEN SMERECK
GOALTENDERS (BLACK):
ADIN HILL
MAREK LANGHAMER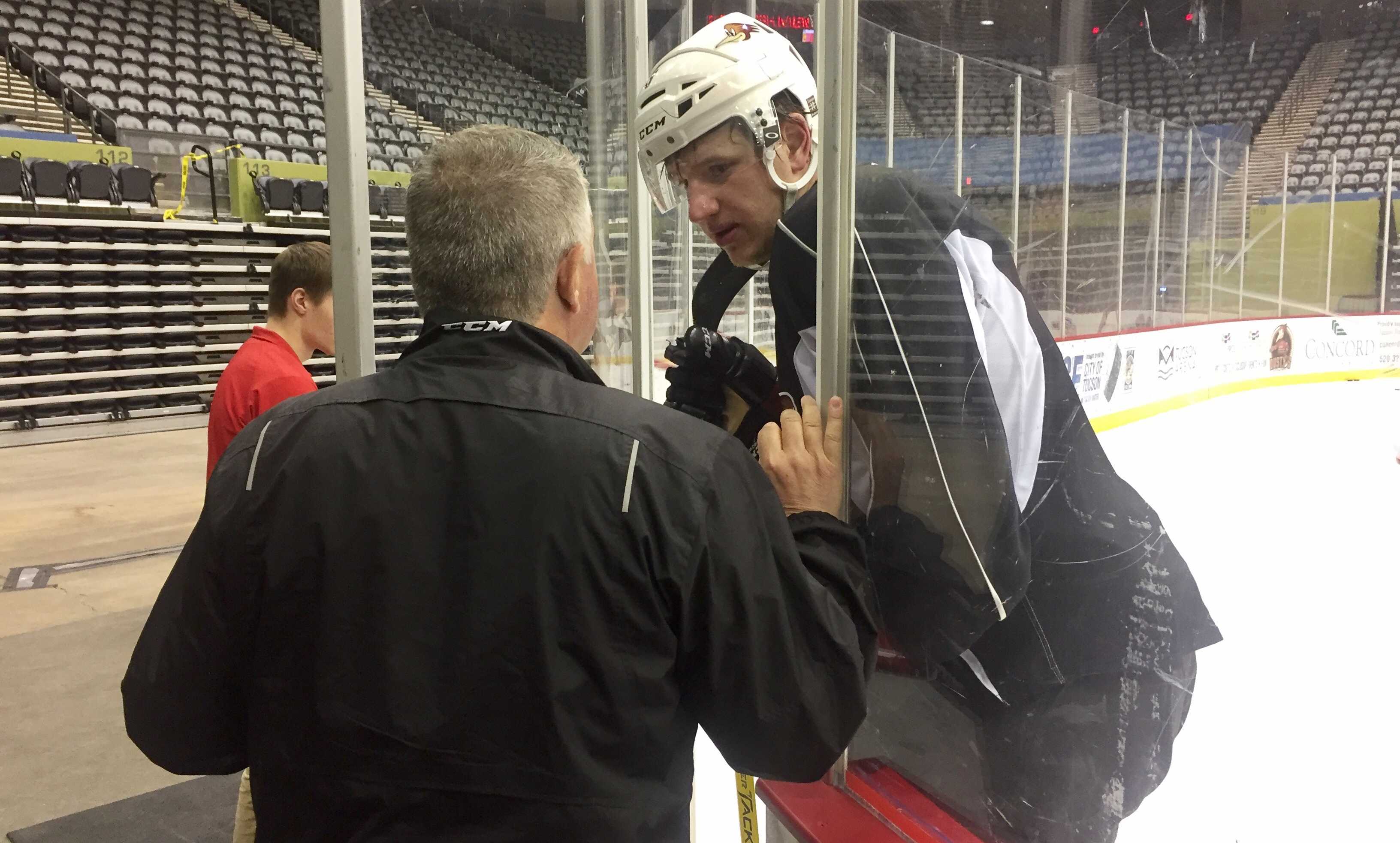 The ice sheet is in the process of being melted down, scraped up, and removed for the summer. The team is packing up for their final venture of the season; they will take to the skies Thursday morning for Winnipeg.
---
Head Coach Mark Lamb shared a few thoughts following Wednesday morning's skate:

Mark Lamb, on what he's looking to get out of the final five games:

The same as always. Evaluation, compete-level, taking things one game at a time, improvement, and consistent play. It's all of the above right now. We're going into tough buildings. There's a lot on the line for a lot of people right now. Evaluation is huge.

Lamb, on if he expects Smereck and Capobiano to draw in for the final games:

They're a part of our evaluation when they get into the lineup, and I'm not really sure when that will happen yet. As an organization it's about growing, it's about getting better all of the time, it's about development, and they're here for a reason.

Lamb, on the final skate of the season at Tucson Arena:

I was thinking about it out there during practice. You know, time flies. This is a great building, and I've said it before. It's a great place to play, a great place to practice. I don't know if anyone's really talked about it, but the ice has been really good here. A lot of the markets, especially the hotter markets, the ice can be pretty choppy, but they've done a really good job. It's kind of sad, they've started to take some of the stands down and stuff, so you can see that it's the end, but we've got a lot to look forward to next year.
---
Skills coach Steve Potvin and defenseman Dysin Mayo were the final stragglers on the ice this afternoon.

Until next year, Tucson Arena.