NEWS & STATS
Moment #1: #CunnyDid
By: Alex Kinkopf
May 19, 2017 12:48 PM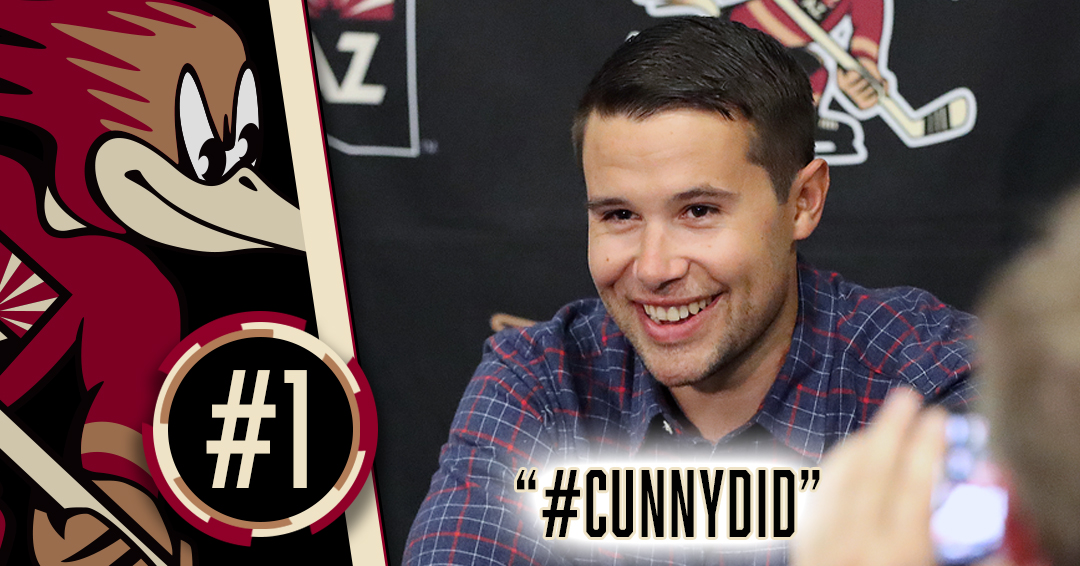 It was the biggest night of the season; and it wasn't for anything on the ice - but everything off of it.
On Saturday, March 25, the Roadrunners honored team captain Craig Cunningham ahead of their contest against the San Jose Barracuda at Tucson Arena.
Joining Cunningham were his doctors George Haloftis of Carondelet St. Mary's Hospital and Zain Khalpey of Banner – University Medical Center Tucson, two of the men who aided him on the evening he collapsed and made his remarkable recovery possible.
Also in attendance, showing phenomenal strength, love, and gratitude, was Craig's mother Heather.
Accompanying them was American Hockey League President and CEO David Andrews, who along with the 5,196 fans in attendance that night, watched an emotional tribute video played from Tucson Arena's video board.
Mr. Andrews presented Craig with an American Hockey League All-Star jersey that was autographed by all 48 players who participated in the Classic, along with a framed photo of those players wearing his #14 during warm-ups of that game.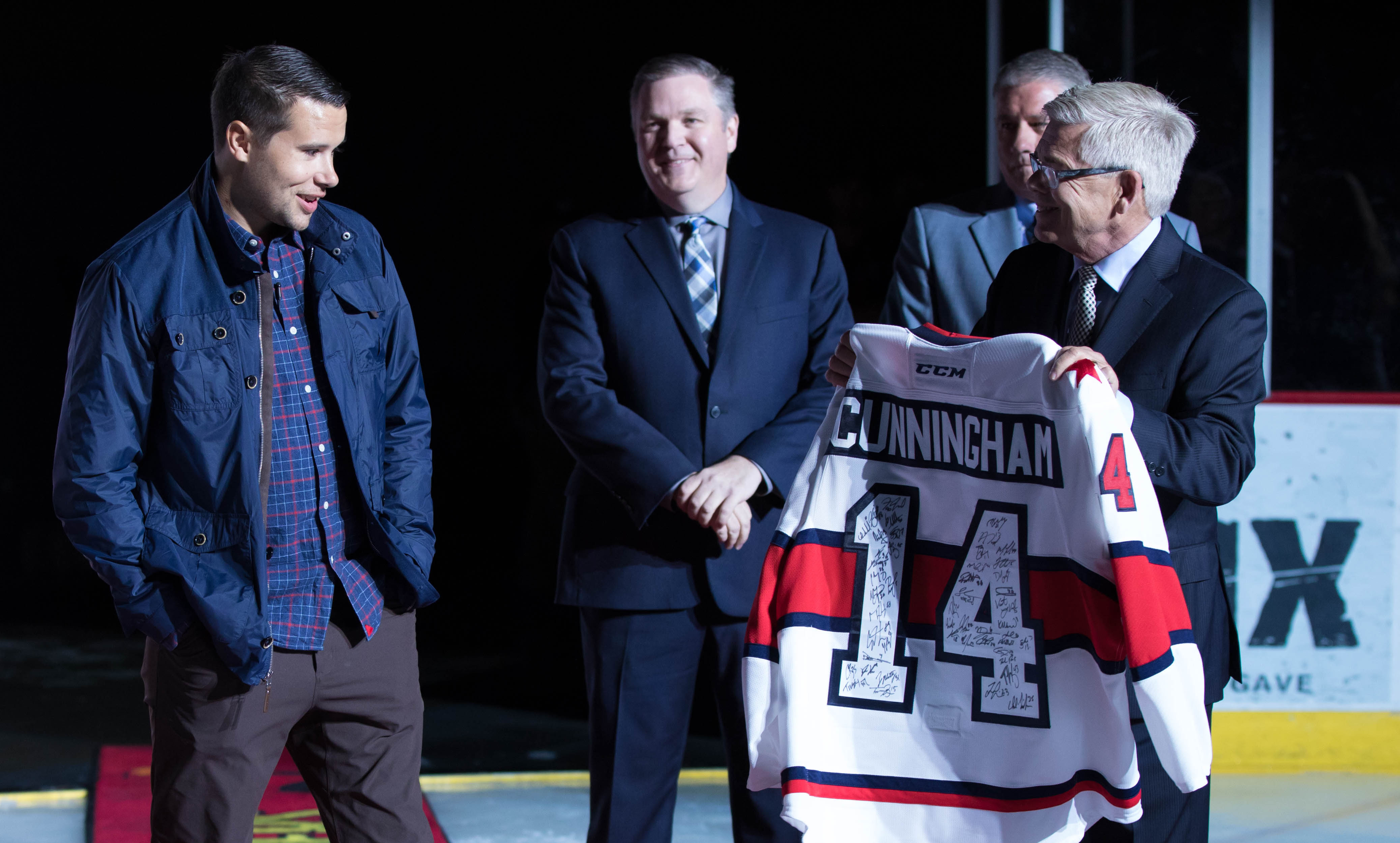 David Andrews presents AHL All-Star Classic Jersey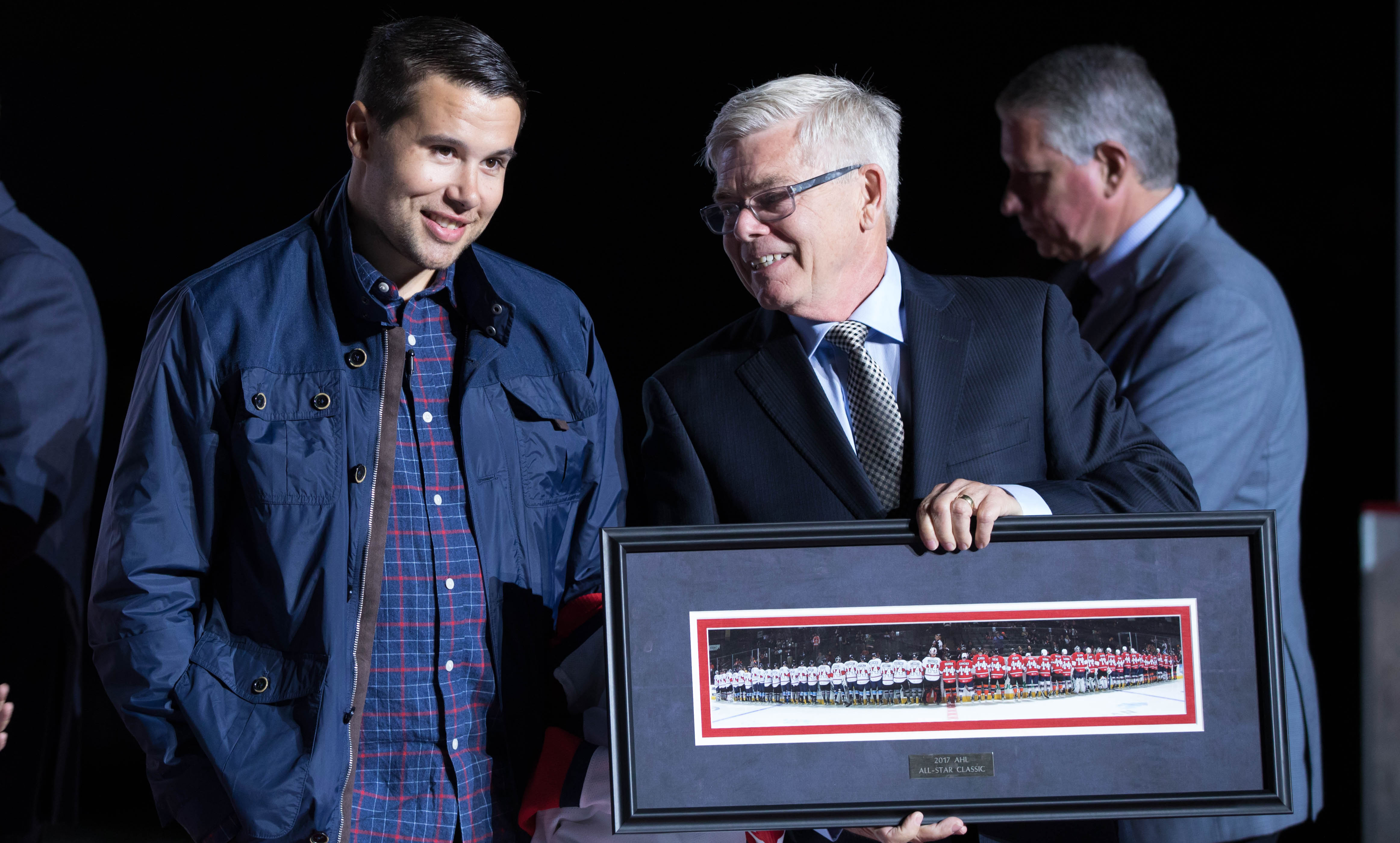 David Andrews presents photo plaque
Craig was then given a one-of-a-kind painted mural from Roadrunners President Bob Hoffman.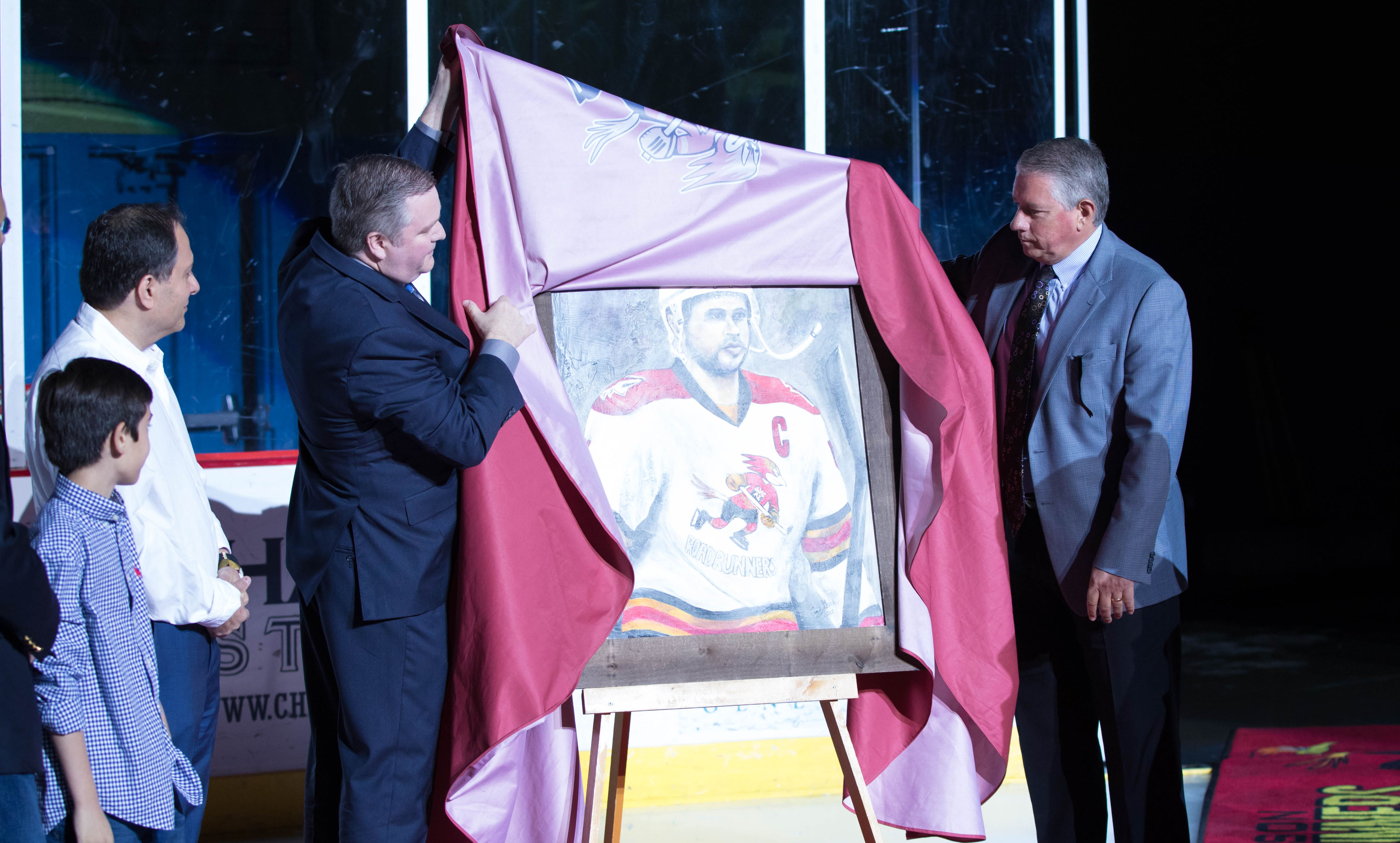 Bob Hoffman unveils Cunningham portrait
And of course, Cunningham then dropped the ceremonial first puck to San Jose's John McCarthy and Roadrunners alternate captain Chris Mueller.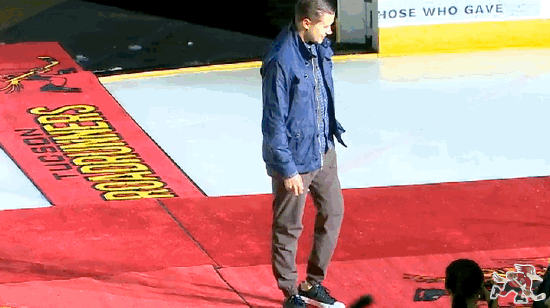 "I just told him that I love him, and that I'm proud of him, and just to keep going," Mueller said. "I wouldn't ask for any other guy to be my captain, that's for sure. He's an unbelievable person on the ice, he's a great player. But off the ice, he's 10-times better of a person, a person you want to battle with, a person you want to live your life with, and follow, because he's a leader. I'm so thankful that he was here and in good health. I'm happy."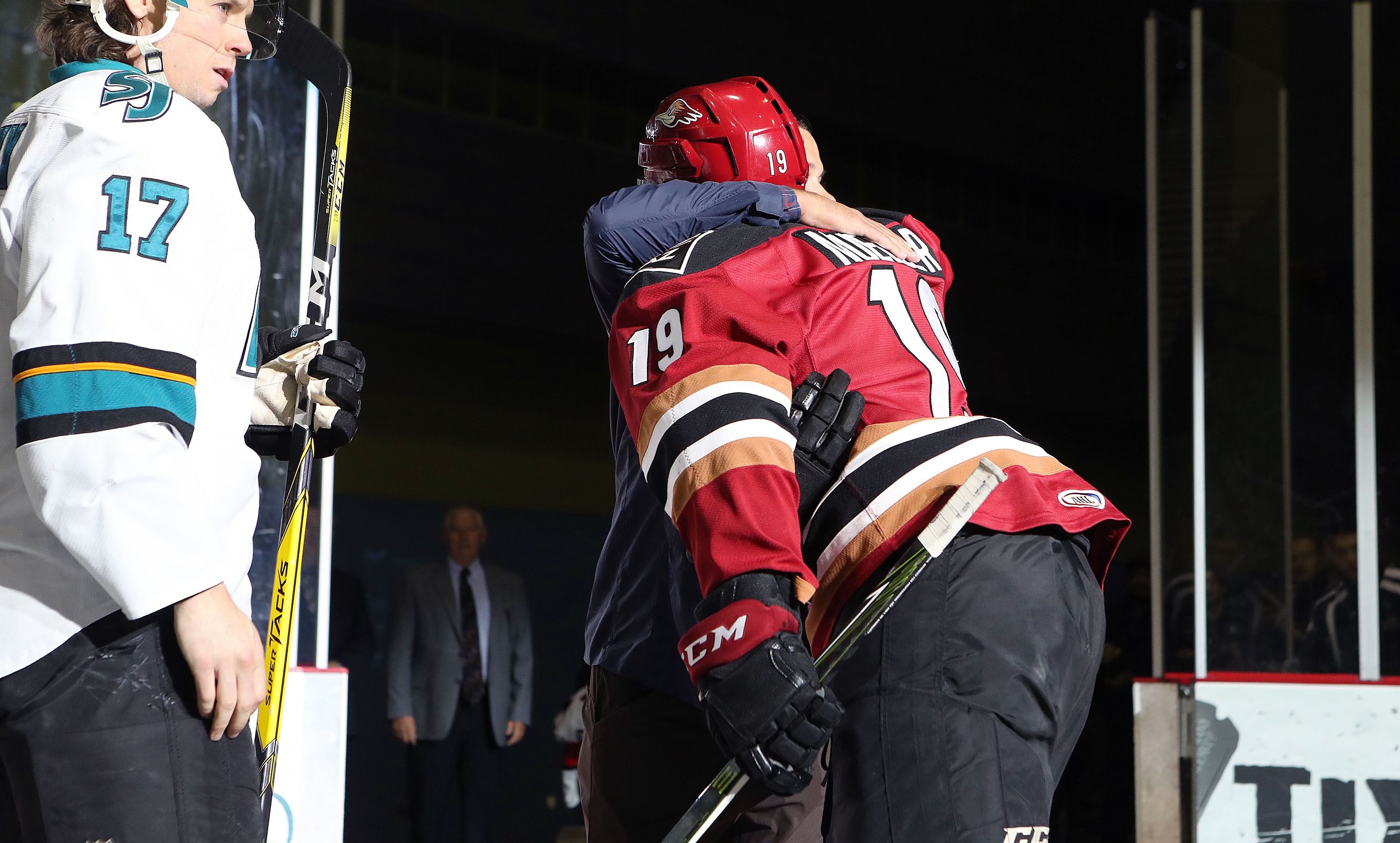 Chris Mueller, Cunningham share a hug following puck drop
Following the puck drop, every member of the Barracuda skated by to give Craig a handshake, as well as the officials who were calling the game that night.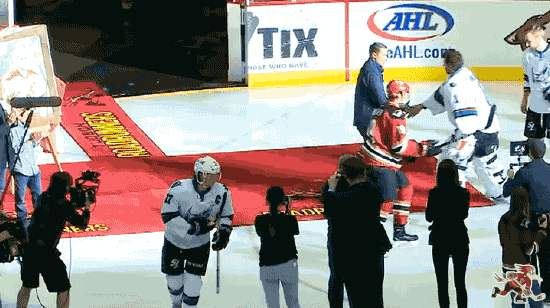 "When you think about Craig Cunningham, it's the same thing that everybody says," Mark Lamb said. "It's the heart, it's the character, it's the will. Everybody that talks about him says the same thing; he's just such a character guy, such a great guy, and that's why he's at where he is now."