NEWS & STATS
Training Camp: Day 1 Recap
By: Alex Kinkopf
October 03, 2016 6:19 PM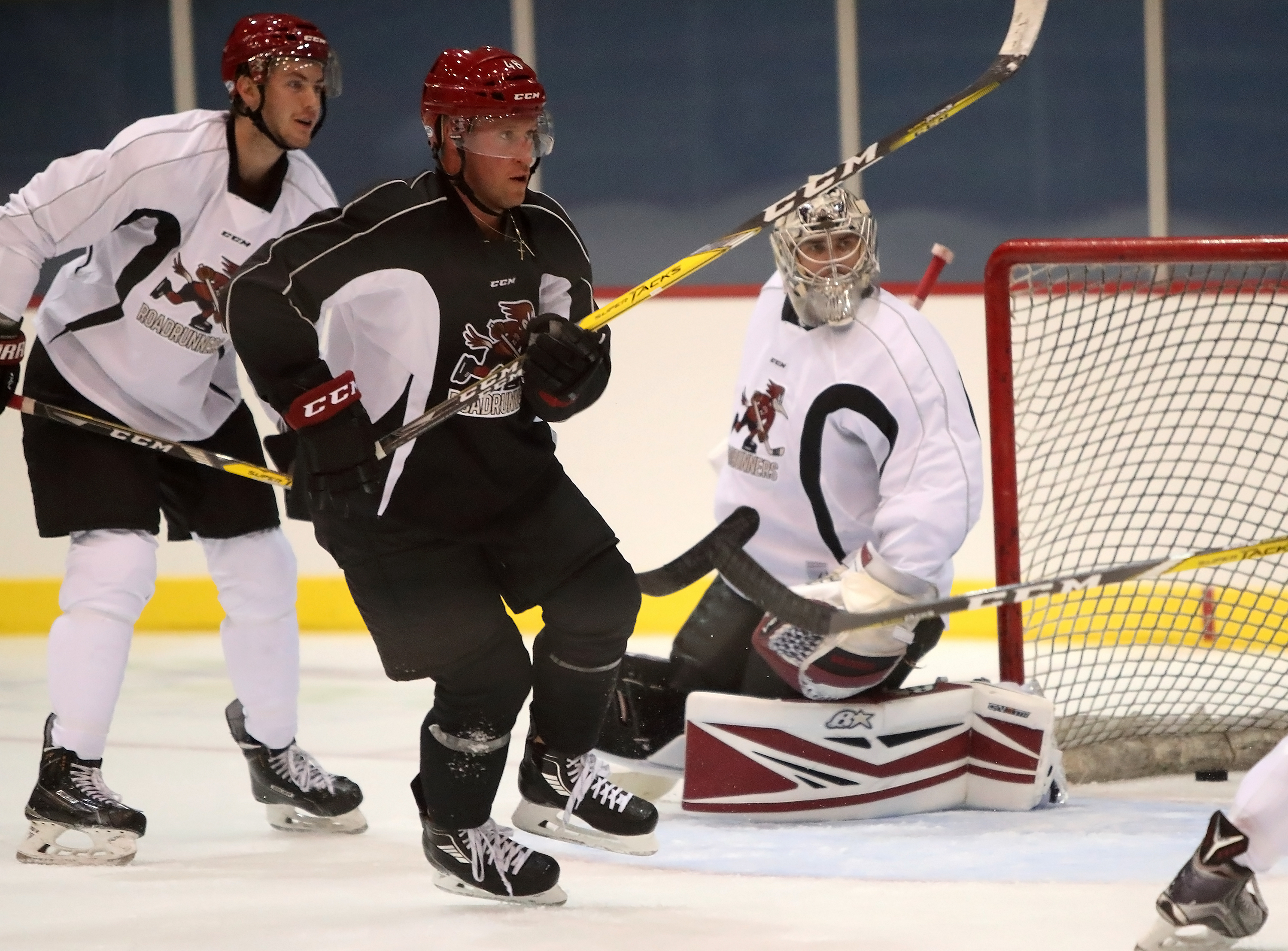 Upon completing off-ice testing and physical examinations Monday morning, the Roadrunners' training camp roster took to Tucson Arena's ice for the first time in team history moments before the 2:00 PM scheduled start time with a handful of local media and city personnel on-hand to spectate.
After taking time to get loose, execute a few light drills, and get a feel for the rink, the ice was resurfaced before the team returned to grind out an hour-plus of skating, shooting, passing and conditioning in run-throughs designed and monitored by Head Coach Mark Lamb and Assistant Coach Mark Hardy.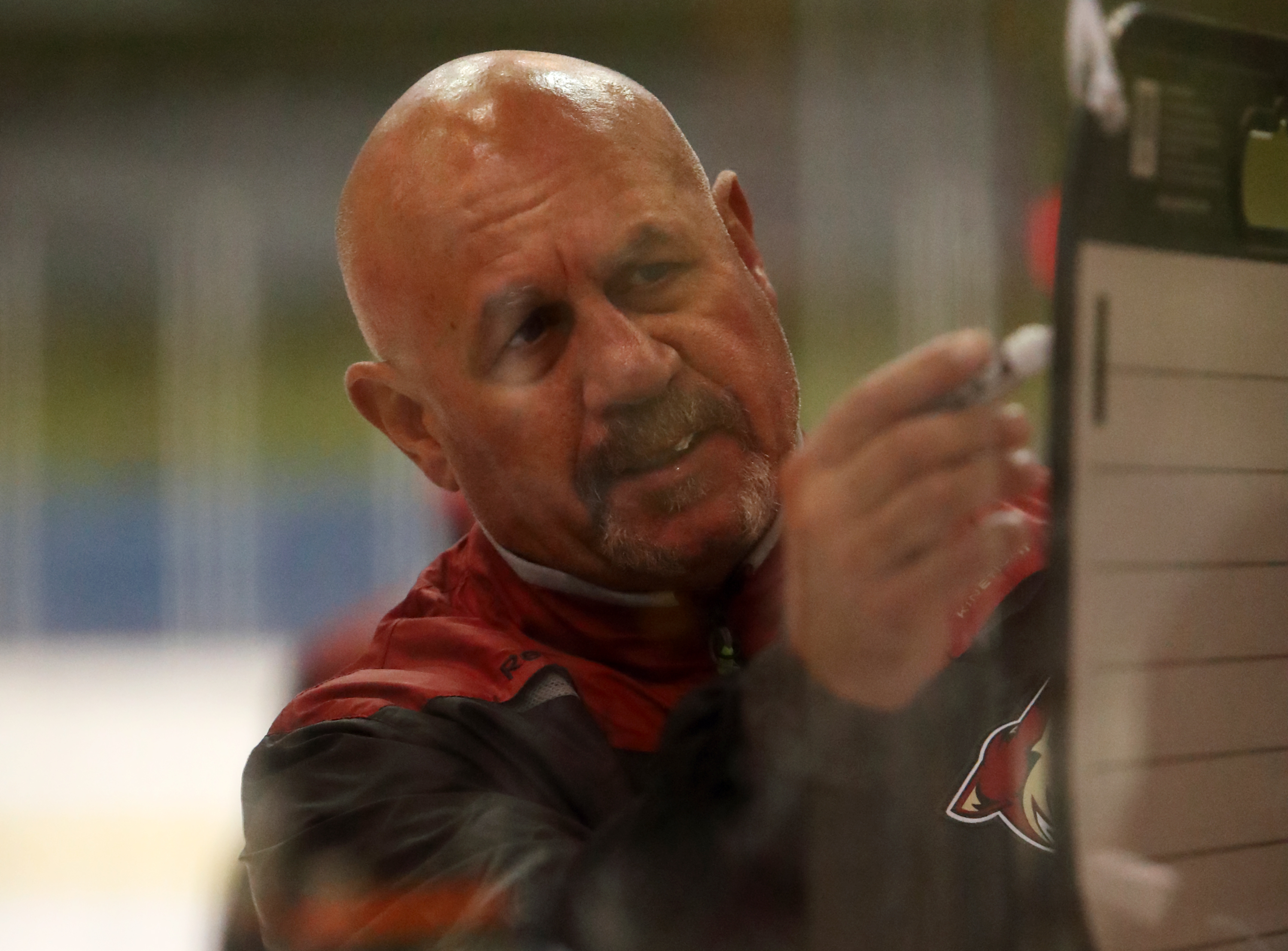 In total, 28 players are on the Roadrunners' training camp roster: two goaltenders, seven defensemen, and 19 forwards. The collection of players, with corresponding uniform numbers and positions, is as follows:
#30: Marek Langhamer – Goaltender
#34: Adin Hill – Goaltender
#2: Michael Young – Defenseman
#3: Kyle Wood – Defenseman
#7: Brandon Burlon – Defenseman
#8: Michael Boivin - Defenseman
#38: Justin Hache – Defenseman
#37: Dysin Mayo – Defenseman
#43: Matt Register – Defenseman
#21: Mark Olver – Forward
#25: Matia Marcantuoni – Forward
#11: Brendan Perlini – Left Wing
#16: Lindsay Sparks – Left Wing
#18: Michael Bunting – Left Wing
#23: Garret Ross – Left Wing
#38: Ryan Walters – Left Wing
#44: Ryan Selleck – Left Wing
#45: Hunter Fejes – Left Wing
#19: Chris Mueller – Center
#20: Ryan MacInnis – Center
#32: Tyler Gaudet – Center
#39: Trevor Cheek – Center
#9: Henrik Samuelsson – Right Wing
#14: Craig Cunningham – Right Wing
#17: Brett Perlini – Right Wing
#22: Conor Garland – Right Wing
#24: David Friedmann – Right Wing
#29: Mark Cooper – Right Wing
Marek Langhamer and Adin Hill held position in nets on opposite ends of the ice respectively, and in drills that required organized trios of forwards and pairs of defensemen, the groups were laid out thusly:
FORWARDS
BRENDAN PERLINI – CHRIS MUELLER – HENRIK SAMUELSSON
HUNTER FEJES – LINDSAY SPARKS – MARK COOPER
DAVID FRIEDMANN – BRETT PERLINI – RYAN WALTERS
MICHAEL BUNTING – RYAN MACINNIS – CRAIG CUNNINGHAM
TREVOR CHEEK – MARK OLVER – MATIA MARCANTUONI
ERIC SELLECK – TYLER GAUDET – CONOR GARLAND
(GARRET ROSS)
DEFENSEMEN
JUSTIN HACHE – KYLE WOOD
BRANDON BURLON – DYSIN MAYO
MICHAEL YOUNG – MICHAEL BOIVIN
(MATT REGISTER)
Following the first day on the ice, TucsonRoadrunners.com sat down with Head Coach Mark Lamb to get his thoughts on the commencement of training camp, while looking ahead to the second day of operations:
Mark Lamb, on the first day of training camp:
Today was the first day, so what we really did today was implementing a system that we're going to use here, it's the same system that [Arizona] is using, that the Coyotes are using up there. We're going to try to do everything pretty much the same, there's always a few little things that you're going to change as the game goes on, but the practice that we used was the same practice that we used in training camp up in Phoenix at the start of main camp. We worked on some forechecking, we worked on some neutral zone, we worked on some D-zone stuff. It's a quick camp, right away you're into games, you've got new guys who haven't played with each other, so that's what we worked on today.
Lamb, on if line combinations, defense pairings used bears any weight:
You put tendencies together, you put players together that you think can have some type of success and see if there's any chemistry, but today was more about having everybody come in, the lines didn't really mean a lot today, we might change them up for tomorrow and get more of the lines going that will be together in the first exhibition game and get that going. Today was all about getting everybody comfortable, it's a new building, it's the first time anyone has been in here, including the coaches room, so we're just getting familiar with everything.
Lamb, on if the coaching staff has had a meeting with the players:
We had a team meeting, but it was just everybody introducing themselves. A lot of these guys haven't seen everybody in the organization, and I haven't seen some of the players either, so we had a meeting just to get familiar with everybody, we haven't had individual meetings, we won't get into that until we get our team picked and down to the right number of players that are going to start the season here.
Lamb, on looking ahead to Day 2 of camp and beyond:
We have it all planned out, you come in and you have video sessions, you have off-ice workouts, you have cool-down sessions, you have stretching, it's really busy. You've got certain guys that are out looking for places [to live] now too, they have to have some time to get their family situated if they have family, it's a lot easier for the guys that are by themselves, and get to know the city a little bit. It's a busy time, not only on the ice, but off the ice for a lot of these players to get ready. You want to be comfortable, you want to find a good spot to live, and make it home.
The Roadrunners are scheduled to skate from 11:00 AM to 1:30 PM Tuesday at Tucson Arena.
*Photos courtesy of Chris Hook