NEWS & STATS
Training Camp: Day 2 Recap
By: Alex Kinkopf
October 04, 2016 3:52 PM
The Roadrunners' training camp roster took to the ice moments before 11:00 AM Tuesday morning at Tucson Arena for their second skating session, which preceded media appearances by Head Coach Mark Lamb, General Manager Doug Soetaert, and multiple players.
Raised was the tempo, as was the intensity; the players' comfort and familiarity with their surroundings ramped up a few notches from Monday's debut skate.
Players were grouped into the lines below. The units are not listed in any particular order.
FORWARDS
BRENDAN PERLINI – CHRIS MUELLER – HENRIK SAMUELSSON
MICHAEL BUNTING – RYAN MACINNIS – CRAIG CUNNINGHAM
RYAN WALTERS – DAVID FREIDMANN – BRETT PERLINI
TREVOR CHEEK – MARK OLVER – MATIA MARCANTUONI
ERIC SELLECK – TYLER GAUDET – CONOR GARLAND
HUNTER FEJES – MARK COOPER – LINDSAY SPARKS
(GARRET ROSS)
DEFENSEMEN
JUSTIN HACHE – KYLE WOOD
BRANDON BURLON – DYSIN MAYO
MICHAEL YOUNG – MICHAEL BOIVIN
(MATT REGISTER)
Following roughly an hour of line rushes, regrouping and odd-man rush drills, and closed circuit offensive zone battles, the ice was resurfaced before the roster returned for a controlled scrimmage. The 28 players were split into two separate squads, carrying on for an hour to play a simulated five-on-five full-ice game.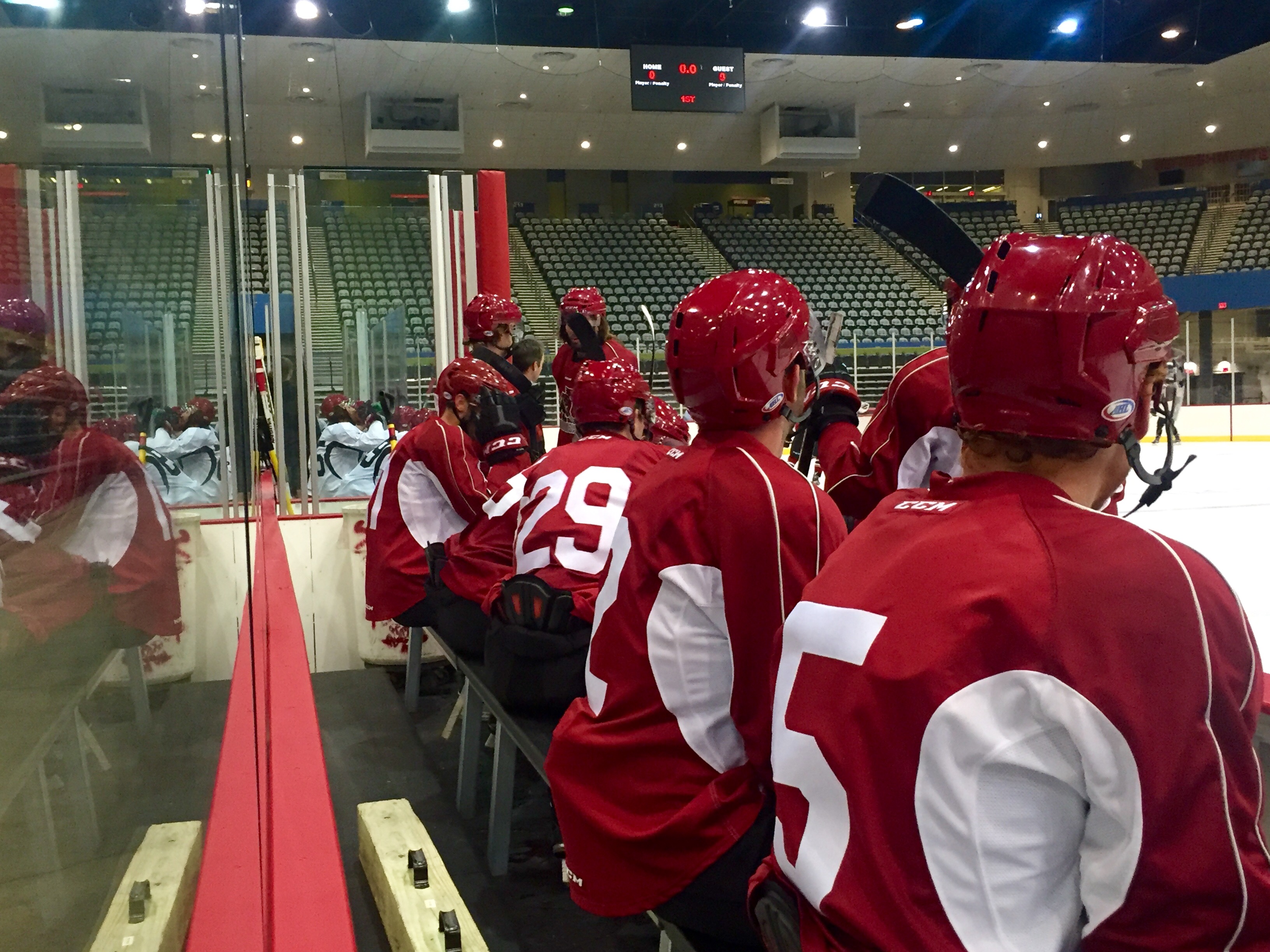 As practice wound down, players dwindled to the locker room one-by-one as many remained on the ice to put their own finishing touches on a skate that carried high-energy vibes throughout the building.
Goaltender Adin Hill and forward Eric Selleck were two of the many Roadrunners players to address the media after practice. Hill, drafted by the Coyotes in the third round of the 2015 NHL Draft, made his professional debut last season. Selleck is entering his seventh professional season, and his third with the Coyotes organization.
---
Adin Hill, on his goaltending style:
I'm kind of a hybrid goalie, I don't go down on every shot like a lot of goalies, I try to play a little more of a reactive game, but I am also trying to control my game a little more, maybe stay a little deeper in my net, because I do get a little out there.
Hill, on his experience at Coyotes training camp:
Camp was great; it was nice, this year I got to play in an exhibition game, a half game in Anaheim, so that was fun. It was a great experience to play with those guys, a fast pace, so it was a good time.
Hill, on his experience with the desert Southwest region:
Other than Coyotes camps, I've never been down here. I'm trying to get used to it, it's hot, a little different than Calgary but I like it here.
Hill, on his teammates thus far:
It's a great group. I got called up to Springfield last year, so I got to meet a few of the guys there. It's been great, they're great guys, I think we'll gel together nicely as a unit.
Hill, on his expectations for the team this year:
I think we'll be a younger team for sure, compared to the other teams, but I think we'll be a great team, I think we'll do really well, hopefully we can win every game.
Hill, on his early impressions of the team:
I think we'll be young, fast, and skilled. We're a younger group, there are quite a few veteran leaders here too, so I think we'll be a good team. We'll be quick, we'll be fast, lots of scoring chances, I think it'll be a fast paced game out there.
Hill, on what he thinks of Tucson so far:
I like the town so far, it seems nice, a lot of things to do, looks like there's a lot of good places to eat, so I like that.
Hill, on if playing for an inaugural team holds any weight:
Yeah, you want to start it off right, you don't want to start it off with a losing season or anything, so you want to get it started off well, win the first game on the road and the first one at home, and then go from there an just keep winning one game at a time.
Hill, on the importance of the two preseason games:
It's real important to get the unit together, we're trying to gel and get some chemistry together between the lines, and hopefully we can win those both too.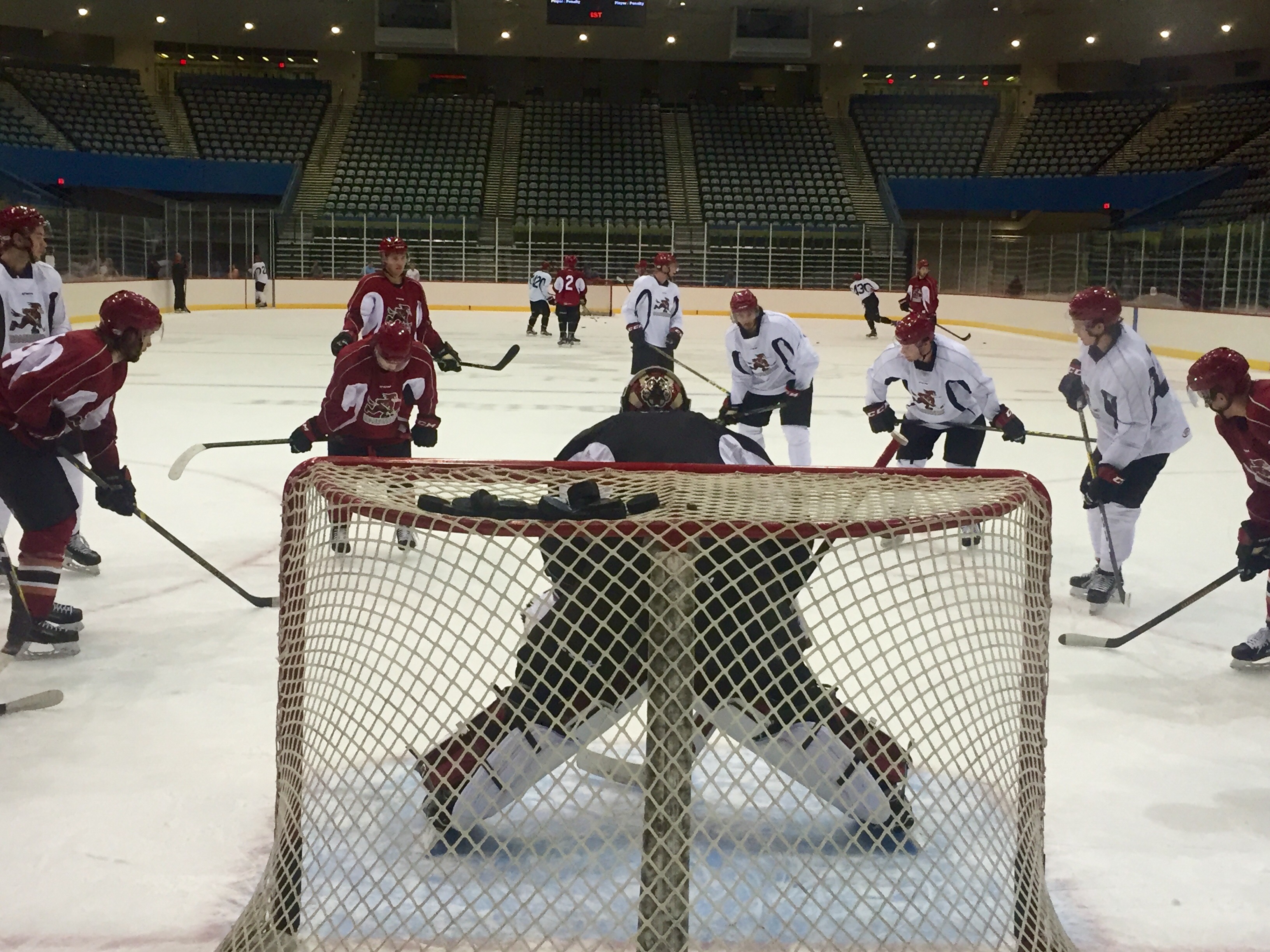 ---
Eric Selleck, on his first impressions of Tucson:
It's interesting for sure, we just got here a couple days ago, so we're just kind of learning, and what we've seen so far, we like.
Selleck, on his teammates:
A lot of us were up in Arizona for a couple weeks and we meshed up there a little bit. We're going to be a young team, I'm maybe one of the older guys, I think leadership is going to be important, and as long as we're all on the same page, we should be just fine.
Selleck, on building a cohesive team:
Everybody's got to buy-in, the systems are in place and everybody's got to abide by that, everybody's got a role on the team, so as long as we buy into our roles, and everybody's happy with that, we should be able to win, and that makes a successful team.
Selleck, on Head Coach Mark Lamb:
He's been good, but like I said, we just started. He was on the ice a few times up in Arizona. Here, there's been a good pace to the practices and good detail to the systems, so I think it's going to be good.
Eric Selleck, on his role:
I'm a power forward, I just like to get the puck in, control the puck, finish my checks, work hard, block shots. If someone's acting up out there, we're going to try and calm them down, so that's just the way I play, and especially with a lot of young guys being their first year in the league, I think it's going to be really important.
Selleck, on if he considers himself a team leader:
This is my seventh year pro, so you learn a lot in those years, and if I can help the young guys improve, or help them with what they should or shouldn't be doing, I would gladly do that.
Selleck, on what advice he can pass down to the younger players:
You know, just how to act around the rink, how to get your workouts in, get your stretching in, just being a pro, eating properly, sleep before games, just everything, travel, what they should be wearing, what they should do, every little bit of information – I remember when I was a young guy, you didn't know what to think, so every little bit of help is good.
The Roadrunners are scheduled for a 9:00 AM morning skate at Tucson Arena before traveling to Northern California for their first preseason game, where they are slated to play the San Jose Barracuda at the SAP Center on Thursday night at 7:00 PM.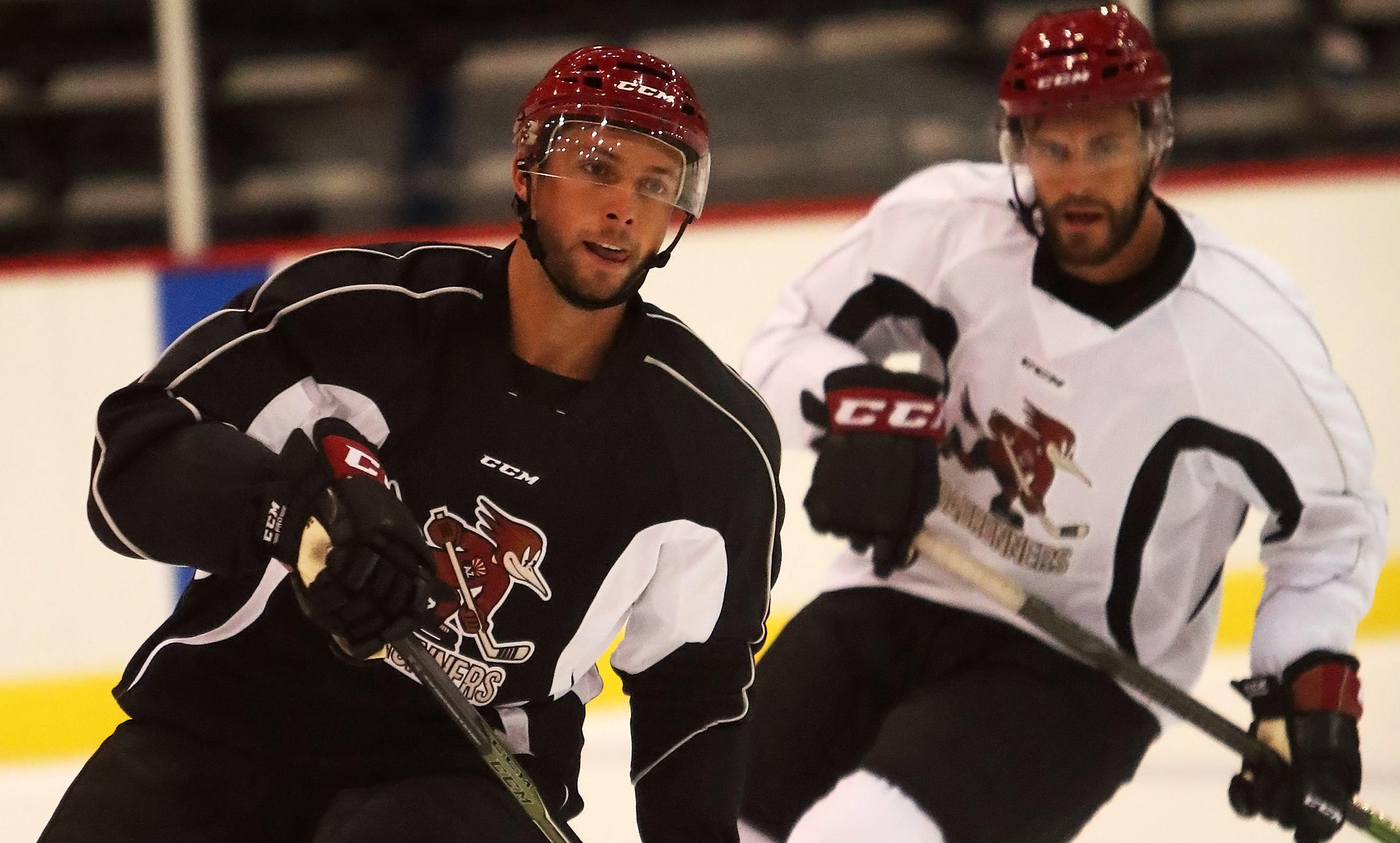 *Photos Courtesy Chris Hook